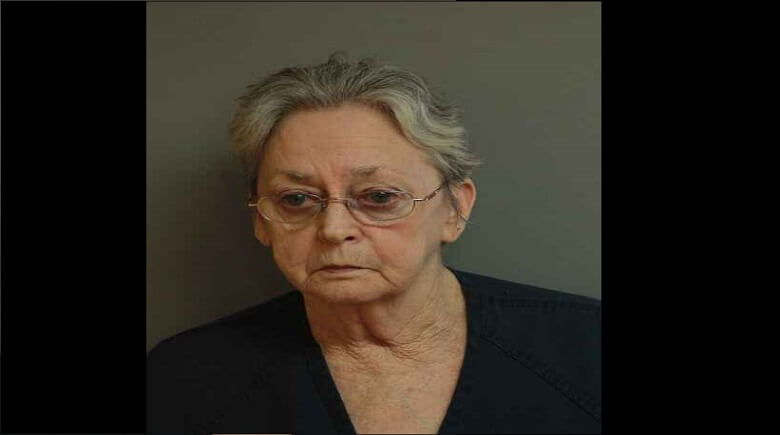 On Tuesday, January 2, 2018, PCSO was contacted by a bail bondsman in reference to the December 19ththeft of a wallet from the Dollar General store in Mulberry that was captured on video surveillance and posted on the PCSO Facebook page. The bondsman told detectives that the suspect responsible showed up at his office to turn herself in.
PCSO Detectives met with the suspect, 68-year-old Verlin Sue Wilson, and charged her with one count theft (M-1), one count petit theft second offense (M-1), and one count unlawful use of personal ID (M-2).
"It's so disappointing to watch someone on video, who has the opportunity to step forward and do the right thing, but instead takes advantage of someone and steals their money. This is an important lesson: there are consequences to bad decisions, and she's made this decision at least once before, because this is her second time being charged for theft. So here is our message: be kind, be a good neighbor, and do unto others what you would have them do to you." – Grady Judd, Sheriff
The probable cause from the affidavit is below, and is self-explanatory:
The victim, reported a theft of her wallet from the counter of the Mulberry Dollar General store located at 7050 N Church Ave, Mulberry.
She described accidently leaving her wallet near the cash register of the store after she paid for her merchandise.
The wallet was described as an Italian made leather wallet, unknown brand, which contained $200 to $250, FL Driver's License, Citibank MasterCard, American Express card, an Amazon Visa card and insurance cards.
Deputies collected video surveillance from the store. The surveillance shows the victim laying the wallet on the counter and walking away around 1047 hours. The next customer walks up to the register, picks up the victim's wallet, and pays with the cash contained within, around 1049 hours.
The victim canceled the credit card immediately. There has been no attempted use of the cards.
The video was shared on social media and news networks in attempts to identify the suspect.
On 1-2-18 PCSO received a phone call from Conley Bail Bonds at 1245 East Main Street, Bartow. The caller advised a woman had come into his office to turn herself in for the wallet theft posted on Facebook.
Detectives responded to the office and met with Verlin Sue Wilson and her husband, Eddie Joe Wilson. Both were identified by state ID cards. Eddie Wilson advised he drove his wife, Verlin, to turn herself in, after watching the video. I observed Verlin Wilson to match the suspect in the video.
Verlin Wilson advised she drove to the bond office with her husband, freely and voluntarily, to turn herself in for the wallet theft. I was advised an attorney had been retained and the two would not be providing an interview without the attorney present.
Detectives confirmed through CIC the suspect has one prior conviction for theft from 9-23-15.
Detectives determined probable cause exists to believe Verlin Wilson committed petit theft (second conviction), unlawful possession of personal ID, and theft of credit cards. She is charged by this complaint affidavit.
BELOW IS AN EXCERPT FROM THE PROBABLE CAUSE FROM HER PREVIOUS ARREST IN 2015, AND ATTACHED IS HER 2015 MUGSHOT:
 PRB_CAUS
On 08/07/15, PCSO deputies responded to Wal-Mart located at 6745 Church Avenue North, Mulberry. Upon arrival, they made contact with Andrea Smith, witness, who is a Loss Prevention employee for Wal-Mart.
Andrea stated she observed an elderly w/f, (later identified as Verlin Wilson, suspect) on an electric wheelchair in the housewares department placing merchandise into a plastic bag. Andrea stated she observed Wilson in the grocery area as she placed food items into her cart and then she left the store passing all points of sale through the grocery exit doors. Andrea made contact with Wilson and identified herself and then escorted Wilson to her office.
Wilson intentionally and unlawfully removed merchandise valued at $84.12 from the victim without permission.
Wilson was arrested and transported to PCSO Booking without incident.