HAINES CITY NAMES NEW POLICE AND FIRE CHIEF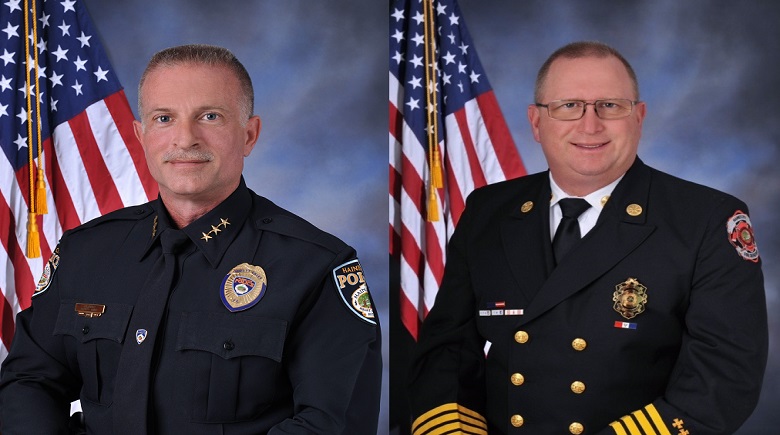 HAINES CITY, FL – City Manager, Deric C. Feacher, announces James R. Elensky as Haines City's Chief of Police, and Timothy Mossgrove as the new Fire Chief.
 "After meeting with both Chiefs, it became apparent they have the same vision I have for moving Haines City forward," said Feacher. "They are both very competent and accomplished individuals who will make our agencies the benchmarks of excellence in public safety."
 James R. Elensky, a 27-year law enforcement veteran, began his career with the Pinellas County Sheriff's Office but served the majority of his career with Polk County Sheriff's Office with 25 years of service. He retired as the Commander of the Bureau of Criminal Investigations, where he obtained a 100 percent homicide clearance rate and supervised more than 130 sworn and non-sworn personnel. He most recently has served as the Deputy Chief for the City of Haines City.
 "I am honored by Mr. Feacher's support and confidence in my ability to be Chief, and I thank former City Manager Rick Sloan for hiring me as the Deputy Chief," Elensky said. "None of this would have been possible without the mentorship provided by Sheriff Grady Judd throughout my entire career."
 The City of Haines City will hold a Promotions Ceremony for its Chief of Police, James R. Elensky, on Wednesday, December 6, at 10 a.m. This ceremony will be at the Haines City Police Department at 35400 Highway 27, Haines City, FL 33844.
 Timothy Mossgrove, a 31-year fire service veteran, started his career as a firefighter with the Franklin Community Volunteer Fire Department in 1982. He later went to Brooksville Fire Department for 29 years where he held the ranks from Firefighter to Fire Chief. Mossgrove is a 2015 Graduate from the Executive Fire Officers Program at the National Fire Academy. He also holds a Chief Fire Officer and Fire Marshal designation through the Center of Public Safety Excellence and is a member of the International Institute of Fire Engineers.
 "I am pleased to have the opportunity to lead the Haines City Fire Department in future endeavors," said Mossgrove. "With the growth the City is experiencing this is a very exciting time that brings many opportunities for the fire department as well."
 The City of Haines City will hold a Promotions Ceremony for its new Fire Chief, Timothy Mossgrove, on Tuesday, December 5, at 10 a.m. This ceremony will be held at the Haines City Fire Department at 138 N. 11th Street, Haines City, FL 33844.