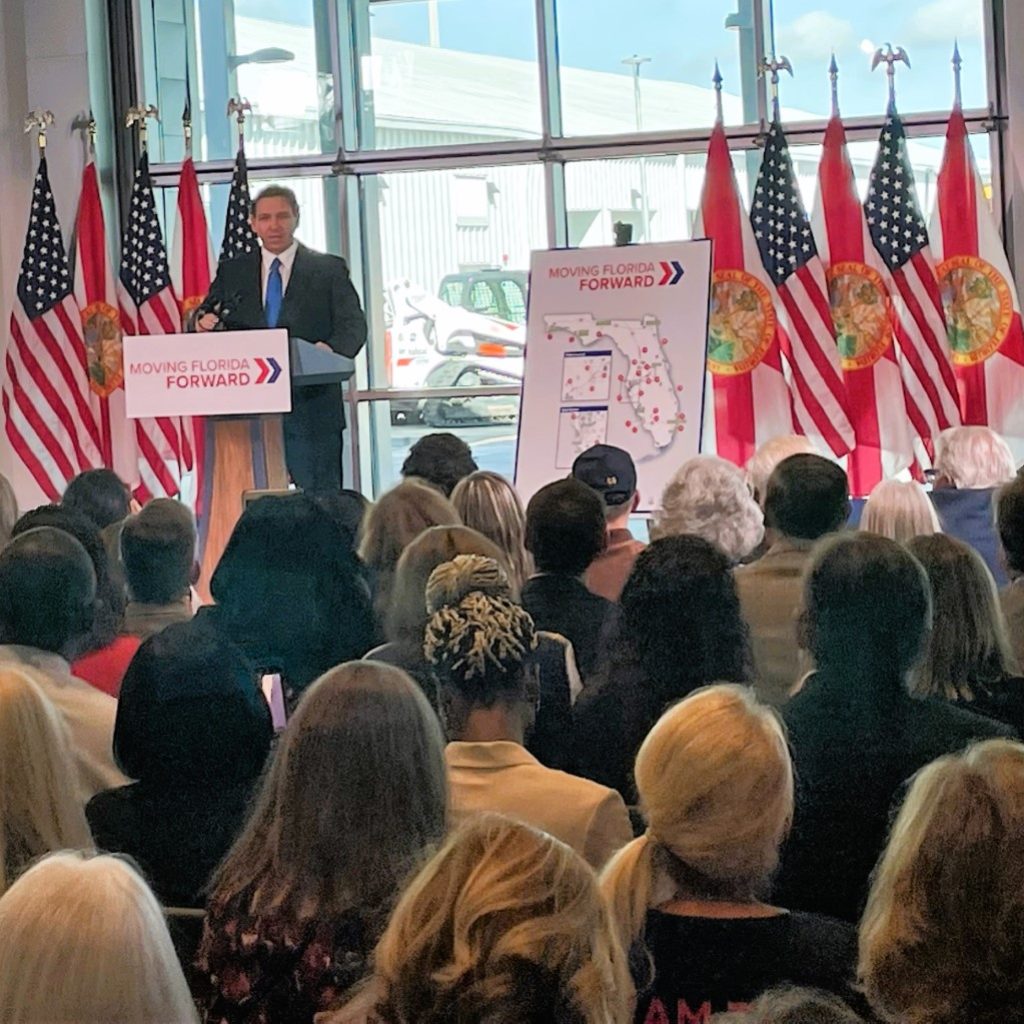 by James Coulter
Polk County residents who commute to and from Orlando can expect less traffic congestion in the next four years now that road projects have been expedited to reconstruct existing interchanges and add more lanes along I4.
At a press conference on Monday at the SunTrax Test Facility in Auburndale, Gov. Ron DeSantis announced a proposal for a traffic congestion relief plan that will expedite more than 20 major interstate and roadway construction projects over the next four years.
Two of these proposed projects will improve traffic conditions to and from Polk County, including adding new lanes and reconstructing new interchanges on I4 between ChampionsGate and Osceola Parkway and adding new lanes on I4 between US 27 and ChampionsGate.
Named "Move Florida Forward", this $7 billion initiative will include $4 billion from the general revenue surplus, and it will leverage innovative financial and contracting tools for an additional $3 million. Gov. DeSantis owed his proposal's generous budget to the state's economic growth and development under his fiscally-responsible leadership.
Gov. DeSantis boasted of having the largest budget surplus and the lowest unemployment rate in the history of the state of Florida. He mentioned how more people have been employed in the state since before the COVID-19 crisis and how the overall labor force has grown by 3.5 percent, which is more than double the job creation rate in other states.
"[This initiative] is the right thing to do, but it is only possible because we have been prudent with how we manage the state's fiscal policy," he said. "We tax lightly but spend conservatively, and we regulate a very reasonably with a very good climate for economic activity. I am excited about it and I think it will make a big difference."
Other initiatives he recently pushed forward include a half-billion dollar toll relief program, which he claimed to be the biggest in Florida, and a permanent tax relief for infant items such as diapers, baby food, and cribs. As for Move Florida Forward, the lofty investment will expediate construction projects that would have otherwise taken a decade or two to complete.
"This [investment] makes sense to do," he said. "These are things we have to do anyway. We have more than enough resources to make them happen much sooner. If we think about waiting in the normal pipeline, most of these problems will be exasperated by then. So I think we need to be getting moving on it, and I am looking forward to being able to do this with the legislators."
Jack Perdue, Florida Department of Transportation (FDOT) Secretary, mentioned how Florida's projected influx of new residents will exacerbate existing traffic problems, and how the infrastructure projects proposed in the Governor's proposed initiative will help alleviate these problems.
"This initiative cast a bold new vision for Florida's transportation system," he said. "It will benefit communities throughout the state for many decades to come. A proposal of this magnitude is truly historic. This type of commitment has not been seen in my 20 years at FDOT. …Our strong vision like this is exactly why Florida remains a national leader in transportation. As Florida continues to grow, the Department is seeking bold innovative solutions and cutting through unnecessary red tape to keep Florida on top."
Vicky Ortiz is an insurance consultant and a wife and mother of two. Her business has her traveling across the county. As someone who regularly commutes, she appreciates the Governor investing so much money toward making her commute less strenuous and time-consuming. She is especially grateful for his toll relief program.
"Thanks to DeSantis for keeping it [tolls] low," she said. "We do not have a state tax, so why are we complaining?"
Josh Borum has served in fire protection for five years. He oversees a team of 14 employees and assists 4,000 customers. As they service 12 thousand of jobs in the Orlando area each year, he and his employees often spend 480 hours (or 12 weeks) sitting in traffic, which amounts to $50,000 in lost income. These proposed improvements will allow him and his team to save money and time.
"I love Gov. DeSantis being a common sense leader that is getting things done for Floridians," he said. "I am excited to see the improvements coming in the next 10 years rather than 20 years. I am 44 years old. I would not see these changes until after I retire if not for this budget surplus."