Local Hero Honored With New Plaque At Lakeland's Veterans Memorial Park
by James Coulter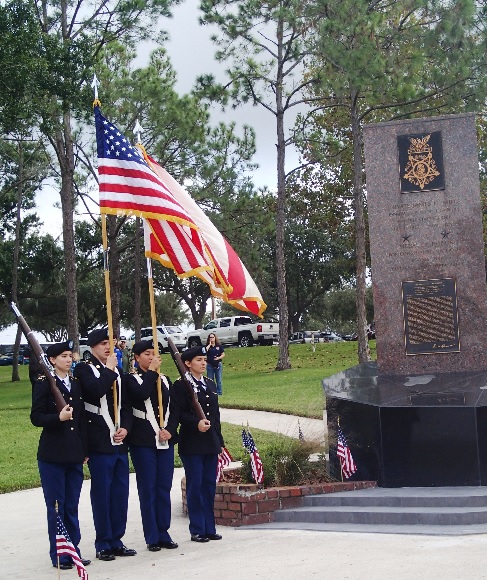 On May 24, 1944, James Henry Mills, a then 21-year-old Army private, headed his army platoon within the 3rd Infantry Division as they advanced through enemy territory in Italy.
Despite being overwhelmed by enemy fire, especially with automatic machine gun fire, Private Mills nevertheless pushed onward, striking down many of his attackers and allowing the soilders behind him safe passage.
His steadfast bravery within the face of danger allowed his platoon to penetrate a heavily-fortified enemy strongpoint, capture several enemy soldiers, and achieve their overall objective.
Not only did his valiant efforts award his platoon victory that day, but it would award him with a Congressional Medal of Honor, which was conferred to him on November 14, 1944.
This honor made him the only Polk County native to receive such an honor. His legacy has since been memorialized with a new plaque at Lakeland's Veterans Memorial Park.
The new plaque was unveiled during the Veterans Day Memorial Ceremony in Lakeland on Saturday morning, which was then followed by a parade through Downtown Lakeland.
The plaque details the life of Mills before and after the war, and includes the details of his exploits on that fateful day, which allowed him to become the only Polk native to receive a Congressional Medal of Honor.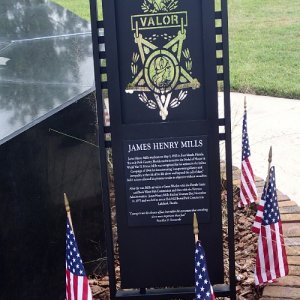 His legacy had previously been enshrined at the park within a memorial dedicated to him in 1986. That memorial had since received refurbishments, which included the installation of the plaque commemorating his life.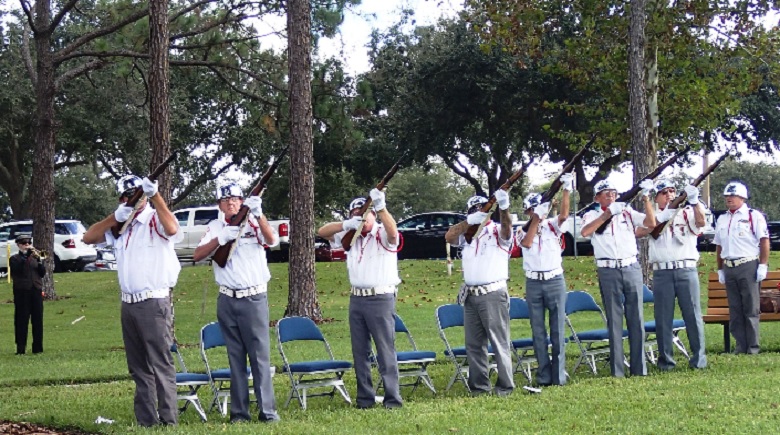 The Polk Veterans' Council helped fund these refurbishments through a fundraiser with the goal of raising at least $5,000, according to a report within The Ledger.
These refurbishments were proposed as to provide a more descriptive memorial towards Mill's memory and legacy, elucidating upon his personal life before and after the war, explained Gary Clark, Chairman of the Polk County Veteran's Council.
"We want people to realize and appreciate the sacrifices, not only that the folks made—first responders, military, etc.—but also to understand some of the issues that they may deal with when they come back, and he certainly had to deal with some issues," he said.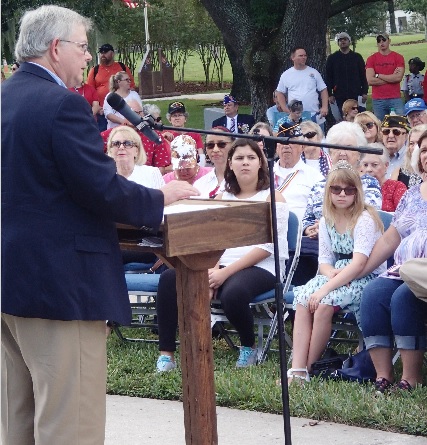 Such issues included post-traumatic stress disorder (PTSD), which was known as "shell shock" or "battle fatigue" during Mill's, and which was a condition that was still relatively unknown by medical experts at the time.
While Mills' efforts within the war may have awarded him great honors, it also left him with mental and psychological scars that he suffered through even until his death in 1973, explained Dr. Canter Brown, Keynote Speaker at the dedication.
"James Henry Mills displayed courage, fearlessness, and fierce determination beyond the understanding of most of us, called upon to perform at age 21 tasks that no human being should be asked to perform," he said. "That he suffered the human consequences of superhuman effort takes nothing away from his heroism. We bask in the aura of his honor by enjoying the privilege of recognizing him here today."
His legacy proves that Americans are capable of overcoming great challenges when they act united as one and set aside their differences, which is a lesson especially relevant within today's political climate, said Greg Robinson, USN, during the benediction.
"It is our prayer on this Veteran's Day that all Americans are resolved that united we can conquer any foe, we can meet any hostile threat, and we can surmount any challenge together," he said.
The new memorial will help accentuate the other memorials within the park, all of which serve as a regular reminder to Lakeland residents and visitors the great sacrifices made by our veterans to protect and secure our freedom as Americans, said Lakeland Mayor, Bill Muntz.
"This park is a place to quietly consider the costs and the history of freedom, to honor families who lost loved ones and lived with the pains in their hearts from that absence," he said. "This is a place where history can be taught for generations to come, and Henry Mills is one of those examples of those sacrifices."
Following the ceremony that morning, the annual veteran's parade departed from the park, making its way from the RP Funding Center, following along Lemon Street, and concluding at Munn Park.
The annual parade honors many local heroes willing to protect their community domestically and abroad, with participants from the fire department, sheriff's office, and JROTCs from local schools and colleges.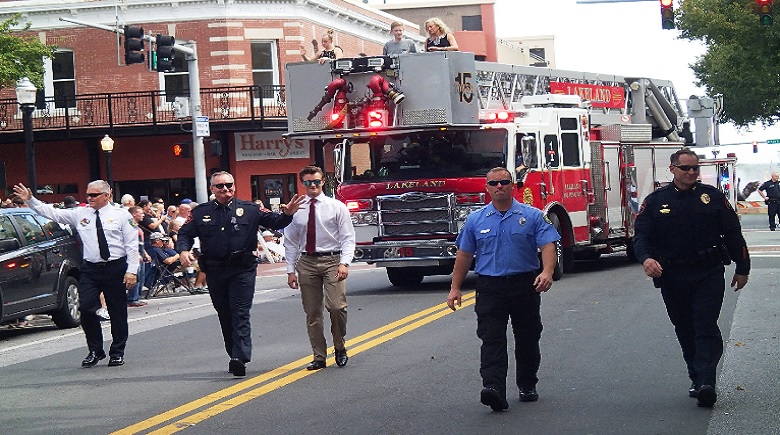 Also participating this year were members of local cub scout troops, Toys for Tots, Mission BBQ, and Citrus Connection.