Lakeland Flying Tigers Host a Dog-Friendly Baseball Game
By Allison Williams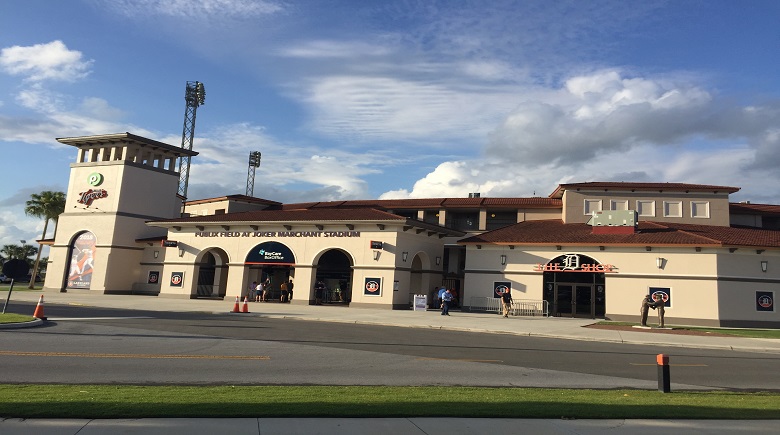 Monday night, the Lakeland Flying Tigers Minor League Baseball Team invited guests and their fur friends out to a fun night of baseball against the Jupiter Hammerheads. The game was set to have the first pitch thrown at 6:30, but with a weather delay, the pooches had to sit tight until the storms passed.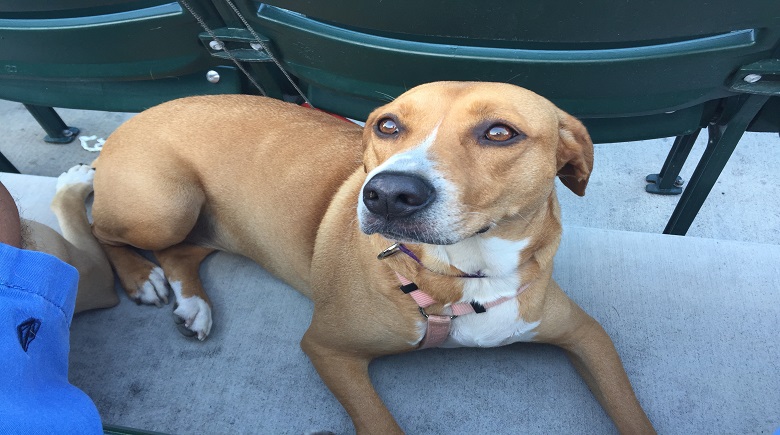 This is Cinder. She loves baseball games.
Dog tickets were only $1 per pooch! The Flying Tigers always offer a special promotion for all home games. Monday's game promotions were Bark in the Park and Endless $1 hotdogs. The $1 hotdogs could be picked up at the Little Caesars concession stand or the regular concession stand.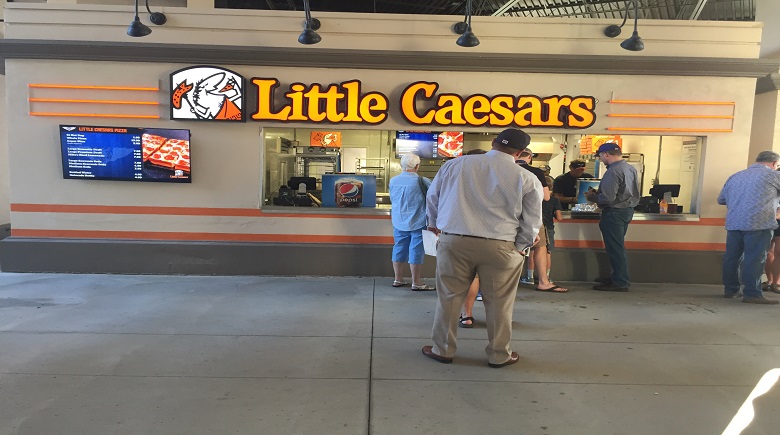 Game Recap
The scoring game was quiet until the third inning. Hammerhead's Brian Miller hit a double to right field, as Aaron Knapp scored. Score 1-0 Hammerheads.
More scoring action was underway in the fifth inning. Joe Dunan reached second due to a throwing error by the Flying Tigers. Aaron Knapp scored again. Score 2-0 Hammerheads.
In the eighth inning, it was finally time for some Flying Tigers action. Flying Tiger's Derek Hill scored from Isaac Parades' sacrifice fly ball to right field. Score 2-1 Hammerhead's. Next, Dylan Burdeaux hit a double, while Cam Gibson and Danny Pinero rounded the bases and they both scored. Score 2-3 Flying Tigers.
The game concluded in the top of the ninth inning, leaving two Hammerhead runners on base. The Flying Tigers won 3-2.
Upcoming June Home Games and Promotions
June 12: Tonight's game starts at 6:30 against the Jupiter Hammerheads. Special promotions this evening include Baseball Bingo and Tequila & Taco Tuesday. Those who attend tonight's ball game are invited to play Baseball Bingo during the game to win prizes sponsored by Hooters. There will also be a Tex Mex cart set up at the game where guests can purchase $2 tacos and guests of age can purchase $3 Margarita and Modelo specials.
June 13: Game starts at 6:30 against the Hammerheads. Special promotions include All You Can Eat special and Wine Wednesday. Guests can purchase an All You Can Eat ticket starting at $10 if purchased in advance and enjoy endless hot dogs, hamburgers, sausages, popcorn, pretzels and chips. Texas Roadhouse will also be offering free samples during the game while supplies last. Wine Wednesday presents $3 wine, spritzers and sangria for adults of age.
June 14: Game starts at 10:30 a.m. against the Hammerheads. This is the perfect game for children. Various Polk County Summer camps will be attending this game. Ticket specials are $5 for camps and this ticket price includes a ticket to the game, hot dog and drink.
June 26: Game starts at 6:30 against the Charlotte Stone Crabs. *Another Baseball Bingo and Tequila & Taco Tuesday
June 27: Game starts at 6:30 against the Stone Crabs. *Another All You Can Eat special and Wine Wednesday
June 28: Game starts at 6:30 against the Stone Crabs. Special promotions for this game include the 7th Annual Wing Ding and Thirsty Thursday. Guests are invited to attend the game and sample wings from BBQ cook teams and various restaurants. A trophy will be awarded to the Best Wing in Town! Guests of age will also be offered various alcoholic selections at half price for Thirsty Thursday.
Click here to see the full Flying Tigers schedule:
http://www.milb.com/schedule/index.jsp?sid=t570
Flying Tigers home games take place at the Publix Field at Joker Merchant Stadium:
2301 Lakeland Hills Blvd
Lakeland, FL 33805