200 Quilts Displayed At 4th Annual Lakeland Quilt Show
by James Coulter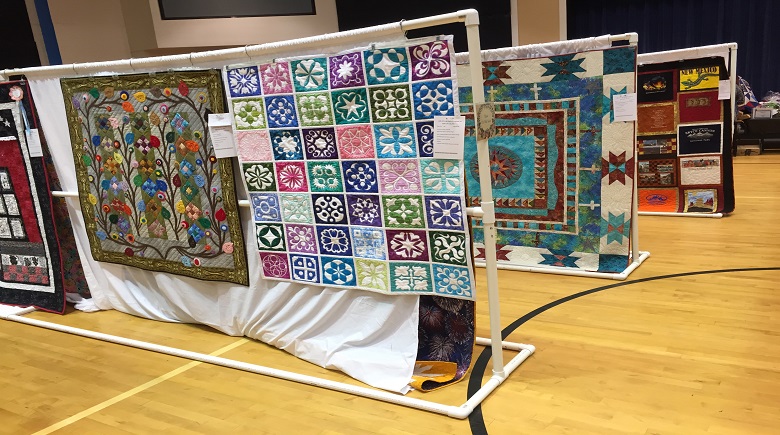 Imagine being a child on a spring day with a clear turquoise sky, lying on your stomach in a grassy field and taking a close look at a flower garden through the lens of a kaleidoscope.
That's the best way to describe "Floral Fiesta", a quilt created by Jeannine Davis, a retired librarian with the City of Lakeland, and a member of the Ladies of the Lake quilting guild.
Her quilt was machine embroidered from nine-inch points, with each block taking two hours for her to make.
When she patched together her quilt, she intended it to be a gift for her son and daughter-in-law who resides in Tennessee.
She never imagined her quilt winning best in show at the 4th annual Quilts By The Lake show at the First Presbyterian Church of Lakeland last weekend.
"When I saw [the ribbon], I started crying because there are so many quilts in this show and they are all amazing," she said.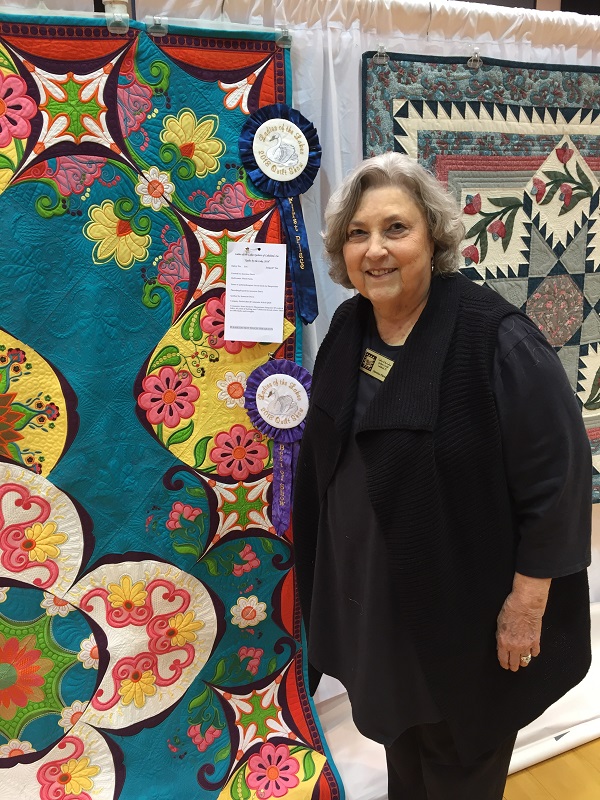 Davis has been quilting for the past 60 years and entering her quilts in the show for the past three years, having previously won second and third place.
Being able to take random selections of fabric of different colors and shapes and patching them together into a personal masterpiece is what has allowed her to continue her craft for as long as she has been doing it.
"My inspiration is going from nothing to a completed project," she said. "I like taking flat fabric and making something out of it. I think one of my favorites is picking out the fabric and putting them together."
Davis was one out of several participants in this year's quilt show, which showcased up to 200 quilts.
Approximately a dozen of these quilts were awarded ribbons ranging from first, second, and third place to a few honorable mentions.
One such participant, Ann Troutman from Land O'Lakes, won Judge's Choice for her quilt, Vintage Rose, based on a design by Judy Niemeyer.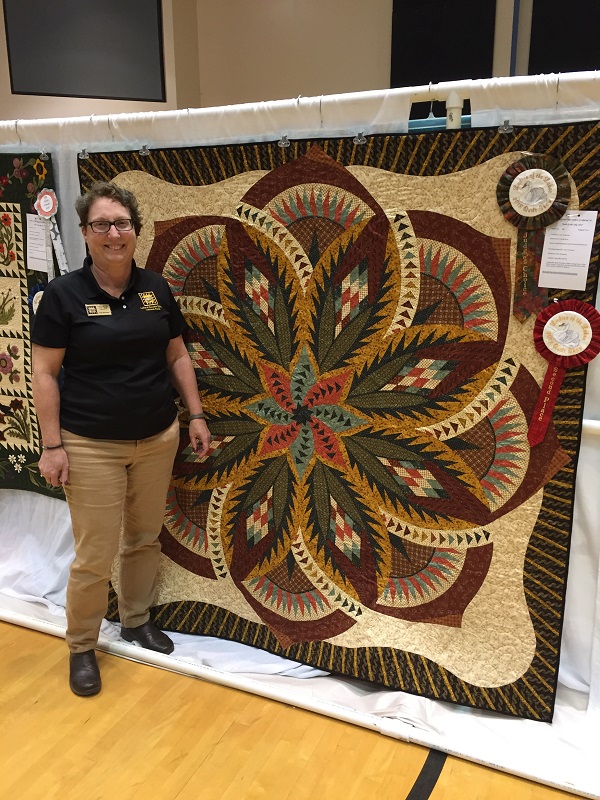 "I was thrilled when I saw yesterday that it was chosen," she said. "It is a culmination of all the hard work that somebody really appreciates."
She had previously received an honorable mention for a quilt that she made resembling a stained glass window and inspired by the architecture of Frank Lloyd Wright.
Troutman has been sewing for as long as she can remember, and has been quilting since late 2000. She appreciates the camaraderie and inspiration she receives from the quilting guild.
"By far, this is the best show that we have put on, and the attendance has been fabulous," she said. "I love fabrics and designs and the ability to take something that wasn't there and make it into something that is beautiful."
For the past four years, the quilt show has been hosted by Ladies of the Lake, a local non-profit organization that offers a space for local quilters to meet and share their craft, while also providing a platform for educators and other speakers from across the country.
The show originally started as part of the Living Arts Festival in Bartow, but became its own event which has been hosted at First Presbyterian in Lakeland for the past two years.
Not only were guild members and other attendees able to peruse the many quilts on display, but were also able to purchase quilting supplies and other merchandise, as well as enjoy a lunch provided by the local Boy Scouts troop.
This year proved especially exceptional with all of the guild members taking the initiative to volunteer and spread the word for the event, ensuring a much larger turnout this year, explained guild president Teddy Wenner.
As someone who has been with the guild since 2000, Wenner enjoys how quilting allows someone like her to express themselves artistically with a diverse array of colors and fabrics, and she loved the diversity in this year's selections.
"I think we have a wide variety of quilts and they are absolutely beautiful," she said. "I enjoy all the people who come to our show, and they get to look at our different quilts and get a lot out of our show."
Aside from the participation from its guild members, this year's event also benefited from good weather, as opposed to previous years, which suffered from heavy rain, said founding member Jacki Andersen.
"The big challenge was getting everybody to help out and do their share of setting up and working the places that need help," she said. "We would like to get bigger and better, and we would like to thank everyone for coming here and making this a great show."