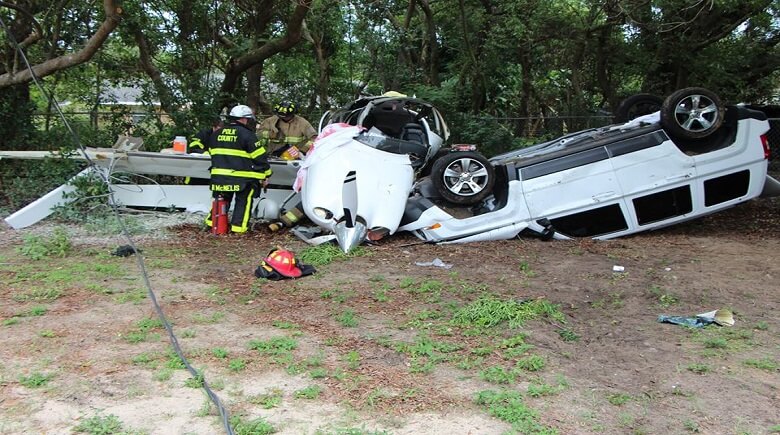 A small plane crashed into a utility pole and a vehicle in the parking lot of Good Hope Missionary Baptist Church, which is located on Griffin Road off Old Bartow Eagle Lake Road in Bartow. One adult male was seriously injured and transported to the hospital. The injured patient is the pilot of the single engine aircraft. Polk County Fire Rescue was dispatched shortly after 12 noon on Sunday, June 11.
The pastor of Good Hope Missionary Baptist Church said he and his congregation of approximately 300, were in the middle of worship when they heard a loud bang. Someone went outside to check it out and informed the church there was a plane crash in the parking lot.
Two registered nurses, Priscilla Sykes and Queen Morris, rushed out to assist the man in the aircraft. They started basic medical care until Polk County Fire Rescue arrived to take over advanced medical care.
The patient was transported to Bartow Municipal Airport, so Aeromed 4 could airlift him to Lakeland Regional Health.
The tale number for the aircraft is N592BC. There were six vehicles damaged. The National Transportation Safety Board is carrying out an investigation.
The pilot is 61-year-old Robert Silva from Jensen Beach. He was taken to LRHMC with serious injuries, underwent surgery, and is in stable condition.