Cheers filled the restaurant at Brock's Smokehouse in the Eagle Ridge Mall Monday night as The Voice contestant Chris Blue took the stage to compete against 23 other artists to move forward to the next phase in the first of the Season 12 Live Playoffs.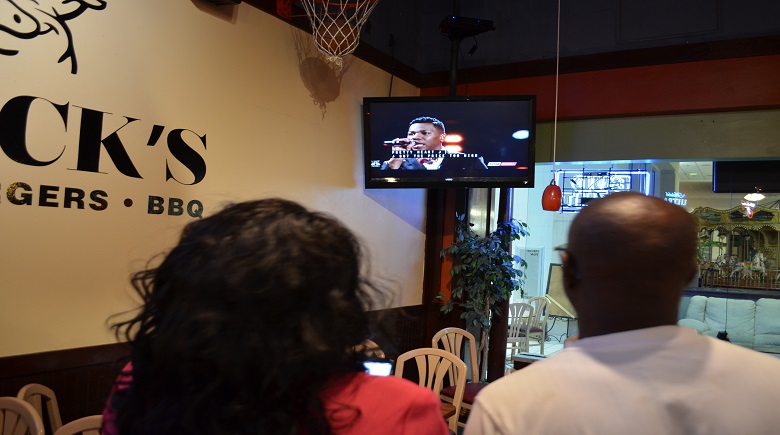 Chris's mom, Janice Blue-Williams along with family members and friends were on hand to celebrate as Brock's Smokehouse hosted a gathering to watch the live broadcast from their big screen TV's.
Chris Blue took the stage just before 9pm EST and wowed the audience with his vibrant and soulful rendition of "Love on the Brain" by Rihanna.
Once the voting started, everyone was on the edge of their seats until finally Chris and two of his teammates were voted to move forward in the contest. Screams and cheers filled the restaurant!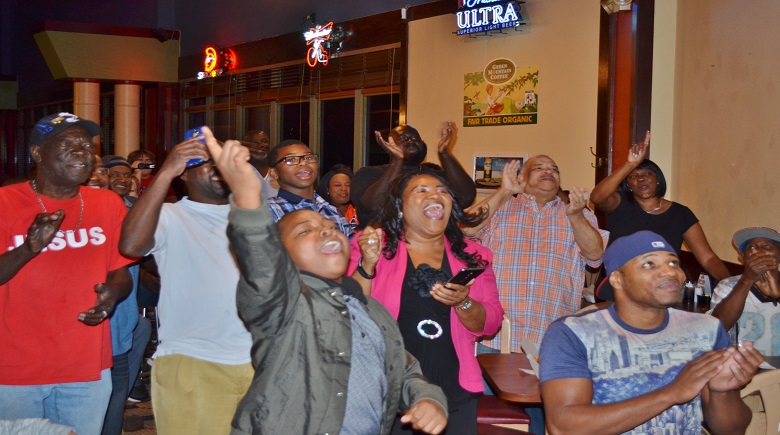 According to his mother Janice who herself grew up in a musical family, Chris started singing at the age of three.
He is the youngest of seven children with four brothers and two sisters.  All were talented and loved singing so mom Janice formed a family gospel singing and musical group that performed as The Blue Family, later as Little Chris and the Blue Family and most recently the Blue Brothers.
They have toured doing shows, competed in competitions and also appeared on an episode of the Bobby Jones Gospel Show on the BET Network.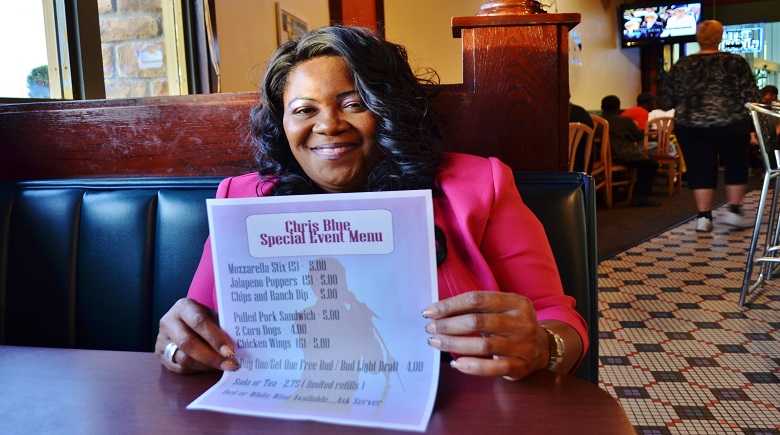 Chris's mother recalls an inspirational moment in Chris's life when he was young that she believes was pivotal to his love of singing.
"I'll never forget; we were at my mom's house one Christmas (Chris's Grandmother's house) and someone had bought my mom a video of this (gospel) group call the Canton Spirituals out of Mississippi. Instead of going outside to play with his Christmas toys, Chris was so in tune to that video that he sat there for hours and hours just playing that video. I think that was when he really grabbed hold of his love for music"….."I knew that if he stayed on the path he was on, it would lead to something bigger".
The future looks bright for this talented young performer as he advances in Season 12 of The Voice. He is currently engaged to Stephanie Dunkley. She lives in London, and they have had a long distance relationship since they met in Knoxville Tennessee in the summer of 2014. After almost losing her during an operation for cancer, he proposed to her saying that he didn't want to chance losing her. A wedding is planned for June of this year at a church in London, England where her father is a pastor. We at the Daily Ridge wish the best to both of them!
So make sure to show your support and vote for Polk County's hometown favorite Chris Blue as he advances in Season 12 of The Voice!