The Best Kept Secret in Florida is the Florida Sheriffs Youth Ranches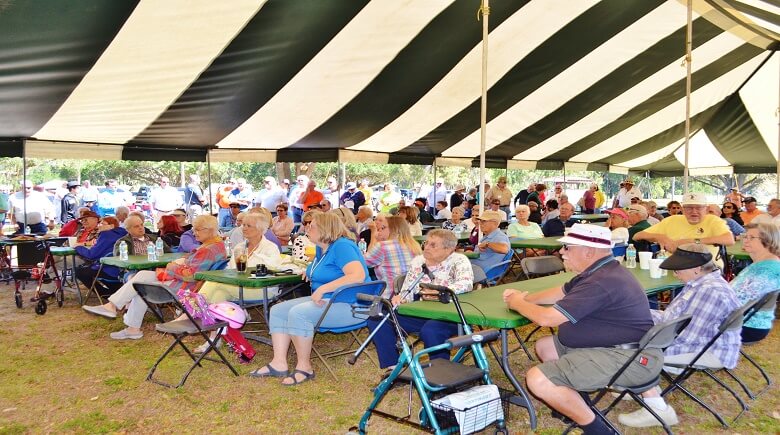 The Florida Sheriffs Youth Villa in Bartow held a well-attended open-house this past Saturday that included a BBQ lunch, a classic car show, campus tours and even a K-9 demonstration for attendees. This is an annual event open to the public each year to showcase the accomplishments and success of the program. Florida Sheriff Youth Ranch president Bill Frye was on hand to give a warm welcome to visitors.
Although I have driven past the campus on State Road 60 many times over the years; I was not fully aware of its function or how the program was successfully helping abused, abandoned and neglected children as well as troubled youth to find and travel the road to happiness and success.
A former Florida Sheriff Youth Ranch president once stated in The Rancher magazine "I travel the state of Florida and come into contact with people every day who tell me, the Youth Ranches is the best kept secret in Florida".
According to a magazine called The Rancher, published by the Florida Sheriffs Youth Ranches, Inc., the program was fostered by a pair of veteran sheriffs on a trip to Texas to return a pair of teens to Florida that were wanted for robbery.
Hillsborough County Sheriff R. Ed Blackburn, Jr. and Marion County Sheriff Don McLeod had traveled to Amarillo, Texas in 1955 to transport an 18 year old boy along with a 17 year old girl who was also five months pregnant, back to Florida to face charges for armed robbery.
While in Texas, the pair learned about a ranch for needy and neglected boys founded by an ex-wrestler named Cal Farley. Both had witnessed on a daily basis the neglected and troubled youth in Florida and felt that they could create a program similar to the one in Texas.
That year the program was presented to the Florida Sheriffs Association but was not adopted because funding was not available. Two years later in 1957, the FSA started an Honorary Membership Program that generated $7000.00 within six months and the vision of the Florida Sheriffs Boys Ranch began its evolution.
Today, the program has opened over 95,000 cases since 1957 and has six facilities throughout Florida.
The Bartow facility residents are mostly girls while other campuses located throughout Florida that house the boys. Most are troubled youth who were placed privately or through placement by a court order.
The Bartow facility has several cottages that house ten girls each, aged 11 to 18 and each cottage is supervised by a married couple who live with the girls to give them a feeling of stability and family. A few years back one of the cottages was renovated to accommodate siblings who were in need, allowing the program to keep families together.  There are also four homes on the property that staff members live in full time as well.
The residents of each cottage do things together as a family; they eat meals together at the family table, do homework, attend church and even do chores and cleaning together…..all the things many youngsters are missing in their lives that give them structure and help them grow into healthy young adults who take responsibility for their lives and become successful.
The 125-acre property also houses a barn, pastures for horseback riding, a chapel for worship, a greenhouse for gardening, a sports court for exercise, an administration building as well as maintenance facilities for upkeep.
The girls attend local schools or are tutored on-site at the Villas. They learn self-sufficiency and life skills so they are prepared to live on their own when they leave the program.
The Florida Sheriffs Youth Ranches motto is "Work, Study, Play, Pray".
They teach values the old fashion way by teaching residents:
WORK-  A day's wage for a day's work.
STUDY-  A good education can never be taken from you.
PLAY-  Healthy recreation can reduce boredom and delinquency.
PRAY- Commitment and love will enable you to build a strong marriage and
help you raise healthy children, and faith in God makes the difference.
The residential program isn't the only program offered by the Florida Sheriffs Youth Ranches. Throughout the year, the Florida Sheriffs Youth Ranches offer several camps including summer camp to youngsters as well. There is also word of a possible partnering with Big Brothers and Big Sisters to pair volunteers with young girls and boys which will provide a great resource for one-on-one mentoring.
So there it is!….the secret is out!!  The Florida Sheriffs Youth Ranches play a vital role in helping at-risk youth with housing, education, guidance and faith. And they do it with the help of generous donors like you!
The Florida Sheriffs Youth Ranches are a non-profit that sustain their efforts through donations and volunteering. To donate visit their website at www.youthranches.org for more information.
Also don't forget to mark your calendars May 26th-29th for the 54th Annual Youth Villa Classic Golf Tournament in Bartow at the City of Bartow Golf Course located at 190 Idlewood Avenue. Contact Kayla Bianchi at 800-765-3797 for more information on any Youth Villa Classic activity.