Robbery Suspect Arrested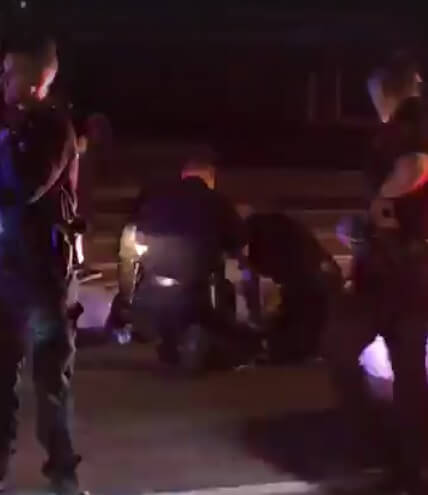 Lakeland, Fl.
(March 8, 2017) – On March 7, 2017 at 6:44 p.m., the Lakeland Police Department responded to Save-A-Lot, 2021 George Jenkins in reference to a robbery that just occurred. The suspect, Shavenski Green, entered the store, reached over the counter as the clerk was assisting a customer and grabbed cash out of the register. Green then proceeded to walk quickly towards the store exit but stopped and unexpectedly sat down on a display stack of bottled water. Green then threw the money into the air and another employee attempted to retrieve the money but was pushed away. Green grabbed some money off the floor and fled the store.
Green then walked into the Subway store asking for water and "acting crazy" and threatened to kill the employees. Green was asked to leave and he did at which time he entered the CVS store. While in the CVS store, he got a coke and opened it without paying. Employees stated that Green was speaking loudly and belligerently. They described him as disheveled and possibly chemically impaired. Green left the store, returned grabbed several items of make-up, and left again without paying.
Officer Jeremy Williams spotted Green in the intersection of Wabash Avenue and George Jenkins Boulevard. Officer Williams stated Green sat down on the median and was not acting normal or answering any questions. Officer Williams stepped behind Green to keep him from getting up and wait for back-up officers at which time Green grabbed Williams leg and actively resisted arrest. Responding back-up officers arrived and assisted in taking Green into custody. During this time, Green was shot with an electronic control device to assist in taking him into custody. Once handcuffed, Green continued to resist by trying to turn over, screaming, and not complying with the officer's commands. Officers used an agency issued rip hobble (restraint device) and placed it on Green's legs, pursuant to agency policy, to prevent Green from kicking officers.
After Green was handcuffed and officers were searching his pockets, they noticed that Green had stopped breathing and was unresponsive. Officers immediately began life saving measures which included AED and the use of an CPR. Paramedics arrived and took custody of Green and transported him to Lakeland Regional Health. Green remains at LRH in stable condition.
Green has been charged with Robbery and Resisting Arrest with Violence. Detectives responded to the scene and interviewed witnesses which corroborated the officers' statements. A video of the incident taken from the dashcam of a patrol car is being released showing Green actively resisting arrest and the life saving measures LPD officers initiated. Redacted 911 calls are also attached in the Dropbox file at:
https://www.dropbox.com/sh/w94c0ahtwfg9rsl/AAB3SqZvG5Ne7sTitPAVWM_pa?dl=0
Shavenski Green, 40 yrs old, 2430 Chestnut Woods Drive, Lakeland,  has a lengthy criminal record which includes:
For various offenses, such as:
Aggravated Battery on a Police Officer / 3rd Degree Felony
Assault Battery on a Firefighter / 3rd Degree Felony
Resisting Officer with Violence / 3rd Degree Felony
Carrying a Concealed Weapon / 3rd Degree Family
Numerous Felony Drug Charges including:
Possession and Sale Cocaine
Possession of Controlled Substance without Prescription