Rotary Running Series Debuts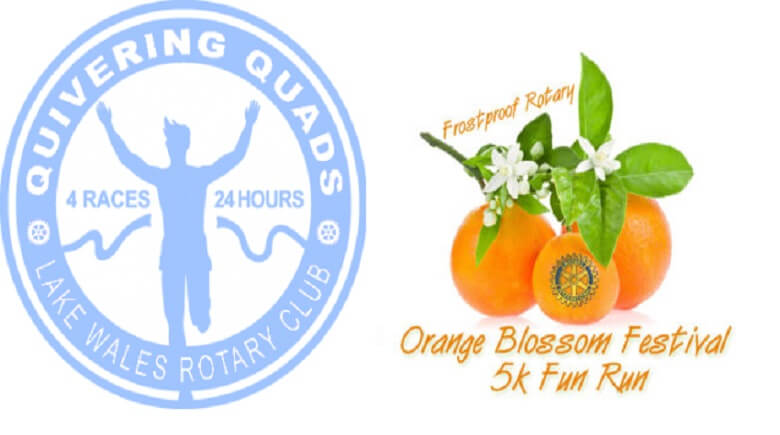 LAKE WALES – The Lake Wales Rotary Club and the Frostproof Rotary Club have partnered to present the East Polk Rotary Running Series. Kicking off the series will be Frostproof Rotary's Orange Blossom Festival Fun Run 5K on Saturday, Feb. 18. Then on March 17-18, the Lake Wales Rotary Club's Quivering Quads will complete the series.
The Orange Blossom Festival 5K will begin at 7:30 a.m. on Feb. 18. Cost is $20 per runner, or $10 for runners under age 12. The first 50 to register will receive a commemorative Orange Blossom Festival Fun Run shirt. The course takes runners through the streets of Frostproof, along the lakes and through orange groves.
The Quivering Quads races in Lake Wales begin at 6 p.m. on Friday, March 17, with a St. Patrick's Day themed 5k, starting and ending on the Lake Wailes lake path across from Kiwanis Park. The next morning at 7 a.m., participants will run the Spook Hill Challenge, one mile repeats up and down Spook Hill. Following that, they run 2 miles on an out-and-back course at the lake. Saturday night, they'll finish with the same 5k course as Friday night. Cost for all 4 Quivering Quads races is $60.
Participants who register for the 5-race series (Orange Blossom and Quivering Quads) get a special discounted rate of $65 for all five races. They also will receive a special Rotary Running Series t-shirt and finishers medal upon finishing.
For more details or to register, visit www.LWRotaryClub.com