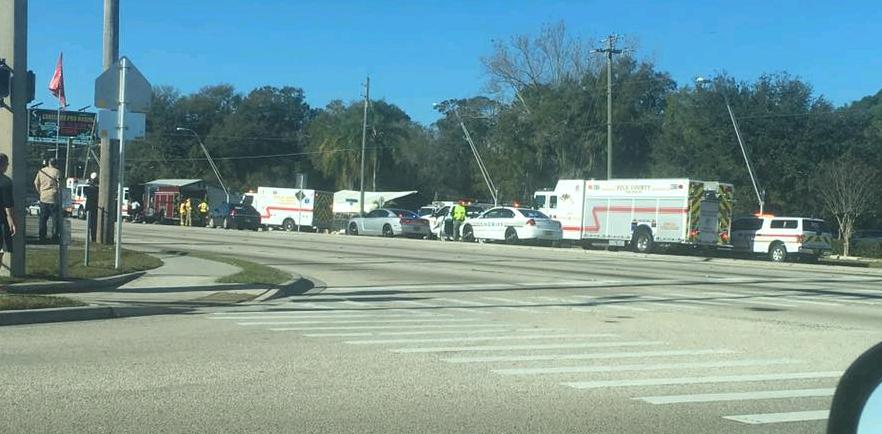 Update January 12: According to reporter Lucas Bogg with Fox News the one child and the father involved in an accident on Wednesday morning have been upgraded, but their brother and son is still in critical condition.
#UPDATE: Jaron (dad) & Emma Skipper (7 Y/O) have been upgraded to fair condition following yesterday's crash. John (4 Y/O) still critical. pic.twitter.com/Q0Z9Ro9FtA

— Lucas Bogg (@LucasBoggPhotog) January 12, 2017

 
In a facebook post just hours afterwards the wife and mother requested prayers for her babies.
Update:
At approximately 9:00 am, today, Wednesday, January 11, 2017, the Polk County Sheriff's Office was notified of a serious crash that occurred on Highway 17 in the area of Eloise in Winter Haven.  The crash involved a 2005 grey, Toyota Tundra, and 2006 Citrus Connection Bus.
Seven victims were transported: Four from the bus and all three occupants of the pickup truck.
Those victims from the bus were transported to Winter Haven Hospital all with minor injuries and are expect to be released later today.  The bus driver was uninjured.
The three victims from the pickup truck were airlifted to Tampa General where all three are listed in critical condition.  The victims in the pickup truck are related and include an adult male, and two young children ages 4 and 7.
Primary investigation suggests, the male driver of the pickup truck was traveling south on Highway 17 when he collided into the rear of the stopped bus which was collecting passengers near Casey Avenue on Highway 17.
The driver of the pickup was not wearing a seatbelt.  The 7-year-old victim was ejected through the front windshield of the pickup truck – this child was not seat-belted.  The 4-year-old was wearing a seatbelt but also suffered significant injuries.  All three victims are listed in critical condition at Tampa General
The southbound lanes of Highway 17 were closed for approximately 5 hours.
The investigation is ongoing.
Original Release:
Eagle Lake, Florida – According to the Polk County Sheriff's Office deputies are currently on scene of a traffic crash involving a city bus versus a vehicle on US Highway 17 in the Eloise area of Winter Haven. Highway 17 is completely blocked between Snively Ave. and Highway 540. Motorists are asked to avoid the area. The crash occurred just before 9 am.
Emergency crews knew immediately that this involved mass trauma injuries and required as many as 4 ambulances. Multiple medical evacuation helicopters have been called in. Initial reports advised of multiple pediatric trauma's, but this has not been confirmed by authorities.
According to Citrus Connection public transportation one of their buses was involved and they are reporting that a vehicle rear-ended bus number 22xw.
SERVICE DELAY ON 22 XW

A severe traffic access sent on US 17 at the intersection of Snively Road has caused a… https://t.co/4Hld40UI6N

— Citrus Connection (@LAMTD_) January 11, 2017
We will update this article as more information is available.