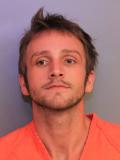 Lakeland, Florida – According to a Polk County Sheriff's Office arrest affidavit deputies were contacted on 9/18/2016 regarding a juvenile being injured while at an "Open House" party. The juvenile was taken to Lakeland Regional Health Medical Center and suffered from burn marks on his back and he was intoxicated. The juvenile had a .15 blood alcohol level. During interview with deputies the juvenile advised he was at a house party in Lakeland. The exact address has not currently been released as the owner of the home was out of town and they home was entrusted to his step-son, John Arthur Stephens III and a juvenile.
Deputies responded to the residence at approximately 4am. When they arrived several subjects fled the location including the juvenile that was entrusted with the home. Approximately 20 adults and juveniles remained at the home and didn't flee. When deputies went to enter the home they could smell the strong odor of cannabis. Additionally open containers of alcohol were observed throughout the home. According to reports Stephens had locked himself in one of the rooms and wouldn't come out. The juvenile retrieved a key and after several commands to come out began to unlock the door. According to reports the deputy could feel someone trying to hold the doorknob latched. The deputy eventually got the door to unlock and try to open the door. At this time Stephens allegedly shoved the door trying to keep it shut. Resulting in the door coming from it's hinges. Deputies took Stephens to the ground and 3 other subjects were in the room with him. Stephens initially advised deputies that his name was "Trey" Stephen's and he could not remember his birthday. Deputies eventually found his full name and information and placed Stephens under arrest.
Stephens was transported to Polk County Jail and charged with Allowing An Open House Party, Battery On A Law Enforcement Officer & Contributing To The Delinquency Of A Minor.
The investigation is still ongoing as to how the original juvenile received his burn injuries.