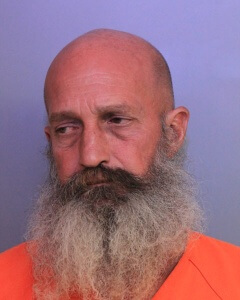 Auburndale, Florida – On Wednesday, August 31, 2016, Polk County Sheriff's Office detectives arrested 50-year-old Duane Patten of Auburndale charging him with two counts of Lewd Exhibition and two counts of Lewd Conduct.
At approximately 7:00 pm, on Wednesday, August 3rd, Patten was home alone with two children he had access to – both children were under the age of 14. As the children were in the bathroom preparing for a shower, Patten walked in while the children were undressed and began talking about being a nudist with the children.
According to the arrest affidavit: "After the victims finished taking a shower, the suspect again entered the bathroom and offered to pay them both $5 dollars each if they could tear his shorts off his body. The suspect was not wearing any underwear and when the victims ripped his pants it exposed his buttocks. The suspect continued to ask the victims to pull on his pants and when they did it exposed his penis to the victims.
The suspect then entered his bedroom and removed his shorts and returned to the victims completely naked. The suspect exposed his penis to the victims and again talked to them about being a nudist. The victims advised the suspect's penis and testicles had silver ring piercings. The victims asked the suspect about his piercings and he told them he had them because he liked going to nude beaches and likes people to see his piercings. During this incident, the witness and mother of the victims, (Redacted), called the victims cell phone and overheard the suspect talking to the victims about being a nudist, his piercings, and about the victim's breasts."
As the investigation continued, detectives learned Patten had told the victims that they "had fun" the day of the incident and told the children not to tell their parents what occurred. He also gave the children $10 dollars and asked the victims to "meditate" naked with him – they refused.
During an interview with Patten on August 31st, Patten admitted he "bet" the victim's they couldn't rip off his shorts, and that he had exposed his penis to the victims and talked to them about his piercings and being a nudist.
Patten is currently in the Polk County jail on no bond.