Attempted Homicide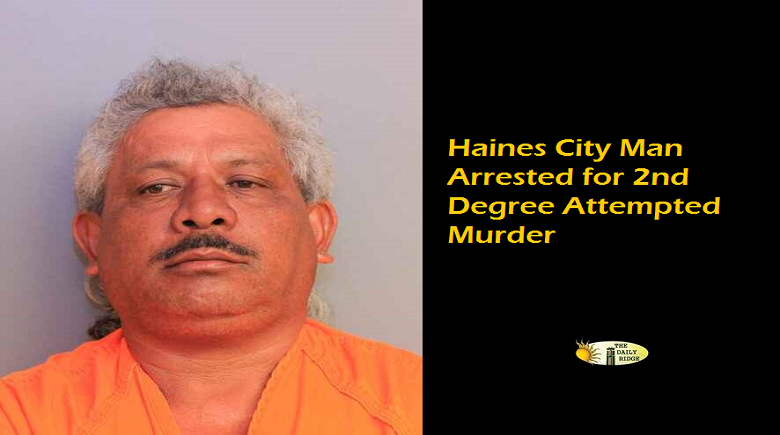 On July 23, 2016, at approximately 2349 hours, Bradley Mills (victim) was outside at his residence located on Mason Avenue, Haines City with his wife. About two houses down from his residence, he heard and observed two unknown males staring and whistling at his wife. The victim walked into the street where the unknown males were standing and told them to stop disrespecting his wife.
At that time his wife went into their residence. The victim turned to walk back towards his residence when he heard one of the unknown males shout "hey come here". The victim ignored the unknown male and kept walking. The victim then heard one of the males shout again one or two more times, "hey come here". The victim then turned around where the voice was coming from, and observed one of the males holding a handgun.
Then he observed the male shoot it towards the ground. The suspect was described as a Hispanic male, with long white hair, heavy set with no shirt on. The victim observed the male point the gun at him and take a shot towards him. The victim stated that he heard a whizzing noise which was the round going by him. The victim stated the male was following him back towards his residence when he shot at him three to four more times striking him. The victim felt a dull pain and continued into his residence. The victim realized he had been shot twice, once in the stomach and once on his groin area. The victim told his wife that he had been shot and to call 911.
Once police arrived at the scene a description was given to them and a possible location of where the suspect resides was disseminated. The suspect was located at his residence and identified as Rolando Fernandez Rodriquez  (06/15/1972) of 2314 Pine Avenue, Haines City Florida, 33844.
The victim was being treated for two gunshot wounds at the Heart of Florida Hospital. His condition was non-life threatening.
The suspect Ronaldo Fernandez Rodriquez (06/15/1972) was transported to the Polk County Jail and charged with Attempted Murder in the 2nd Degree.
Anyone with information regarding this attempted murder is encouraged to contact the Haines City Police Department at 863-421-3636 ext.2235 or crime stoppers at 1-800-226-TIPS (8477).