Former Lake Wales Police Officer Aaron Woodford Barnes was sentenced to 5 years in prison for having sex with a teenage girl.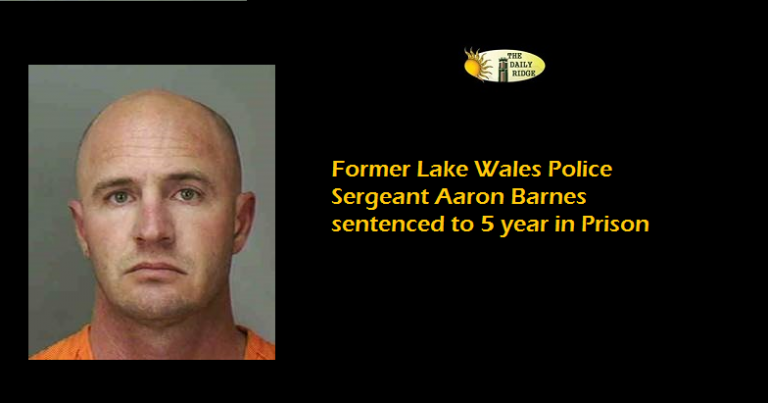 Original Release Update:
Lake Wales Police Chief Chris Velasquez has announced the resignation of Sergeant Aaron Barnes following a conference that resulted in his status changing to administrative leave without pay. Barnes had been on administrative leave with pay since an investigation was opened on February 10, 2015 following accusations he had an inappropriate sexual relationship with a minor.
Original Release:
A Lake Wales Police Sergeant was arrested late Tuesday night following an investigation into allegations that he was having a sexual relationship with a seventeen year old female. Aaron Woodford Barnes 37 has been charged with four counts of Sexual Activity with Certain Minors and one count of Contributing to the Delinquency of a Minor. The investigation began mid morning yesterday after Lake Wales Police were informed by a concerned citizen that Barnes was involved in an inappropriate sexual relationship with a minor.
Upon learning of the allegation, Lake Wales Police requested the assistance of the Polk County Sheriff's Office, who immediately sent detectives to conduct a criminal investigation. The investigation revealed Barnes and the victim casually met approximately one year ago when she was sixteen. According to the victim's statement, their relationship became sexual when she was at Barnes' residence in May of 2014. She reported they had three other sexual encounters on two separate occasions during the next seven months at his residence. The victim also told investigators Barnes allowed her to drink wine at his residence on one occasion.
As a result of the investigation, an arrest warrant was obtained by detectives. Lake Wales Police and Sheriff's detectives met with Barnes last night while he was working and placed him under arrest. During his interview with Sheriff's detectives, Barnes denied having sex with the teen but did make admissions about exchanging inappropriate text messages. Barnes was booked in at the Polk County Jail and has since been released after posting a $20,500.00 surety bond. Please see the attached Sheriff's Office affidavit for further information.
At this time police do not know of other victims or allegations involving any other law enforcement officers. Barnes is on paid administrative leave pending completion of the criminal and administrative investigations.
Barnes has been employed with the Lake Wales Police Department since May 4, 2009 and was promoted to Sergeant on December 21, 2014. His annual salary is $50,252.93. His performance evaluations have been average and he has received seven commendations throughout his career. He received a member counseling form on December 16, 2011 for improper vehicle operations, a reprimand on January 19, 2012 for questioning an order given by a supervisor and a member counseling form on January 27, 2012 for missing a court hearing.
Chief Chris Velasquez – "I am extremely disappointed with the conduct of Aaron Barnes in this case. A child under the age of 18 cannot consent to any sexual activity with an adult of his age. I am thankful this was brought to our attention in order for us to address and take swift action. We hold our officers to the highest of standards and have an obligation to protect and serve whether we are on or off duty. We do not tolerate crime in Lake Wales and we certainly will not tolerate it within our department. I assure you this incident is not representative of the men and women that work hard every day serving this community. We will continue to do our utmost to adhere to our core values of accountability, quality service, and professionalism while serving our residents."