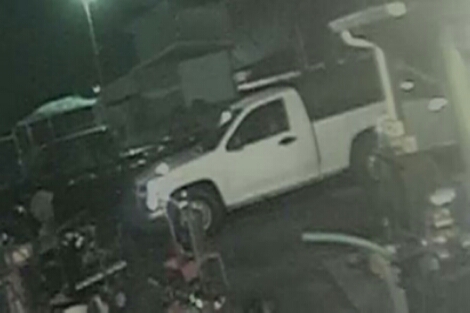 Auburndale, Florida – Polk County Sheriff's Office Robbery detectives are asking for the public's help in a Robbery Home Invasion investigation.
At approximately 12:55 am, a couple sleeping in their home on Brenda Lane, Auburndale, were awakened by an unknown white male who had entered their home.
The male resident began to struggle with the suspect who was armed with a firearm. During the struggle, the male victim was shot. He was transported to Lakeland Regional Medical Center where he is listed in grave condition.
The suspect is described as being an older male, approximately 5'9 and weighing 160-170 pounds, wearing a grey/black beanie on his head, dark clothing, dark shoes, and a bandana across his face. The suspect fled in a white, single cab, Chevrolet Colorado pickup truck belonging to the victim. The actual vehicle is pictured above..
During the investigation, detectives located approximately two pounds of methamphetamine inside the residence and believe this was not a random act of violence.
Anyone with information about this investigation is urged to contact Detective Tonya Wright at863.298.6200.