Bartow, Florida – Polk County motorist traveling S.R. 60 last Friday (August 11th at 4:22pm) got a show. The show consisted of a clearly disturbed or impaired Juan Roman Jr. walking back and forth in the roadway and median fighting with deputies, being tasered and still standing after being tasered twice.
A witness caught part of the altercation on her camera phone and streamed it on Facebook where it's near 30k views.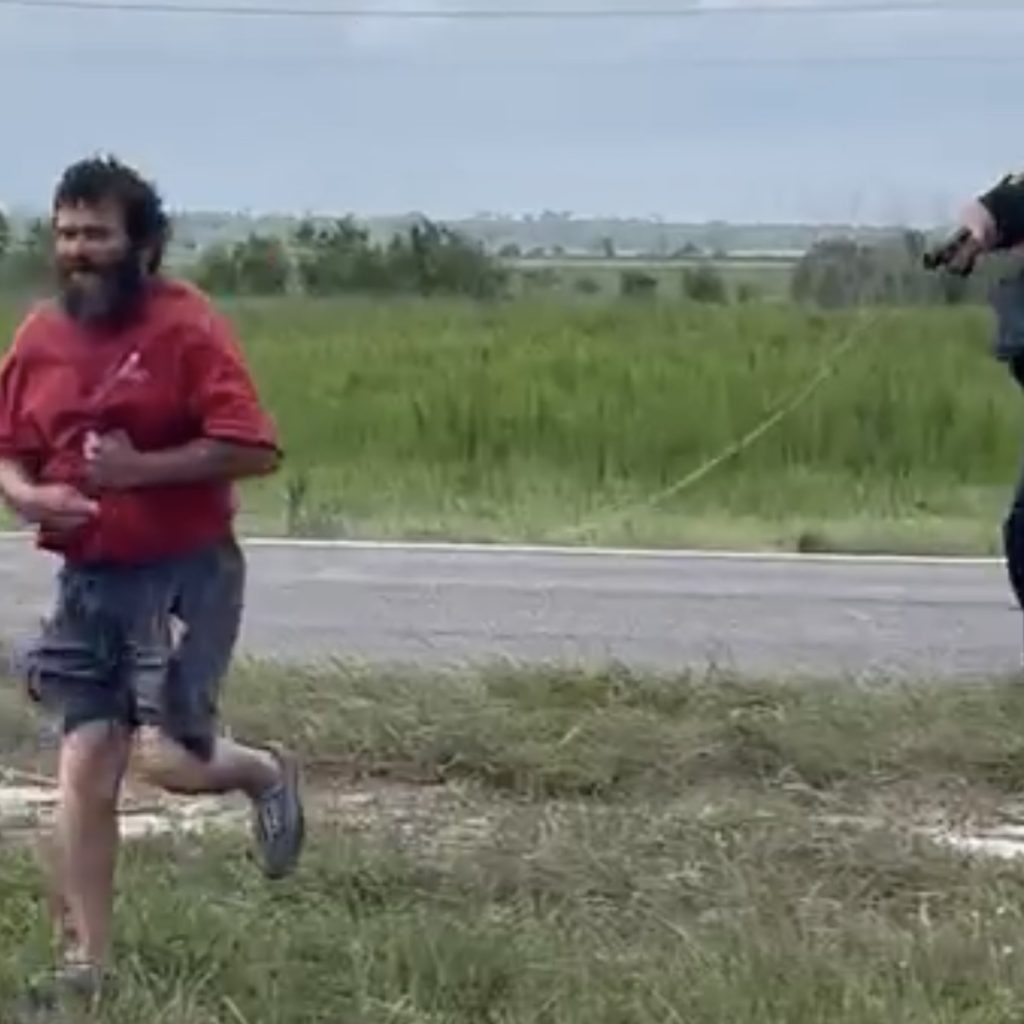 The following is an excerpt from the arrest affidavit by the Polk County Sheriff's Office. It should be noted that this is an unedited, but redacted report of facts by the Polk County Sheriff's Office. These facts are up for question and everyone is entitled to question the validity of facts by law enforcement in a court of law. The Daily Ridge does not rewrite these facts as some meanings or interpretations could be in error and change context. We hope readers appreciate being able to read the information and come to their own understanding and conclusions)
"On 08/11/2023, at approximately 1622 hours, I was requested by supervision to respond to the area of Highway 60 and Hankin Road to conduct a follow-up investigation regarding a person throwing rocks at passing vehicles and attacking a responding officer. I made contact with dayshift supervision and learned the following:
The Polk County Sheriff's Office (PCSO) received two calls from passing motorists along the eastbound lanes of Highway 60 near Hankin Road. The first reportee, REDACTED, called at approximately 1533 hours and stated that a white male was standing very close to the roadway talking to himself, and she was concerned for his safety and the safety of passing motorists. REDACTED stated he wore blue shorts, a red shirt, and a black beard. The second reportee, VICTIM called at approximately 1544 hours and stated a man in the same area, with the same clothing and physical description, was throwing rocks at passing vehicles and that one of the rocks struck her vehicle.
PCSO Deputy Sheriff (D/S) Wells #8900 responded to the call and arrived at the scene in his marked agency-issued patrol vehicle at approximately 1549 hours. D/S Wells was wearing his agency-issued green patrol uniform with a Sheriff star affixed to the front of my uniform. Both sleeves of the uniform contain a patch that reads "Sheriff Polk County". When D/S Wells arrived, he attempted to detain the suspect, later identified as Juan Roman Junior, to investigate throwing deadly missiles at passing vehicles.
D/S Wells advised Roman that he was being detained and ordered him to put his hands behind his back. Roman then began resisting his commands by walking onto the roadway of Highway 60 in the eastbound lane. D/S Wells followed him into the roadway, and Roman stopped briefly. D/S Wells attempted to grab Roman's left arm, and Roman pulled away from him, running south across the eastbound lane. D/S Wells began a foot pursuit into the outside lane of eastbound traffic. Roman then turned toward D/S Wells, balled up his fists, and assumed a fighting stance. This action placed D/S Wells in a well-founded fear of imminent physical violence.
D/S Wells then attempted again to grasp Roman and take him into custody. Roman then struck D/S Wells with his left fist making contact with D/S Wells' right cheek near his right temple. Roman again struck D/S Wells several times, knocking off his radio communications and depriving him of his ability to transmit radio communications. D/S Wells deployed his agency-issued Taser cartridge, but the weapon did not affect Roman. D/S Wells retreated in an attempt to grab his radio microphone and call for backup. Roman then walked north, crossing the eastbound lanes, and attempted to flee.
At that time, D/S Alexander #3909 arrived and stopped traffic in the westbound lane. D/S Alexander exited his agencyissued marked patrol vehicle and ordered Roman to stop, get back, and get on the ground. D/S Alexander was wearing the same style uniform as D/S Wells. Roman walked aggressively toward D/S Alexander while ignoring D/S Alexander's commands, placing him in a well-founded fear that violence was imminent. D/S Alexander was able to maneuver out of Roman's path and deployed his agency-issued Taser, which also had little to no effect on Roman. During this time, Roman completely disregarded D/S Alexander's commands to get on the ground and walked to the passenger side of D/S Alexander's occupied patrol vehicle and attempted to enter it with negative results.
Roman again crossed the westbound lanes of Highway 60 and entered the median with Deputies chasing him. Roman was eventually taken into custody while attempting to cross the eastbound lanes again.
I contacted reportee two, VICTIM, and obtained a sworn recorded statement. In her statement, VICTIM advised that Roman threw rocks at several passing vehicles and struck her vehicle with a rock.
Polk County Fire/EMS transported D/S Wells to receive treatment for his injuries.
Through my investigation, I determined probable cause existed to place the suspect, Juan Roman Jr., under arrest for the following violations of Florida State Statutes:
790.19 Roman wantonly and maliciously threw a stone at an occupied vehicle traveling at highway speeds that could produce death or great bodily harm.
F.S.S. 843.02 (2 counts) – Roman intentionally and illegally refused to comply with the Deputies' orders, inhibiting them from carrying out their lawful duties.
F.S.S 843.01: Roman knowingly and willingly opposed an officer during the lawful execution of his legal duty.
F.S.S. 784.07 (Two counts) Roman intentionally and unlawfully threatened, by act, to do violence to D/S Wells and D/S Alexander. At the time, Roman appeared able to carry out the threat. The act of Roman created in the mind of (victim) a well-founded fear that violence would occur. D/S Wells and D/S Alexander were law enforcement officers at the time. Roman knew D/S Wells and D/S Alexander were law enforcement officers. At the time of the assault, D/S Wells and D/S Alexander were engaged in the lawful performance of their duties.
F.S.S. 784.07 (2)(D) Roman actually and intentionally touched or struck D/S Wells against his will and intentionally caused bodily harm to D/S Wells. In committing the Battery, Roman intentionally or knowingly caused great bodily harm to D/S Wells. D/S Wells was a law enforcement officer. Romanm knew D/S Wells was a law enforcement officer. D/S Wells was engaged in the lawful performance of his duties when the battery was committed against him.
F.S.S. 843.025: Roman deprived a law enforcement officer of his radio, disallowing the officer to defend himself or summon assistance.
F.S.S. 810.02: Roman illegally attempted to enter an occupied conveyance with the intent to commit a crime within the conveyance.
F.S.S. 877. 03 Roman committed acts that outraged the sense of public decency and affected the peace of the persons who witnessed the acts. Roman fought in full view of the drivers and passengers on the highway during this incident.
F.S.S. 856.021- Roman loitered in a place, at a time, or in a manner not usual for law-abiding individuals. Such loitering was under circumstances that warranted justifiable and reasonable alarm or immediate concern for the safety of persons or property in the vicinity and took flight upon the appearance of a law enforcement officer.
Video footage of the incident was obtained, and I observed several pedestrian traffic violations committed by Roman. Roman was issued Florida Uniform Traffic citation numbers AHQ98CE, AHQ98DE, and AHQ98EE for the violations"
Juan Roman Jr. is no stranger to law enforcement or the court system. Roman has previous arrests for is a convicted felon with three prior convictions for Aggravated Battery on an LEO/Firefighter/EMT, two convictions for Disorderly Conduct, and other convictions for Robbery, Possession of Controlled Substances, Possession of Drug Paraphernalia, and Exposure of Sexual Organs.