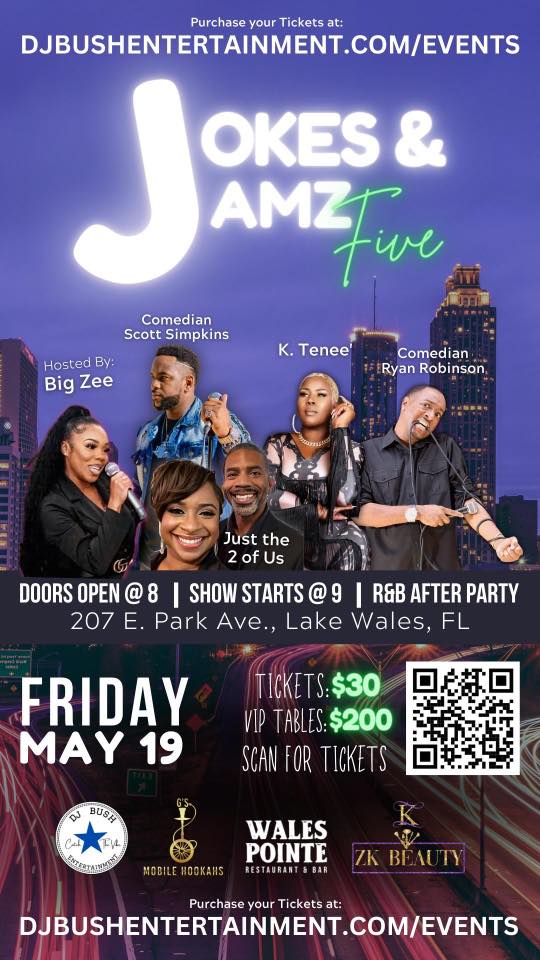 by James Coulter
Looking for a great night to unwind and have fun with a few good laughs? Here are five reasons you should attend Jokes and Jamz 5 at Wales Pointe on Fri., May 19:
#1: Stay Out Late After 8 pm. Wales Pointe is the only place in Downtown Lake Wales where you can have a good time and good food after 8 p.m.
#2: Drinks. Wales Pointe recently opened its full bar. So if drink specials and libations are something you are interested in, then quench your thirst with some cocktails and other drinks.
#3:Very Funny Comedians. Want to laugh so hard that you began to tear up? Then take a listen to the hilarious comedy stylings of comedians Ryan Robinson and Scott Simpkins.
#4: Hot R&B Talent. Nothing goes better with drinks and a meal than live music performed by amazing artists. Enjoy the husband/wife duo Just The 2 of Us, with the wife singing covers to her husband playing saxophone. R&B Soul Songstress K. Tenee' will also be performing.
#5: Great Food. Wales Pointe has a diverse selection of menu items ranging from wings & fries to shrimp & grits. Everything on the menu for Jokes and Jamz will be under $20.
"If you want to laugh and not worry about the problems of the work week and have fun without spending a whole bunch of money doing it, Jokes and Jamz 5 is for you," said DJ Bush, organizer and official DJ of the Jokes & Jamz series.
This is the fifth installment of Jokes and Jamz, held at Wales Pointe Restaurant in Downtown Lake Wales. This is a quarterly event hosted every three months. The next show in the series will be hosted by Big Zee on May 19, with subsequent events in August and November.
DJ Bush started this series of comedy and music fusion as a way to provide entertainment in Lake Wales for young adults, the kind of entertainment normally found in big cities like Orlando and Tampa.
"I am from a larger city where there are a lot of things to do for different age groups, and I noticed in Polk there is a void for young professionals, folks 25 to 45," he explained. "There is not much for us to do unless we want to hit a bar–which there is nothing wrong with that, but sometimes we want to do something different."
DJ Bush has been deejaying out of Polk County for the last four years. He normally hosts private events like weddings, proms, birthdays, and homecomings. He wanted to bring his big-city experience to a small-town setting by creating something unique for young people to enjoy.
"So Jokes and Jamz was my attempt to create something fun for us to do that did not require us to drive to Orlando or Tampa and spend a ton of money to have a good time," he further
elucidated. "We can enjoy a large city feel right here in Polk, have a great time, take a short ride home safely, and not break the bank."
Since its inception, Jokes and Jamz has drawn out large crowds, and he expects even larger, more livelier crowds in the future.
"People come out to Jokes & Jamz to have a good time and have fun," he said. "They want to be able to forget about their problems for a little bit."
Jokes and Jamz 5 will be hosted by Big Zee of ZK Beauty on Fri. May 19 from 8 p.m to midnight at Wales Pointe, located at 207 E. Park Ave. Lake Wales, Fl, 33880.
For more information or to purchase your tickets, visit http://www.djbushentertainment/events. Tickets begin at $30.