Suspicious Vehicle Call Leads To The Arrest of Two Kentucky Men For Fraud In Lakeland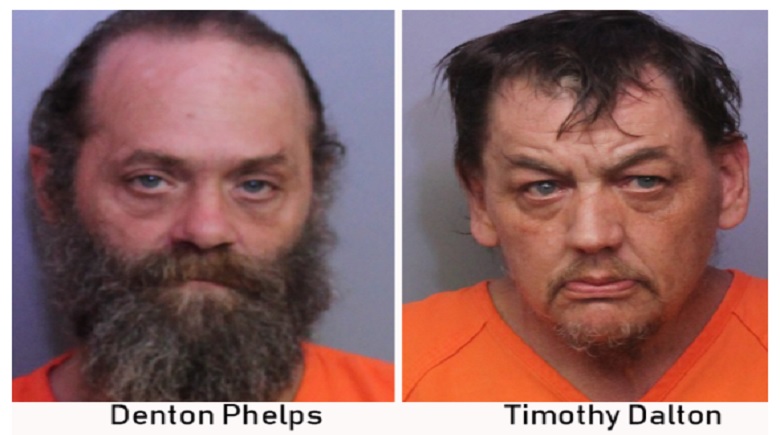 PCSO Release:
A report of a suspicious vehicle in the Groveglen Subdivision on Lakeland Highlands Road in Lakeland on Tuesday morning, October 23, 2018, led to the arrest of two men involved in a scam of an elderly resident for thousands of dollars, and had traveled from Kentucky to get more money from him.
The two men who were arrested were 50-year-old Timothy Dalton of 3637 Slate Branch Road in Somerset, Kentucky, and 48-year-old Denton Phelps of 547 West Journey's End Road in Stearns, Kentucky.
The call came in at about 8:57 a.m., and the caller said that the painted-over former ambulance had out-of-state tags on it, and was driving slowly through the neighborhood.
Deputies quickly located the vehicle on Groveglen Lane South, and made contact with the two men inside.
During the investigation, it was learned that a 70-year-old resident of the neighborhood had been scammed over the phone and the two men in the truck had traveled here to attempt to get more money from him.
The victim told detectives that contact was initially made via Facebook , and transitioned to telephone. He said he spoke with a woman who told him that he had won a million dollars and a new Mercedes Benz, but to claim it, he would have to send a deposit. He said he eventually sent about $17,000, thinking it was to cover taxes on the prize money. Once the victim realized he had been scammed, he changed his phone number.
According to the arrest affidavits, Dalton made contact with the victim at his front door, and handed the victim a cellphone for him to speak to someone who tried to convince him that he needed to pay $2,500 more to complete the process. The victim refused to pay more.
Phelps told the detective that he knew Dalton was conducting "some kind of scam" but said he was only getting paid to drive to Florida to deliver a message.
Detectives believe there may be more victims, and the investigation is ongoing.
"It's always sad to hear that an elderly member of our community has been scammed out of their savings. Thanks to an alert person who saw something suspicious, and said something to us, we were able to arrest a pair of criminals."- Grady Judd, Sheriff
Dalton was arrested and charged with Scheme to Defraud (F-3) and Grand Theft from a Person 65 or Older (F-3). Phelps was arrested and charged withGrand Theft from a Person 65 or Older (F-3).
The Polk County Sheriff's Office recommends that you never share personal information with someone over the phone or internet without knowing for certain with whom you are interacting. Also, you will never be required to send money to receive a legitimate prize. If paying money is required, it's a scam.