Peace, Love, And Harmony Reigned Over Earthdance Florida
by James Coulter
Friday afternoon. Rain poured from the sky over Triple Canopy Ranch in Lake Wales. Two women sat amidst the downpour praying for it to stop.
They sat cross-legged in front of a makeshift fountain. Within it, lotus flowers floated among the rocky cliffs and crystals from where the water poured down into it as a waterfall.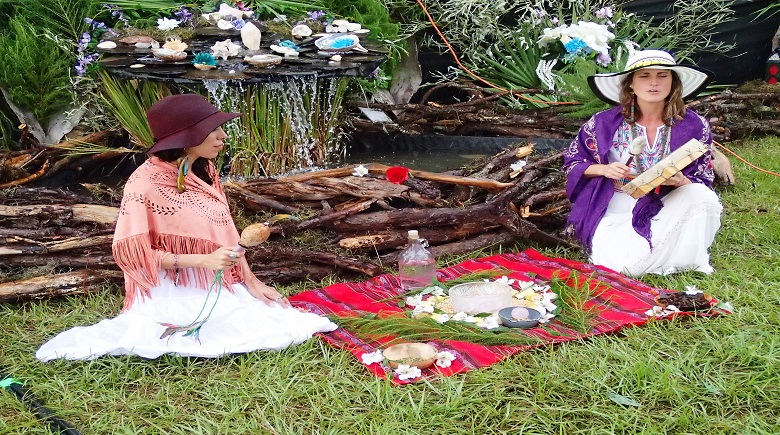 Between the two women lay a blanket. Upon it were set wooden bowls filled with grain, fruit, cedar, and tobacco and a glass jug of water. All of these were offerings for nature during this small ceremony.
Dressed in shawls and wearing only sun hats as protection from the rain, each of the two women played instruments and chanted to themselves. One pounded upon a furskin drum. The other shook a rattle.
The two sat within that rain, playing their music, singing their chants to the sky above, praying for the rain to stop and for better weather to arrive over the weekend.
Their prayer seemed to have been answered. The weather improved for the remaining two days of Earthdance Florida at Triple Canopy Ranch in Lake Wales.
Kelsey Consciousness and Carolina travel across the country and even the world to attend cultural events such as this. They do so to rejuvenate their own spiritual energy as well as freely offer their own good vibrations towards others.
Their small ceremony in the middle of the rain on Friday afternoon was the least they could do to ensure good weather for the remainder of the event that weekend.
"We were singing a song to the sun to clear up the rain a bit, to have it pass so the festival could start," Kelsey said. "It is the most that we can do at this point, which is to honor the elements."
This was her first year at the annual festival. She appreciated participating within the overall spirit, engaging with the event's collective efforts to bring forth a global prayer for peace.
"It is nice to be greeted by people who are living from the heart and seeing the collective vision and the collective effort of community coming together," she said. "For having no expectations, it exceeds that for sure."
Her partner, Carolina, attended the event last year. She too appreciates joining together with friends and strangers alike to connect with one another both physically and spiritually.
"I love the opportunity to be with other people from all over the world, and transformational festivals offer more than music where people can bring their own talents and wisdom to share, to really connect with other people," she said.
The Florida Earthdance Music and Arts Festival is an annual three-day event hosted in conjunction with corresponding events around the world to celebrate the autumnal equinox and promote global peace and harmony.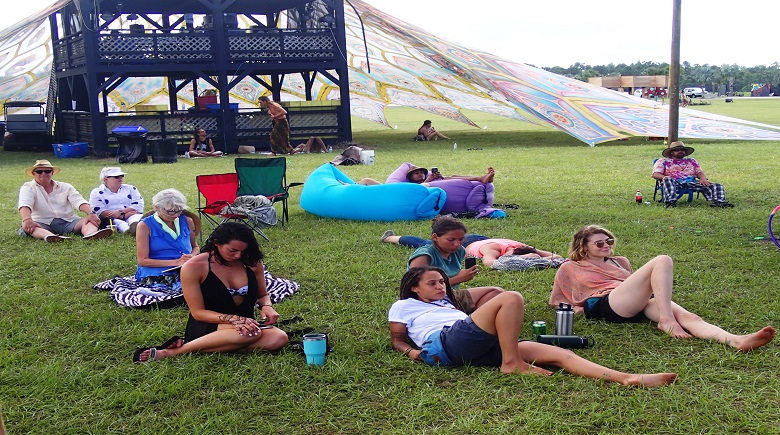 The highlight of the event occurred on Saturday evening during the global prayer for peace. Attendees gathered together with one another to focus their spiritual energy and join in a collective prayer synchronized with that of other events around the world.
The remaining three days were filled with good vibrations with workshops, arts, crafts, music, and dance. Everything was done to help better produce cultural understanding and creating a better collective consciousness with attendees.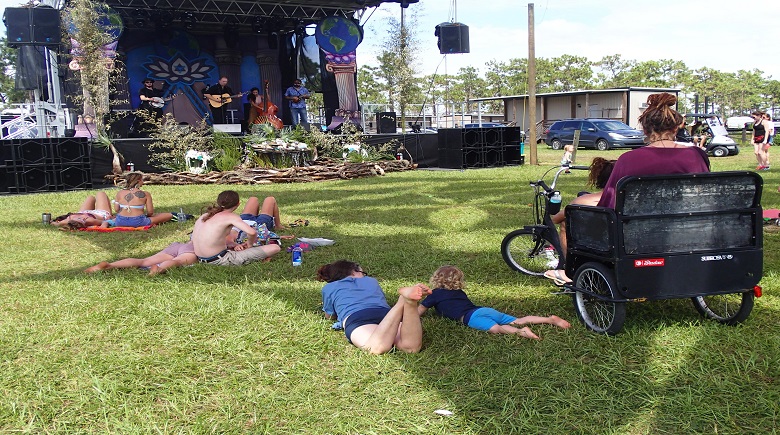 Throughout the event, many workshops were held to help attendees achieve better spiritual understanding through yoga, meditation, and even music.
During one such workshop, willing participants were taken upon a spiritual journey to unlock hidden knowledge to help better their own lives and the lives of others here on earth.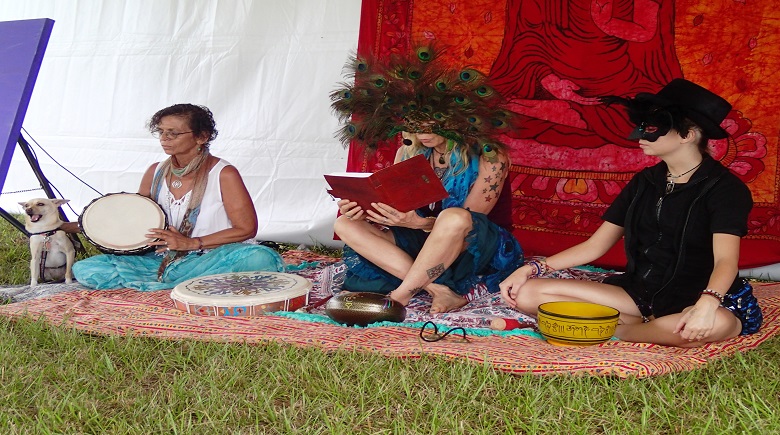 A trio of women, led by one woman named "Story", sat cross-legged under a tent. One patted a drum. The other rubbed a bowl. And Story, dressed in a peacock headdress mask, read aloud from a book.
All the while, participants within the tent sat silently upon the ground. Some sat on yoga mats. Others on the bare grass. Their "guides" helped lead them through their spiritual journey.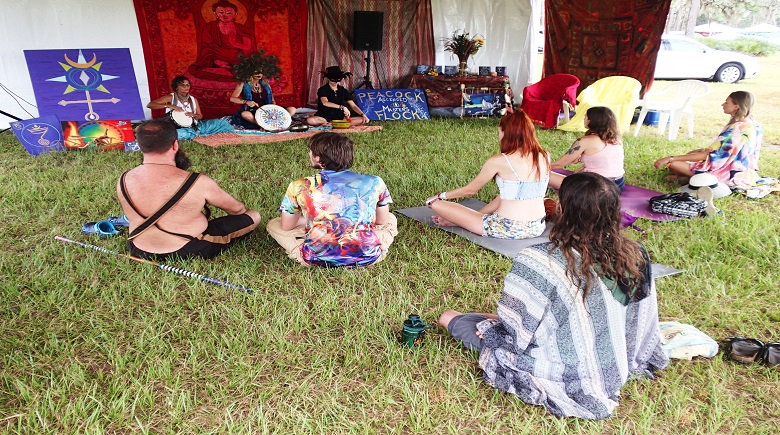 Together they traveled to another planet where they visited a temple with beings made of light. These light beings guided them through a library of ancient tomes, where they could unlock the secrets of the universe, and even the secrets of their past lives.
Story herself was "guided" there to the festival to unlock the heart chakra of Central Florida during the event, thus allowing good vibrations to better flow forth and produce better spiritual harmony and understanding.
Being able to help others achieve their own spiritual quests and understand themselves is the purpose she feels she attends festivals such as this, as well as why she exists on Earth.
"I was guided here by my higher self in service to humanity and Gaia in this time," she said. "That is what I was reincarnated on this planet for, to bring forth the energies of love and light and anchor it back into this realm, and that is my expectations, which is to bring in the highest vibrations of love and light and share it with everyone that I meet."
This year's event, having previously been hosted at Maddox Ranch in Lakeland, was hosted within its new venue at Triple Canopy Ranch in Lake Wales.
With 420 acres of scenic open space, including waterways and man-made islands, there was more than enough room for everyone to find themselves spiritually and emotionally.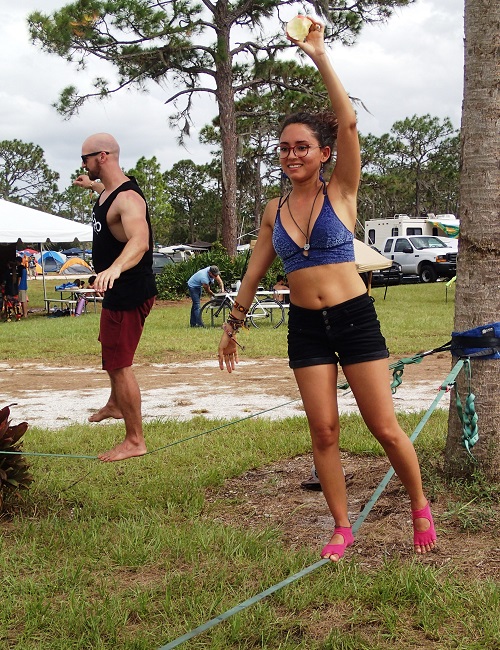 Also unique this year was the festival's focus on being more "family-friendly", providing an opportunity for children to attend and enjoy themselves with fun activities, music, arts and crafts.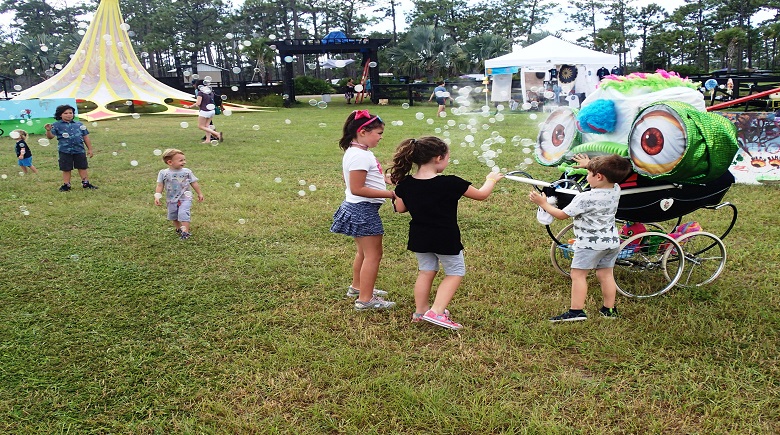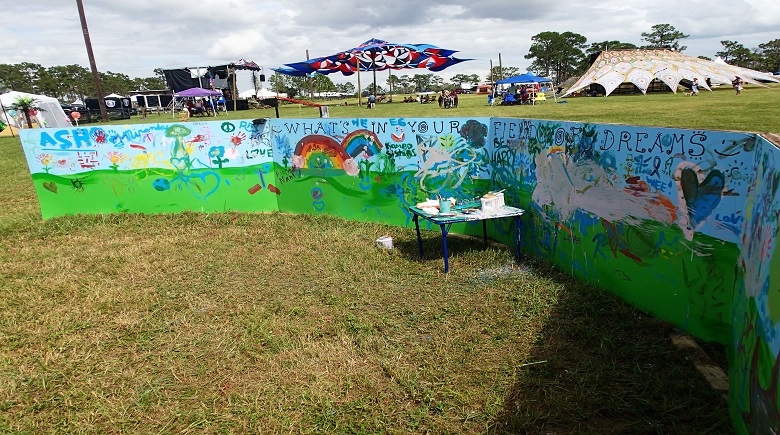 People from across the state, as well as from across the country, traveled to the heart of Florida to help open up the state's heart chakra by producing overall good vibrations. The event drew a large turnout that brought in everybody and nobody—quite literally.
Sitting alongside one of the man-made rivers of the venue was parked the "Incredibus", a repurposed bus painted with rainbows, hearts, and handprints of different colors.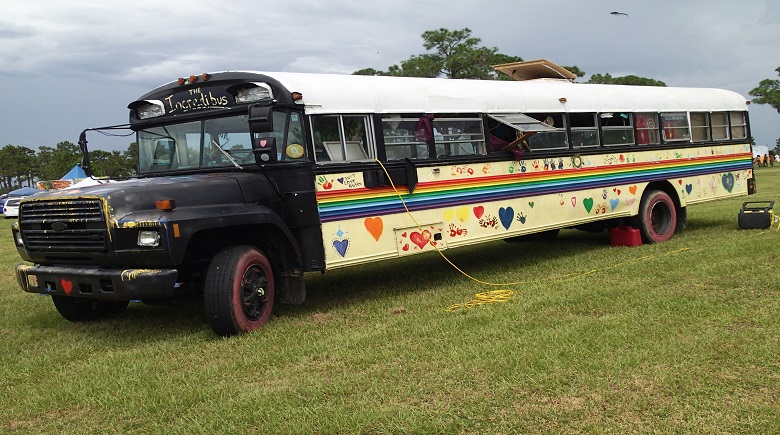 Inside that bus, guests were invited to come in and make themselves at home, provided they left their shoes outside, of course.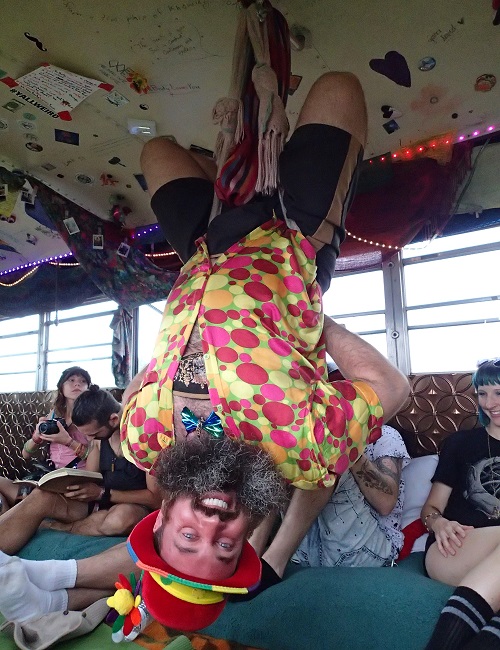 Guests were free to crawl inside, sit barefoot upon pillows and underneath words of inspiration written on the ceiling, and chat with one another and the bus driver, who was literally "Nobody."
A free-spirited middle-aged bearded man who has traveled in his bus across the country, Nobody loves to make friends with everybody—because when you're friends with nobody, you're friends with everybody.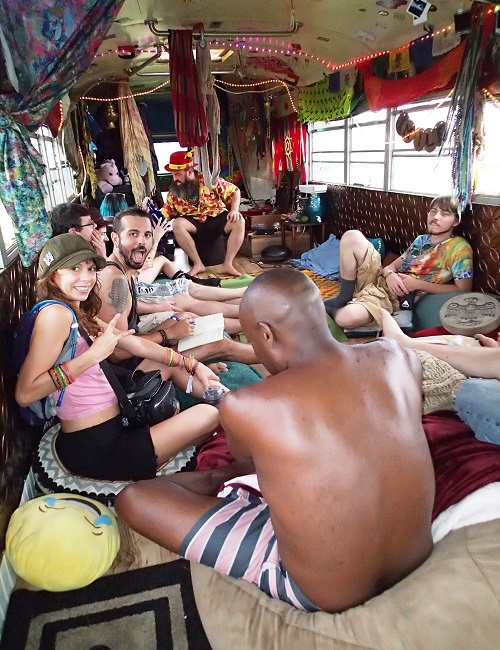 "Everybody is friends we never met," he said. "Everybody is friends I haven't met yet. Nobody is friends, and everybody is friends. Love yourself. Have a great time. Be safe."
Having owned his bus for a year and a half, he considers it a miniature sanctuary where everybody can come in, be themselves, and make friends.
He has traveled as far west as Chicago, and hopes to travel even farther to the West Coast later this summer, especially to visit Burning Man. As for Earthdance, he arrived to have an enlightening experience with friends old and new, and it did not disappoint him in the least.
"I had my awakening at the festival," he said. "I was at the right time, and I had guides that took me the right way. I don't claim to be that, but this is a place for everyone and it is a space to be held sometime."