Florida Air Museum Opens NOAA Exhibit
by James Coulter
In 1900, a category-4 hurricane swept through Galveston, Texas. Killing between 6,000 and 8,000 people, it became the most deadly natural disaster in American history.
Nearly two decades later, a similar hurricane swept through Florida, nearly wiping out most of the Lake Okeechobee area, and killing nearly 4,000 people.
Both of these hurricanes killed so many people because they arrived with little to no warning. There was no scientific agency around during those times to monitor or track such deadly storms.
That all changed in 1970, when The National Oceanic and Atmospheric Administration (NOAA) was established. This federal agency monitors changes within our nation's oceans and atmosphere, helping to track potentially deadly storms and warns of incoming natural disasters.
Because of their hard work, natural disasters no longer kill as many people as they once did. This is why Hurricane Irma, despite being a category-5 hurricane, only killed 64 people last year.
NOAA's rich legacy and history is currently being showcased within a new exhibit within the Aerospace Discovery at the Florida Air Museum.
The exhibit details the history of the organization, from its earliest ancestor founded in 1807 by Thomas Jefferson, to its current role in monitoring our airs and seas with the latest technological innovations.
Showcased within this exhibit are several pictures and artifacts related to the organization, including military uniforms, past and present scientific tools, and even a message in a bottle that served to track ocean currents back in the 1960s.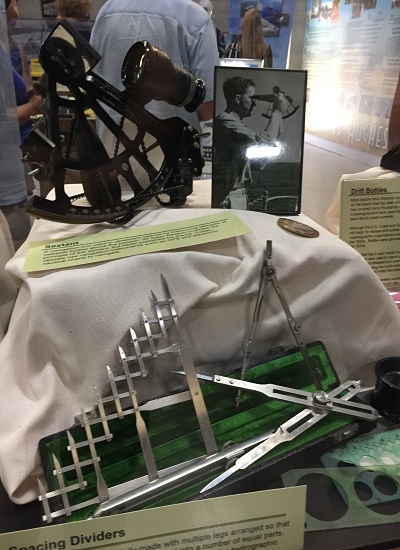 Through this new exhibit, museum guests will be able to better learn and appreciate the services provided by the scientific government agency and the role it plays in monitoring our seas and skies and warn of potential danger.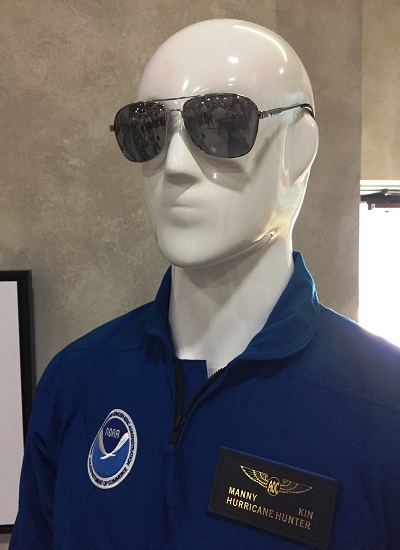 "A lot of what we look at this exhibit is partially about hurricanes, but it is also about the changes of the coast," explained Jayme Jameson, Aerospace Discovery Manager. "One of the things that are important to us as Floridians is protecting our coastlines and monitoring red tide and changes in the ocean, so this looks at a lot of that."
The Florida Air Museum celebrated the opening of its newest exhibit with a ribbon cutting ceremony on Friday morning.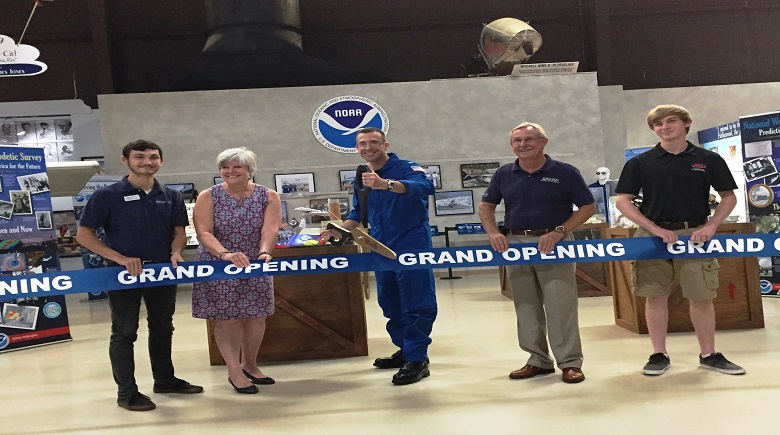 John "Lites" Leenhouts, President and CEO, during his speech, commemorated the exhibit and how it showcased the important work that the agency provides, especially for the local area.
"This is a very monumental moment," he said. "NOAA is doing the Lord's work by letting us know when a bad storm is heading towards us. This is to showcase all the things that NOAA does that you don't even know about."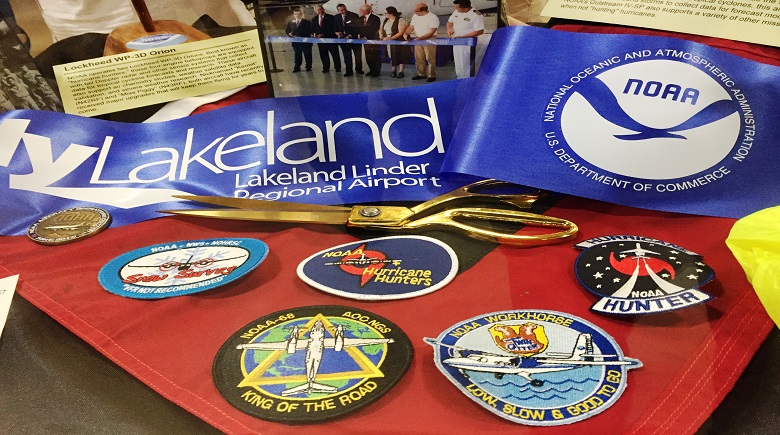 Last year, NOAA moved its operations from Tampa to the museum to utilize its facility. Through this move, the museum was able to expand and improve itself to become bigger and better.
Especially useful to NOAA was the Florida Aerospace Academy, which is helping to train young men and women for a future career in aviation and aerospace, and even potentially for NOAA.
"This is where science meets aviation," Leenhouts said. "You may see museum pieces up here, but in reality, this is a STEM aviation based learning center, so you are in the midst of the future, not just the past."
Captain Timothy Gallagher, Commanding Officer for the NOAA Operations Center, also spoke that morning and shared his experiences working at NOAA, which included being one mission short of 250 penetrations into hurricanes.
On behalf of NOAA and its relationship with the museum and its facilities, he conferred to Leenhouts and Jaymeson two commemorative Jefferson bowls.
"I am proud to represent NOAA," he said. "What you see here is definite demonstrations of how that teamwork and cooperation works to help us fly safer and come home every day. We hope that you enjoy this exhibit as much as we enjoy being here."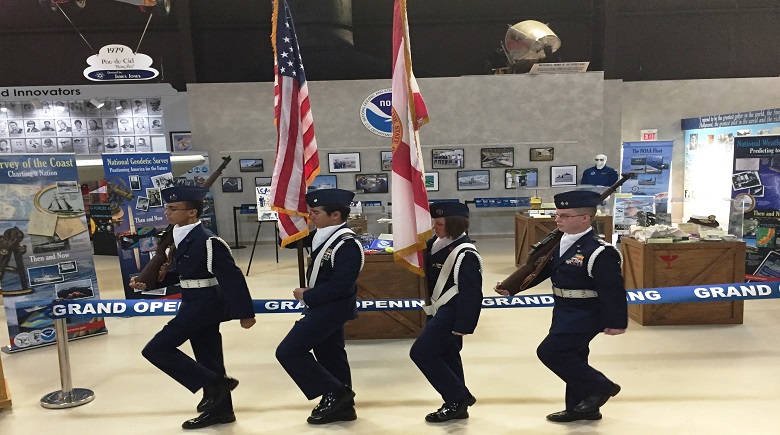 The Aerospace Discovery at the Florida Air Museum is located at 4175 Medulla Road in Lakeland, and is open daily (except Monday) from 10 a.m. to 4 p.m.
For more information, visit their website at https://www.flysnf.org/ace/