Double Vision: Photocentric Paintings By Richard Heipp
by James Coulter
Stepping into the gallery for the art exhibit of Richard Heipp at the Polk Museum of Art is like stepping into the pages of a scientific textbook.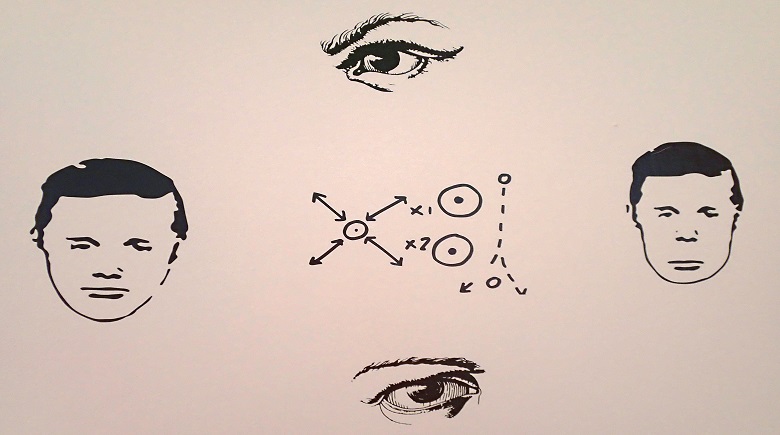 Inside you'll find several large photographs (or rather, what appears to be photographs) overlaid with graphs and camera lens markings, with black illustrations doodled on the white walls and amidst displays of scientific equipment, anatomy models, and cameras.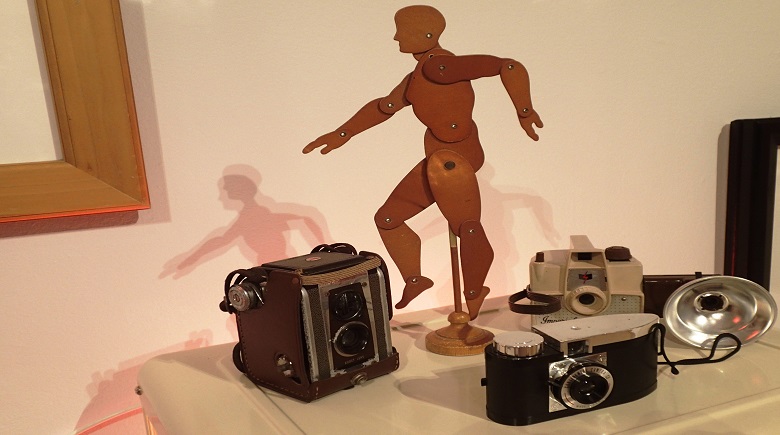 Heipp revels in his "maximalist" aesthetic (the opposite of minimalist), as he uses up whatever space he is given and puts it to good use.
"If you give me an empty space, I will fill it up," he said. "I want things to be full all the time. I like to make my artwork to fill it up with as much space as I can."
At first glance, many of these large photographs appear to be just that: large photos. But upon a closer glace, you'll see that they're really photo-centric paintings.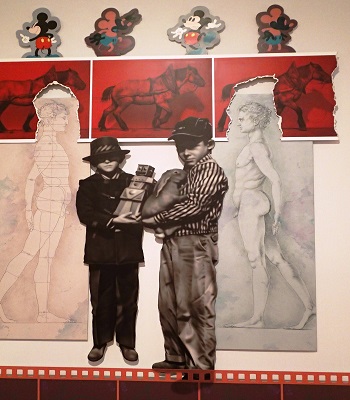 This level of photorealism was created through the air-brushed simulations of photographs and other scanned objects, thus making them appear as real as the original copies themselves.
Heipp considers his artwork to be at the crossroads between classic art and modernism, to blend the reality of the realistic and the idealistic.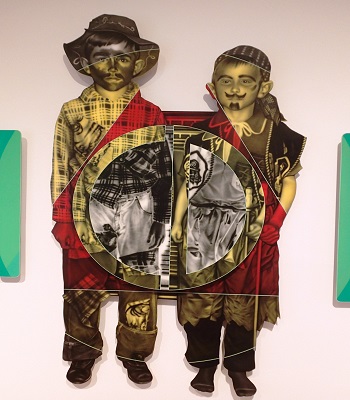 While classic art was the window to the world, and modernism was the wall to that window, his photo-centric artwork is where the wall and window meet as one.
"So I wanted to find the space that was kind of in between there, between the window and wall itself where the window becomes the wall," he said.
As such, his artwork focuses on the perception of illusion. He wants to use his art to show how art, specifically photography, helps influence us as a culture.
"My work, I wanted it to be more than just the feel for the photograph, but also how in many cases the role that photography plays in shaping the way we see and shaping the way we think as a culture," he said.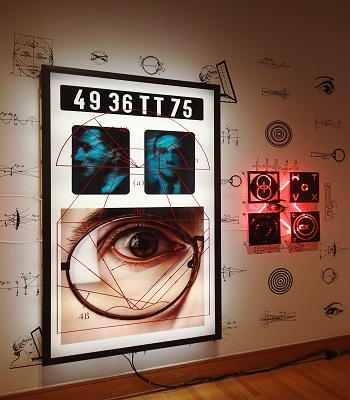 One such art piece involves the negative photograph of a young girl framed within the insignia of a rose and within a red house.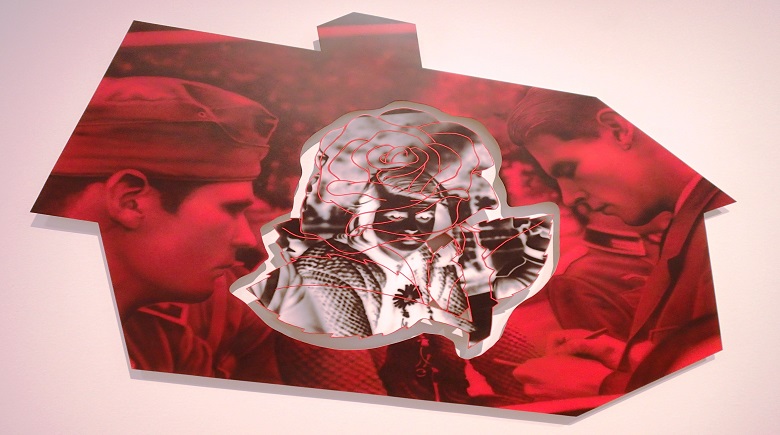 The photo itself was inspired by anti-Nazi propaganda, and the rose was the symbol of the underground group, The White Rose, that would post such propaganda in the dead of night, and that was inevitably arrested, captured, and executed by the Nazis.
"So that tells you how ideas can be squelched," Heipp said. "The government can come in and take what is yours. They can impose these values on you."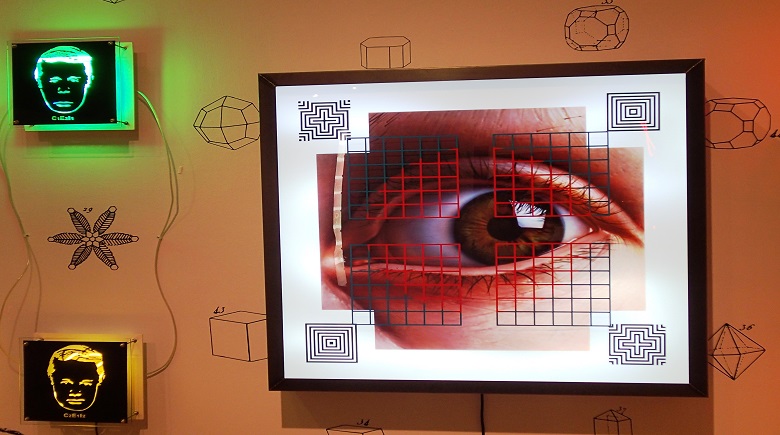 Heipp was born in 1952 in Cleveland, Ohio to parents who were both German immigrants from Yugoslavia.
Born with the visual condition, strabismus, he was cross-eyed. This caused him to see double, thus requiring him to focus on one eye rather than the other as to allow himself to see straight.
"What that means is that I see the world in a much flatter way then everyone else, which makes it easier to draw," he said.
From a very young age, he exercised his ability to draw. He would often spend time copying the comic illustrations from the Sunday newspaper comics pages.
He graduated from a vocational high school before attending community college, becoming the first person in his family to attend university.
Heipp graduated with his bachelor of art from the Cleveland Institute of Art and with his masters of art from the University of Washington.
For the past 37 years, he has taught as a proffesor of painting at the University of Florida and as the director of arts and art history from 2010 to 2015.
He has been the recipient of several accolades throughout his art career, including six Florida Individual Artist Fellowships and an Outstanding Artistic Achievement Award from the Southeastern College Arts Association.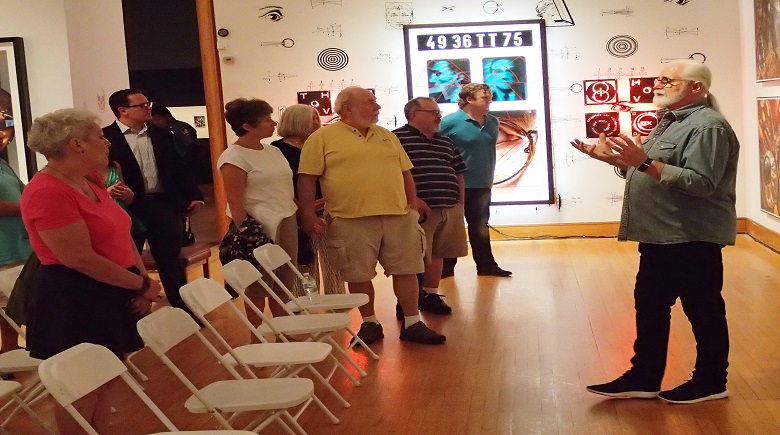 Heipp sees the world from a much flatter perspective due to his strabismus. This allows him to not only draw better in two-dimensions, but allows him to better reproduce photographs with near photorealism.
"So as this artwork goes, it causes you to slow down and think about how it makes you feel," he said. "That is what we as artists are trying to do, we are trying to challenge you emotionally and intellectually."
Alex Rich, Polk Museum Curator, appreciates how Heipp serves as both a good studio artist and a great proffesor, as he demonstrated during his gallery talk on Friday, August 10.
The exhibit itself is unlike any other that the museum has showcased in recent years, as the various art pieces, coupled with the lighting, displays, and illustrations, thus fully engaging the average museum patron in more ways than one.
"It is unlike most other exhibitions that we have shown within the museum, and in particular, in recent years," he said. "It is engaging in terms of its multimedia, its using familiar images and unfamiliar images, its focus on eyes, it is stimulating for all different audiences…So it is wonderful to see all these different pieces in a single contemporary art show."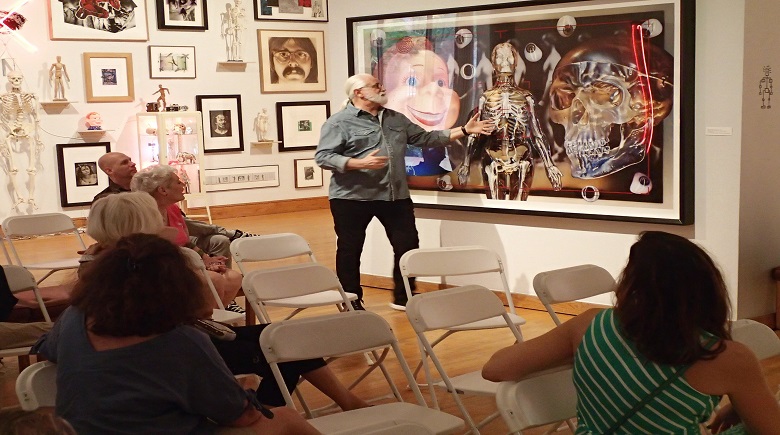 Double Vision is currently on display from now until August 25 at the Polk Museum of Art, located at 800 E. Palmetto Street in Lakeland. For more information, visit their website at: https://polkmuseumofart.org/