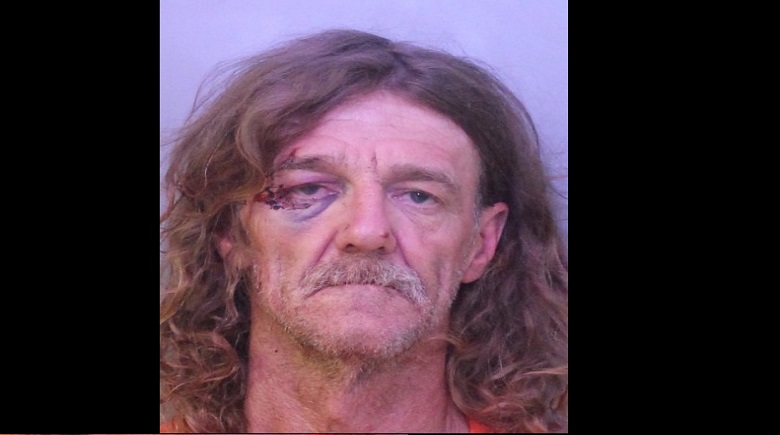 On Wednesday, April 25, 2018, the Polk County Sheriff's Office arrested a 51-year-old Lake Wales man on multiple charges, after a brief pursuit in which the suspect intentionally tried to ram a deputy with his truck. The man arrested was identified as Wesley Pierce.
The incident began around 1:52 a.m., in the area of Catfish Road and Shiner Drive, northeast of Lake Wales. The deputy was patrolling in the area due to recent criminal activity, when he noticed a Ford F-150 pick-up truck parked suspiciously. As the deputy pulled-up to the truck, it quickly sped off. The deputy then turned on his emergency lights to initiate a traffic stop, but the driver refused to pull over, and instead turned into an orange grove. The deputy stayed on the road, and got ahead of the truck, and waited for Pierce to drive back out of the grove. As Pierce was exiting the grove, he intentionally drove his truck directly at the deputy's vehicle, forcing the deputy to maneuver away from a collision.
The deputy caught back up to Pierce. While the two vehicles were travelling about 30-35 mph and heading toward a residential area, the deputy executed a P.I.T. maneuver (Pursuit Intervention Technique) on Pierce's truck, causing it to come to a stop off of the north side of Tindel Camp Road, west of Timberlane Road.
Pierce refused to get out of the truck, and refused to unlock the doors. The deputy broke the window, and removed Pierce from the truck.
Pierce had a laceration on his head, believed to have been caused from impact with the 16 citrus trees in the grove that he struck and damaged. He was treated at Lake Wales Medical Center and released, then transported to the Polk County Jail.
During an inventory of the truck, 5.9 grams of methamphetamine was found inside of the cab.
Prior to his arrest, Pierce had a warrant for DWLSR, HTO (Driving While License Suspended or Revoked, Habitual Traffic Offender), with no bond. For this incident, he was charged with Aggravated Assault on a Law Enforcement Officer (F-2), Fleeing to Elude (F-3), DWLSR (F-3), Criminal Mischief, Possession of Methamphetamine (F-3), Resisting (M-1), Trespassing (M-1), and Possession of Paraphernalia (M-1).
"This man is what you might call a true menace to society. He's obviously a danger on the road, and his criminal history is a smorgasbord of physical violence, drugs, and thefts. He's a poster child for people who belong behind bars." – Grady Judd, Sheriff.
Wesley Pierce's prior criminal history consists of 28 felony charges, 34 misdemeanor charges, and four incarcerations. This was his 39th time arrested in Polk County.
Prior charges include: Aggravated assault with a deadly weapon, aggravated battery on a LEO (3), grand theft of a motor vehicle, dealing in stolen property, battery on a LEO, escape (2), battery (7), fleeing to elude, resisting (8), DWLSR (11), violation of injunction for domestic violence, meth possession (2), paraphernalia possession (2).