Two Local Art Students Win Awards From Polk Museum Of Art
by James Coulter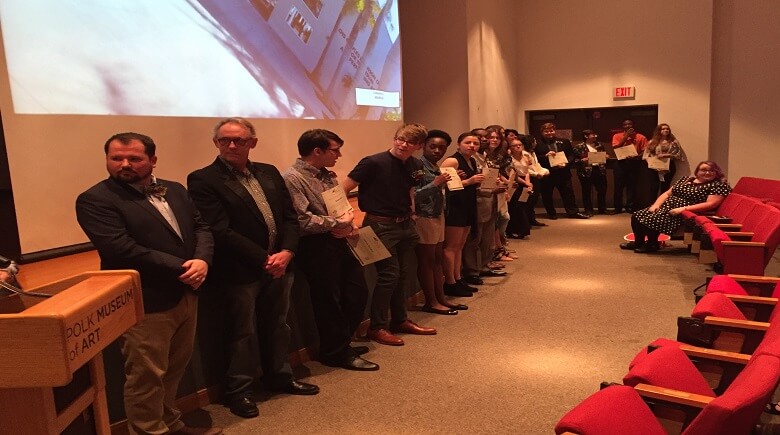 Against a multi-colored cubist landscape lies the remains of a baby robin. Its once lively body lies limp, lifeless, contorted, its mouth wide open, blood flowing from its beak, almost as if it had given one last cry with its dying breath.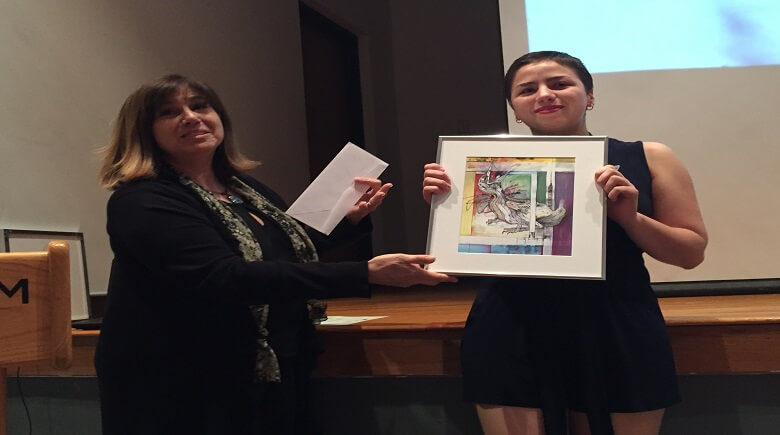 When Elisa Ferrer, a senior from Harrison School for the Arts, sketched this very scene for a class assignment, she did so as a metaphor for sickness and disease, contrasting a symbol of life through her portrayal of death.
Her painting was one of 18 other pieces of artwork created by her fellow graduating seniors from the art school, and which will remain displayed at the Polk Museum of Art during their art exhibition.
She never expected her painting to receive much publicity. So she was surprised to learn that it would be one of two pieces awarded and selected by the museum to become permanent exhibits.
When she heard her name called during a presentation at the reception at the museum on Friday evening, she could barely hold back her tears as she made her way up front to the podium to receive her award.
Once she graduates this summer, she plans on attending art school to pursue a career in animation as a concept illustrator. She knows that such an opportunity could only arise because of her attendance at her school.
"It feels really grateful, and I am really surprised," she said. "I did not imagine that this would happen."
The other student to receive an award and have their art piece displayed at the museum was Oliver Stephenson, whose sketch focuses on a miniscule character exploring a tiny grassy landscape of bugs and flora.
"I have always been really fascinated by nature, so that has mostly been what has inspired it," he said.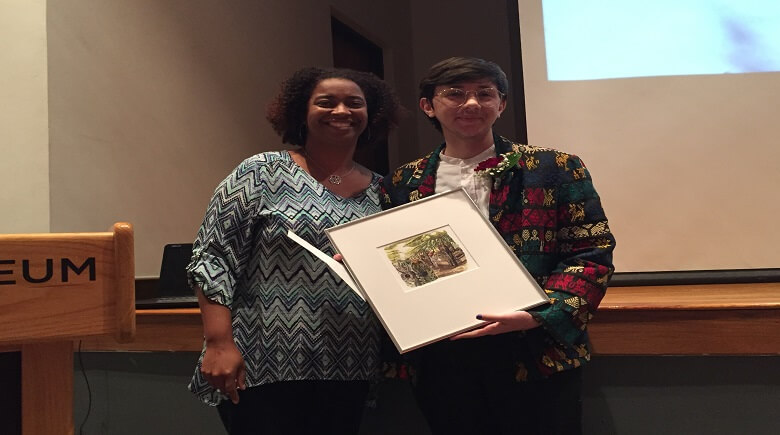 Like Elisa, Oliver was likewise surprised to have his artwork honored by the museum, and owes all his gratitude towards his art school, especially now that he will be graduating and moving onto attend Ringling Art and Design for Illustration in Sarasota.
"I am honestly amazed," he said. "I am not doubtful of myself, but I am forever grateful for all the people who have brought me here and how it will be on the wall of the museum for years to come."
These two students were of the 18 graduating seniors of the Harrison Visual Art Class of 2018 whose art is currently being displayed at the Polk Museum of Art in Lakeland from now until Mar. 11, 2018, with the reception having been hosted last Friday.
The title of their exhibit, "But, Naked: A Collection of Soul-Baring Work", represents, according to their program, "how, as artists, we bare all through our work", especially with the class being composed of students from a diverse spectrum of races, genders, and sexual orientations.
"Being an artist of any minority can be difficult when you are faced with a lot of discrimination, but showing yourself as an individual shapes artistic vision," explained one of the students, Marshall Hayes.
As such, the exhibit helps showcase the power and diversity of perspectives presented through the individual life experiences of each and every one of the 18 students within the graduating class.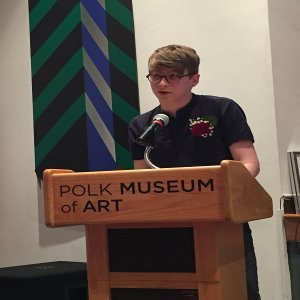 "The self-expression and discovery of our art classes have allowed me to meet the most incredible people I have ever met," explained another student, Andrew Boynton. "Together we have come up with a show that has shown the most vulnerable nature of our work and our relationships as artists. The beauty in the art department does not come from our work as a collective, but how powerful our voices are as individuals."
For the students whose artwork is being displayed within the walls of the museum, the exhibit represents the end of a four year journey that they have each taken together and which they now conclude, and for some, especially their teachers, the end of the journey remains a sad one.
"It is always bitter sweet," said Beth Garcia, Visual Art Instructor. "I think that the student work is excellent, and it always feels like the end, which is why it is always a little sad."
The students highlighted at the exhibit include Susan Alvarez, Braedon Bishop, Andrew Boynton, Darielle Brisbane, Elisa Ferrer, Marshall Hayes, Amanda Hollingsworth, Ahmrii Johnson, Ryan Johnson, Cici McMonigle, Hali Quinn Mervine, Sybella Norman, Antonio Opio, Gabriella Santana, Ryder Skipper, Oliver Stephenson, Ben Stribling, and Kimberly Wentworth.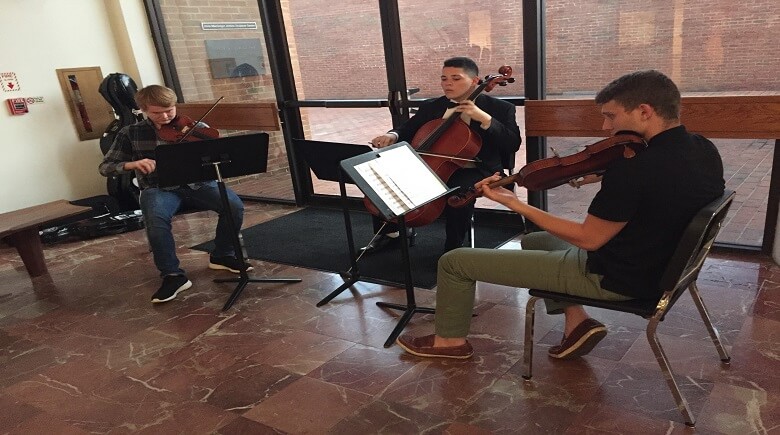 "But, Naked" will be exhibited at the Polk Museum of Art until March 11. The museum is located at 800 E. Palmetto Street in Lakeland, and is open daily (except Monday) from 10 a.m. to 5 p.m.
For more information, visit their website at https://polkmuseumofart.org/