"Cosmic Lois Lane" Discusses Truth About Roswell And UFOs
by James Coulter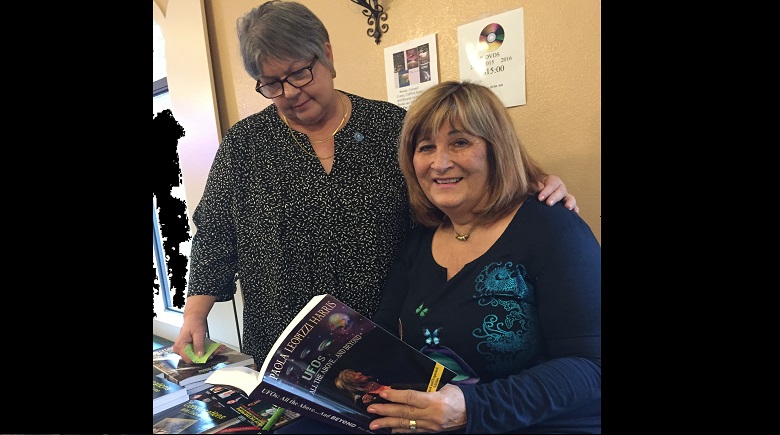 In 1947, an unidentified flying object crashed near Roswell, New Mexico. The government insists the object was a weather balloon, but for truth seekers like Paola Harris, they know it was something truly "out of this world."
As a photojournalist and freelance writer on extraterrestrial activity, Harris served as an almost "cosmic Lois Lane", having interviewed countless top military witnesses who claimed to have had "close encounters of the third kind."
Harris shared her experiences during a recent lecture in Lakeland at Unity Chapel in the Grove on Sunday afternoon.
One such witness she worked with was Col. Philip Corso, a former Army officer who claimed to have helped research extraterrestrial equipment retrieved from the Roswell site.
Harris met and befriended Corso in 1997, one year prior to his death, and helped him prepare his book, "The Day After Roswell", in which she wrote the preface and translated the book into Italian.
Corso's work has been allegedly verified by Paul Hellyer, former Canadian defense minister, who not only insisted that Corso's account was accurate, but that "UFOs were as real as airplanes", according to Harris.
Harris has spoken with countless other "whistleblowers" who claim that the "truth" about UFOs and other extraterrestrial activity is being covered up by the government.
Another witness, Clifford Stone, a retired Army sergeant, not only claimed to have encountered extraterrestrials during his service, but that the military has a first aid manual for up to 57 species, Harris claimed.
When he first started his service at age 19, Stone claimed to have been sent to investigate a crash site, where he encountered the body of an extraterrestrial in a harrowing experience that left him emotionally distraught.
"I cannot tell you of how many military people have cried in front of me because it is so emotional," Harris said.
Harris has been conducting research into the extraterrestrial since 1979, during which time she has collaborated with other notable individuals in the field of ufology such as Dr. J. Allen Hynek.
Having spent 30 years collecting data, the one thing her research has taught her is that there's still so much more she doesn't know; and even with what little she does know, she still finds herself asking the big question of what it all means.
As such, she emphasizes the importance of other people doing their own research and pursuing more than one source of information, including her own, as to get a better view of the overall bigger picture.
"I want people to read," she said. "You cannot read just my book. You have to read them all to see what everybody did, [to see] all the different angles of these things, because there are so many people doing this work."
Harris offered her presentation through an invitation by the Lakeland chapter of the Mutual UFO Network (MUFON), the world's oldest and largest UFO investigative and research organization.
Since its inception in 1969, MUFON has compiled a database of 90,000 UFO reports. Their current membership worldwide consists of 6,000 members, including 2,000 trained experts and 50 PhD consultants.
Aside from investigating UFO reports, the organization also offers seminars and lectures such as this to help enlighten their members, as well as the general public, of extraterrestrial activity.
Sunday's event attracted up to 65 people, which is the usual crowd size for a small chapter such as theirs within a small city and with three weeks of advertising, explained Teri Lynge, a members of the Lakeland MUFON Board of Directors.
As a close personal friend and colleague of Harris, Lynge appreciates her knowledge and expertise, especially with her dedication to seeking out the truth.
"I love the work that she had done, and I respect her highly," she said. "We want people to understand that we are not alone, we have never been alone, and we are looking for peace and understanding and camaraderie."
Overall, the event offered an enlightening experience for both MUFON members and non-members alike.
For Donna Hewitt, the Prayer Chaplin of Unity Chapel, with this being the second event she attended, she much appreciated the information provided by the event, especially with how such information reflects her own religious faith.
"I think the big message here is love," she said. "Love conquers all and it can heal Mother Earth, and that is what we need right now because we are an ecological mess."
Lakeland MUFON will be hosting another event at Unity Chapel on Feb. 17 at 1 p.m., which will divulge on a recent disclosure by the Pentagon.
For more information, visit their Meetup and Facebook pages.