Students Flock to Aerospace Center for Excellence in Lakeland to Receive a Hands-On Learning Experience
By Allison Williams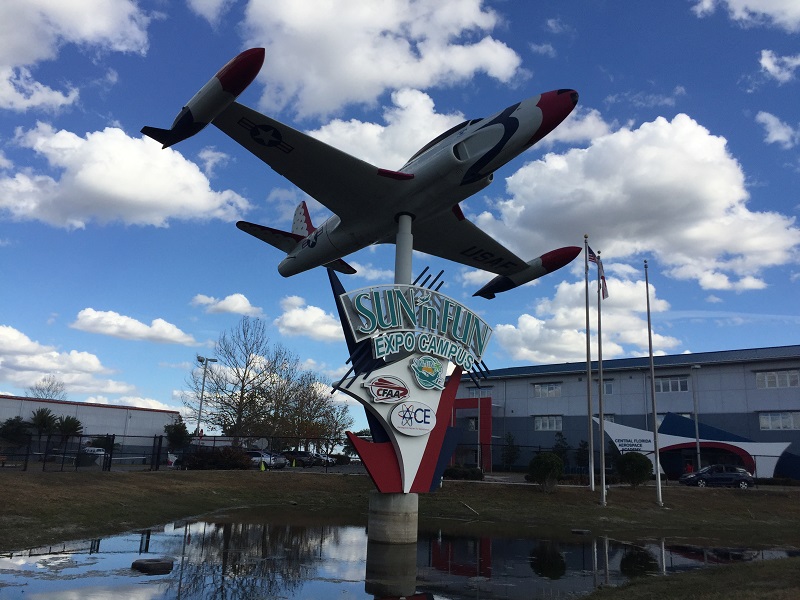 Sitting on the South side of Lakeland Linder Regional Airport, the Aerospace Center for Excellence offers a variety of educational programs for students including those who love aviation, or anyone pursuing an aerospace career. Officially formed in 2013, the non-profit organization has dedicated twelve buildings on property to education.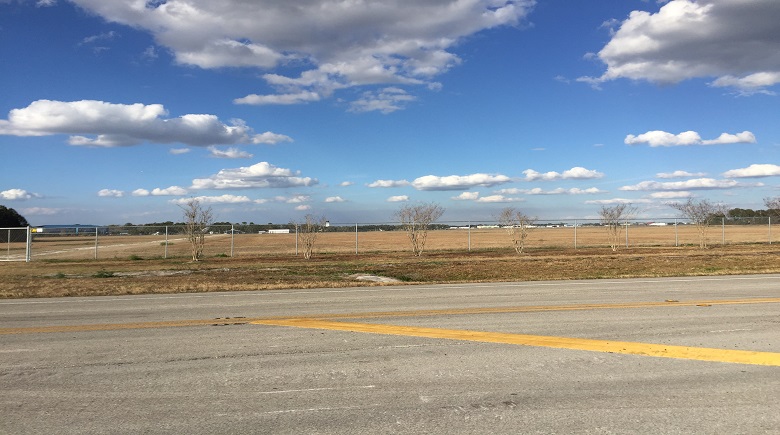 Richele Floyd, Education Director at Aerospace Center for Excellence, otherwise known as ACE, grew up with an interest in aviation and loves being able to share her passion with others.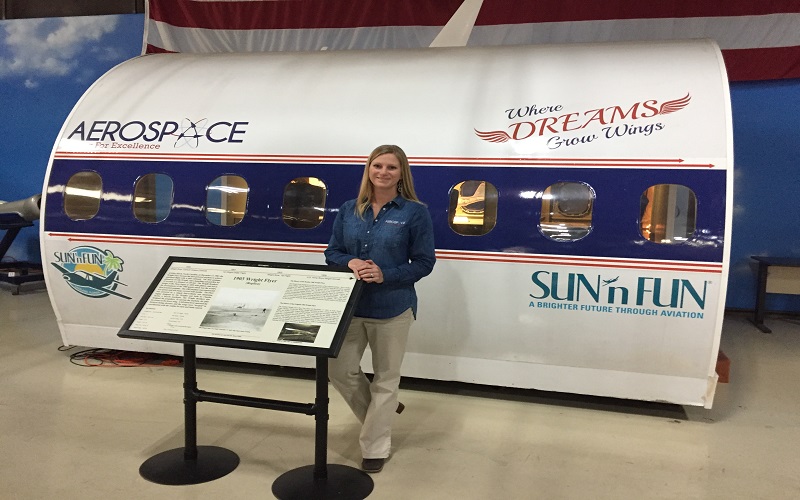 "I love educating the youth on the different opportunities in aviation," Floyd said. "ACE is home to year round aerospace educational programs including student tours, summer camps, workshops, programs for teachers, and even school outreach."
Since its formation, the Aerospace Center for Excellence has become the world leader in producing teenage private pilots touting a total of 63 to date. Approximately $2 million is contributed toward education annually, including $432,000 in scholarships.
Also sitting on the Aerospace Center for Excellence campus is Aerospace Discovery, Florida Air Museum, and the Lakeland Aero Club which is the world's largest high school aviation club. Many know of the SUN 'n FUN International Fly-in and Expo which is the largest convention in the State of Florida and the second largest Fly-In in the United States.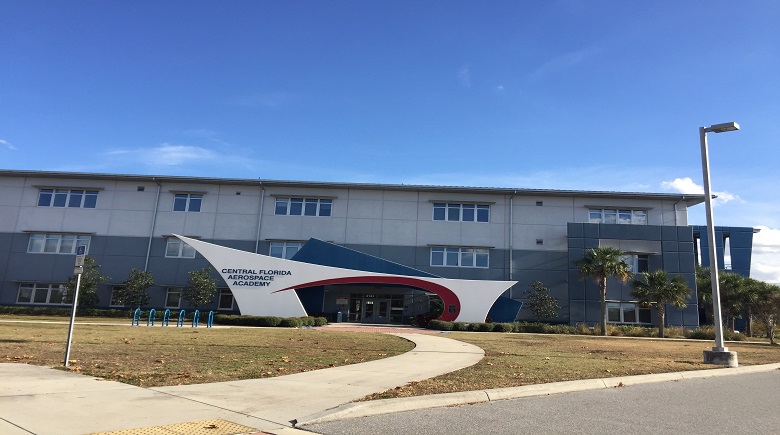 Donovan Richards is the Vice President of the Lakeland Aero Club. This program is a non-profit club. Richards believes having this program is a great opportunity for high school-aged kids.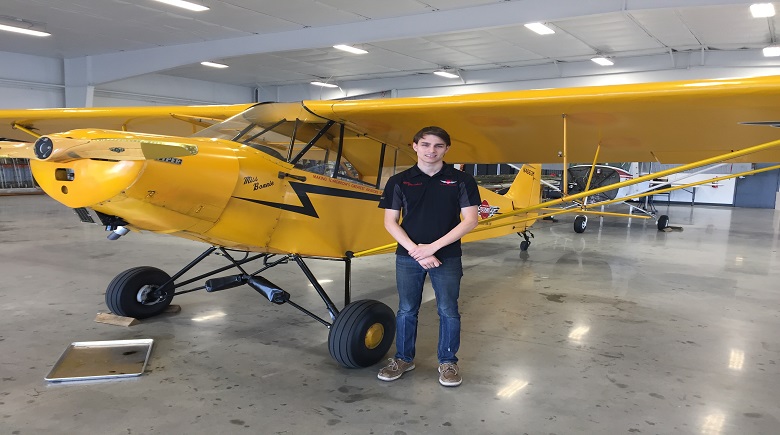 "It's just a really awesome opportunity that club members can grow up with," Richards said. "There are at least 30-40 kids here every day after school. We've got five different restoration rebuild projects that we are working on and we have students who are learning how to fly here. It's definitely an awesome program and partnership with ACE."
This year, the campus will host the 44th Annual SUN 'n FUN International Fly-In and Expo. "A fly-in is where aviation enthusiasts from all over the world come to meet and network, but it is the highly anticipated airshow that brings in the general population." Floyd said. People usually either fly in or drive and many even camp on-site for this six-day event. This year's Fly-In and Expo will be April 10-15, 2018 with the U.S. Air Force Thunderbirds on the airshow schedule.
Many of ACE's programs offer kids' first flights. This is offered to children who are interested in aviation but maybe have not yet had the opportunity to fly. They are often flown in private planes piloted by volunteers to get the experience.
The Aerospace Center for Excellence is a not for profit organization. A team of volunteers play an essential role throughout the campus. The Buehler Aerospace Skills Center is utilized by individuals who build exhibits for the museum. Any time aircraft maintenance is needed on property, the aircrafts are sent to this building to be worked on as well.
Also on property is a Boeing 727 aircraft. One half of the plane is a classroom and the other half is a conference room. A program that the Aerospace Center for Excellence takes pride in is Transition to the Sky. People with exceptionalities are given the chance to experience a life-like flight situation. They are taken to the airport and go through the steps to board a plane, like ticketing and gate assignment. They are then taken to the Boeing 727 aircraft on property to board. The plane is a live aircraft so this gives the children a real-life experience. They can hear the aircraft's engines roar.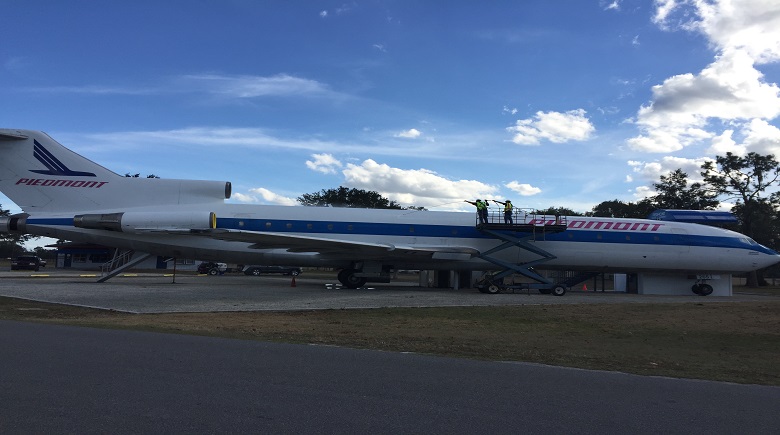 Floyd said new programs are always being added. "We recently received a grant from the George W. Jenkins Fund within the GiveWell Community Foundation and now have a portable planetarium that we can offer," Floyd said. The planetarium is an inflatable dome with a projector inside. The planetarium is an educational tool and is able to portray things like constellations, the solar system, and ocean currents.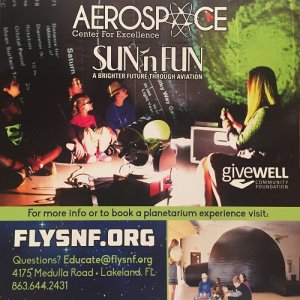 The more opportunities the Aerospace Center for Excellence offer, the more students and the community will be able to learn about the world of aviation.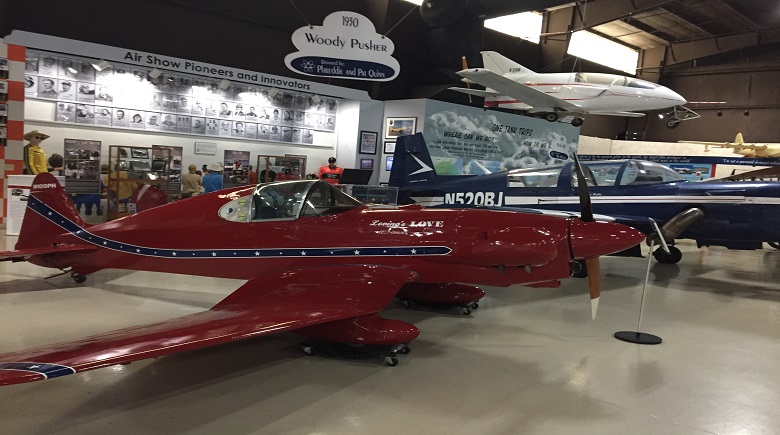 The Aerospace Center for Excellence is located at 4175 Medulla Road, Lakeland, Florida.
Phone number: 863-644-2431