Bok Tower Goes To The Dogs During Dog Days Of Winter
by James Coulter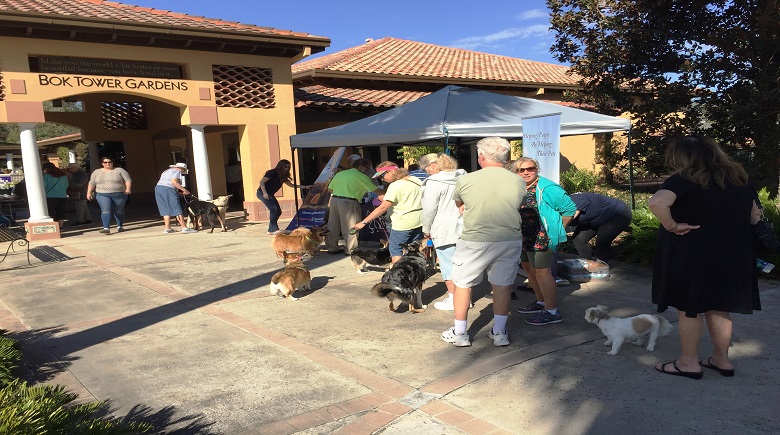 Bok Tower Gardens is a scenic place for guests with two legs to take a stroll, and last Sunday provided the same opportunity for guests with four legs.
Dog owners and their furry four-footed friends were permitted on Sunday at Bok Tower Gardens for its annual Dog Days of Winter event.
Bok Tower hosts two events every year, once in the winter, and once in the summer, allowing guests to bring their dogs and walk with them through the scenic landscape.
For many guests, this was one of many visits that they previously enjoyed at the gardens with their furry companions.
Allison Post has been participating for the past three years with her own two dogs, her Chihuahua, Zelda, and her Terrier-Pomeranian, Leia, both named after the fictional princesses from the Legend of Zelda and Star Wars respectively.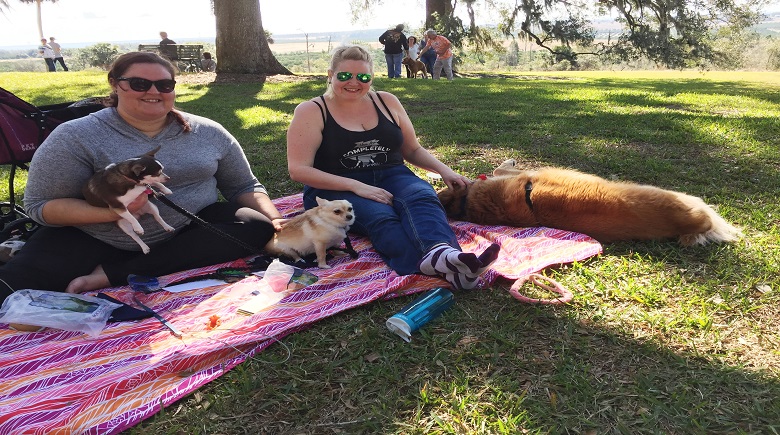 This year she brought along her friend, Cat Edbauer, and her golden retriever, Precious Pheobe, to enjoy the scenic view on the plateau looking over the landscape of surrounding Lake Wales.
Post loves being able to enjoy the lush landscaping with her pets, as well as the opportunity to meet fellow pet owners.
"I love the conservation and dedication to keeping the grounds pristine but also taking into account the local flora and fauna," she said. "[And] getting to meet other people who love their dogs as much as they love mine."
For other pet owners, this was their very first time visiting the gardens with their canine companions.
Martha Lee, who volunteers for Canine Companions, a non-profit organization that helps trains service dogs, decided to visit the gardens this year as a way to treat the dog she's currently training, Yuri, a 11-month-old yellow Labrador retriever.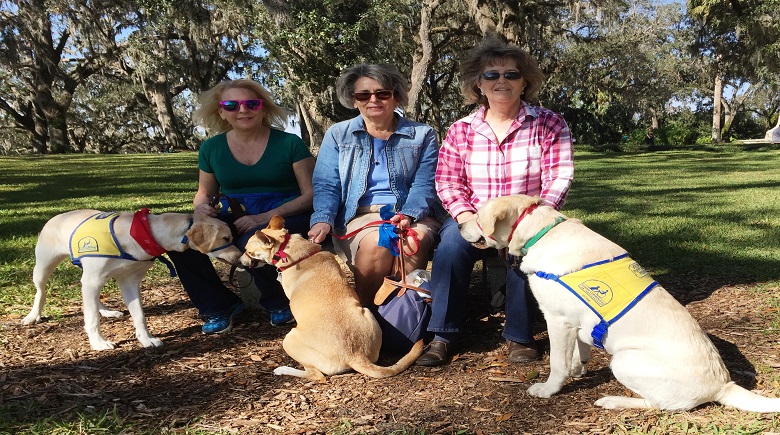 While she has been to Bok Tower for many years on her own, this was her first year attending a dog day event, which more than met her expectations and inspired her to visit again another time.
"We wanted to bring them out to have an experience while they are training," she said. "We want to take them out to as many places as possible and to meet other dogs on a beautiful day."
For guests who have visited the gardens before, the event allowed them the opportunity to enjoy the native scenery with the pets they love and care for.
Linda Kratovil, a member of Bok Tower Gardens, has been attending every year for the past four years, this year bringing along her two dogs, Caine and Ricky, both mixed breeds.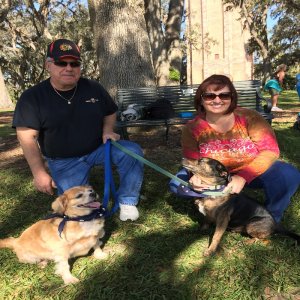 She loves visiting the gardens and the tower, especially during the outdoor concerts, but she also loves being able to do so with her dogs during events such as this.
"We love bringing the dogs out and they enjoy coming out and walking along the different paths," she said. "They can interact with other dogs, we can interact with other people and their dogs, and enjoy a nice day."
This year provided guests and their dogs an opportunity to have their photographs taken in front of the iconic Bok Tower by a professional photographer and download the photos on-line for free.
Guests could also have their pets blessed by Deacon Sam Knight from Sprit Catholic Church during a special blessing of the pets on the oval lawn that afternoon.
At the visitor's center were about were half a dozen vendors selling merchandise and advertising services, from dog treats to animal sitting services.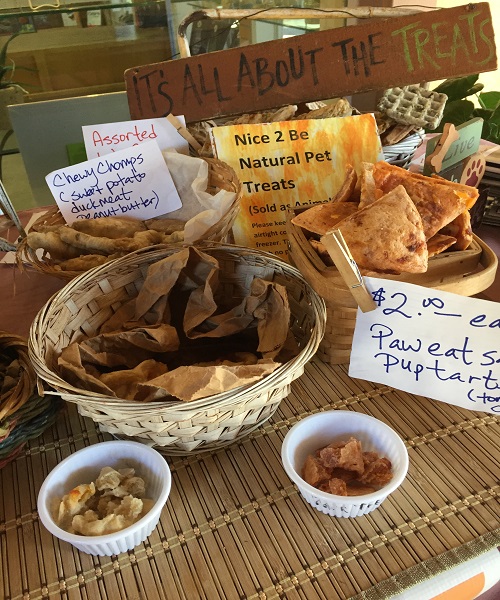 One such vendor was Robyn Fredericks of Nice 2 Be Natural, which sells homemade dog treats made from all-natural ingredients such as meat, fruits, and vegetables without any artificial preservatives.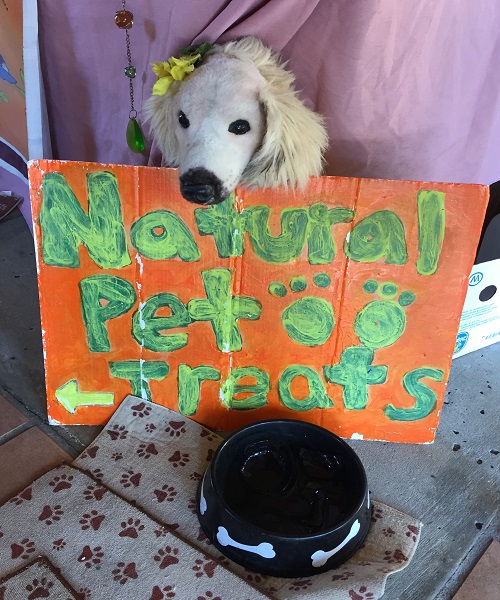 As someone who has attended several pet events throughout the city and county, she loves Bok Tower for its lush landscape that is most ideal for walking pets during a nice day.
"It is a lovely event with a lot of dogs who enjoy treats," she said. "It is a time for pet owners to come together and mingle and have fun, and dogs can come out here when they usually can't come any other time."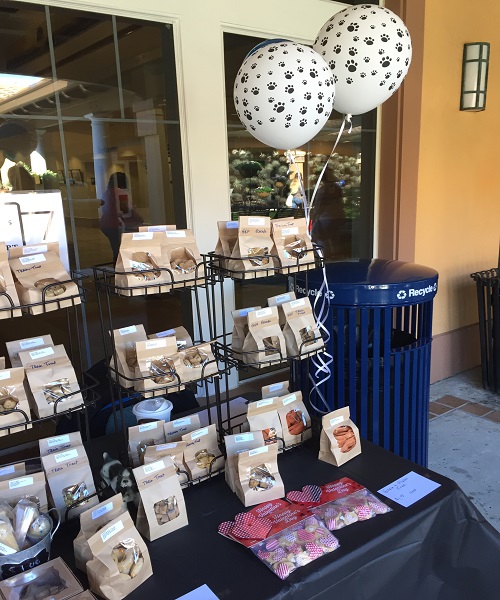 This year's event managed to draw in a record number of dogs and guests compared to the event last year, and hopefully future events will bring in even more, said Melissa Roth-Giffen, Director of Visitor Services.
"It is a different day for people to experience the gardens, and it is a way to bring their furry friends…and allow them time to spend time together," she said.
Another dog day event is planned for this summer. For more information, visit their website at: https://boktowergardens.org/