By Kip Kirchberg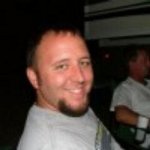 Being in the Technology Industry I travel a lot. Up until recently I have never attempted to utilize any type of ride sharing system. This was simply because I typically have a driver when I travel and never had to worry about finding my own transportation. My latest trip to Charlotte, NC completely changed that and my outlook on Uber.
My travel out of Charlotte was delayed due to some last minute meetings I needed to attend. Due to this delay, I lost my ride to the airport. I was completely at a loss on what to do until a good friend of mine told me that I should just catch an Uber. He stated that Uber was cheaper and cleaner than a taxi and a service that caters to its passengers. So I figured now was as good a time as any to give the Uber system a test ride.
The first thing I had to do was download the Uber app to my phone and register. It was as simple as entering my phone number, filling out some profile data, and entering my credit card information. What's really cool about the app is I can enter a Credit Card Account for Personal and Business. Very useful for business people especially during tax season. Oh and don't forget to add a picture so the Uber driver can recognize their passenger.
Once everything was complete I told Uber where I wanted to go. The Uber app quickly told me how long it would take to reach my destination and what my ride fee would be. Once I completed the transaction Uber paired me with a driver who would pick me up and showed me a map with my driver's location and estimated arrival time. It took my driver about 3 minutes to arrive. Way quicker than I ever expected. So if you decide to take an Uber be prepared for a very prompt pickup.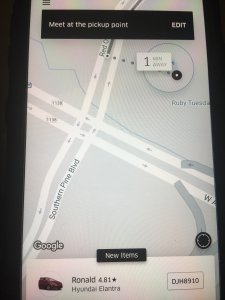 The Uber App showed me the driver's picture, the type of car they were driving, and the color. This was very helpful so I could help flag down my Uber driver if needed. Since I was the only person standing in front of the office building it was easy to spot my Uber driver and catch my ride. I greeted my Uber driver, threw my suitcase in the trunk, hopped in the back seat, and was off to the airport.

I told my Uber driver that this was my first Uber ride and was very impressed with how easy Uber was to use. We then proceeded to carry on a small conversation about the Charlotte area before we arrived at my final destination. Once at my destination, I thanked my driver for the ride, grabbed my bag from the trunk, and headed into the airport.
I no more than stepped inside the airport lobby and I received an Uber message to rate my driver and provide any feedback. Remember Uber drivers and passengers are rated based on past user experience so feedback is very important. I gladly gave my Uber driver a 5- star rating who was willing to chat and even added a tip. All this without ever exchanging cash but simply using an app on my phone. I was very impressed with the whole experience and can tell you I'll be using Uber again in the near future.

Have you ever used Uber or other ride Sharing services? Why or why not? We would love to hear your thoughts or hear about your experiences.