Haines City Police arrest suspect for Luring/Enticing a 7 year old child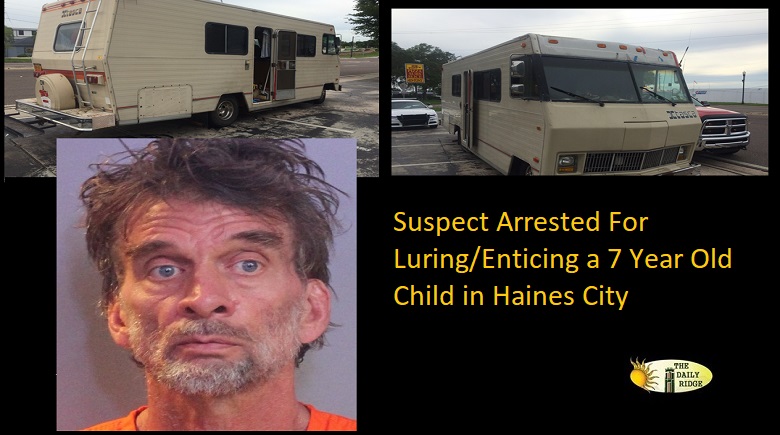 On July 23, 2017, at approximately 4pm, Haines City Police responded to a 911 call regarding an abduction at the Publix Supermarket located at 617 Highway 17/92.
The suspect was described leaving the area in a motorhome. Officers observed the vehicle headed east on 17/92 and subsequently conducted a traffic stop. Further investigation revealed an abduction did not occur; however, the driver/lone occupant of the vehicle did, in fact, attempt to lure a 7 year old child into his motorhome to see a puppy.
The child was originally approached by the suspect, Dale Collins, in front of Publix, while the victim/child was part of a fundraising effort. Collins initiated a conversation with the child about a puppy and ultimately informed the child the puppy could be seen in his camper. Adults observed the suspicious behavior of Collins and began yelling at him, at which time he fled the area in his motorhome.
Collins last known address is in New York. His criminal history reveals Driving under the Influence.
If the public is aware of any other incidents involving Collins, they are urged to contact the Haines City Police Department at 863-421-3636 or Crime Stoppers at 1-800-226-TIPS or LOG ONTO www.P3tips.com to submit your tip via the web.