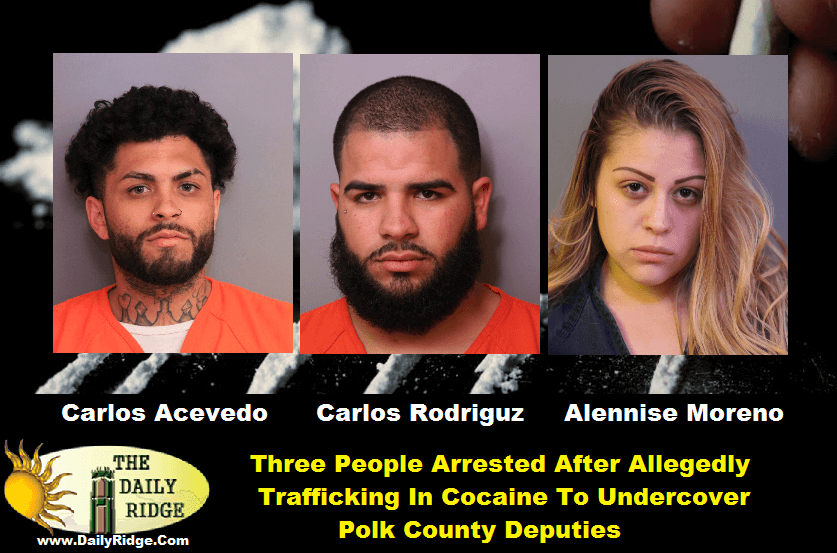 Three People Arrested Allegedly Trafficking In Cocaine During Undercover Operation In North East Polk County
DAVENPORT – On March 31, 2017 Polk County Sheriff's Office deputies arrested Carlos Rodriguez – Zapata 23, of Davenport and charged him with Trafficking In Cocaine >= 28g. Deputies took Rodriguez – Zapata in to custody after a traffic stop near Winter Haven.  On the same day deputies arrested Carlos Acevedo 26, of Davenport and charged him with Trafficking In Cocaine, Possession Of Cannabis With Intent To Sell, Possession Of Cannabis Over 20 Grams.
The arrests came as part of an undercover operation that started back in October of 2016. On November 2, 2016 Acevedo & Rodriguez-Zapata allegedly sold undercover officers 56.2 grams of cocaine near Posner Park in Davenport.
On March 31, 2017 the Polk County Sheriff's Office High Intensity Drug Trafficking Area Task Force conducted a transaction and subsequent raid on Carlos Acevedo at a home on Old Wilson Road in Davenport. Acevedo allegedly sold an ounce of cocaine to an undercover deputy. The H.I.D.T.A Task Force raided the home and allegedly found $1801.00 cash in a bedroom drawer, 320 grams of cannabis in a cooler and 24 grams of cocaine in a refrigerator. Acevedo was on felony probation for grand theft of a motor vehicle.
Both men were taken into custody and transported to Polk County Jail. A third suspect, Alennise Moreno Ramos 23, of Davenport, was arrested for allegedly driving the vehicle used in the initial drug deal. She was charged with Conspiracy To Traffic Cocaine >=28 grams.