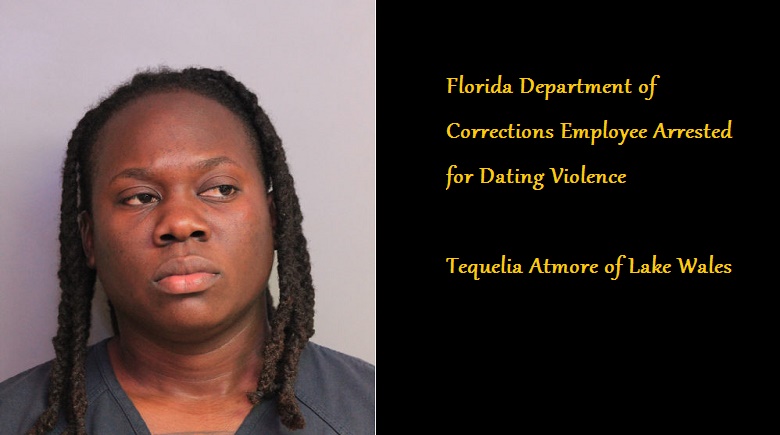 On Monday, March 27, 2017, deputies arrested 30-year-old Tequelia Atmore of Lake Wales, who works for the Florida Department of Corrections, for one count dating violence.
The following is an excerpt from the affidavit and is self-explanatory.
Upon arrival, deputies made contact with the victim (52-year-old Waynetta Johnson of Kissimmee) who advised that she and her friend (Tequelia Atmore) got into a physical altercation. Waynetta Johnson stated that she asked Atmore to leave the residence, at which point Atmore became physical, pushed her to the ground, and got on top of her. Johnson stated she called for her son to come and help her.

The son stated he came into his mom's room and saw Atmore on top of his mother. He stated he then pulled Atmore off his mother and Atmore kept trying to go after her. He stated he then called law enforcement.

Deputies observed minor swelling and redness to Waynetta Johnson's facial and neck area.

Waynetta Johnson refused needing medical attention.

Atmore was not at the incident location at the time of law enforcement arrival.

Deputies responded to Lake Wales Medical Center and made contact with Atmore.

Atmore stated that she was leaving the residence after her and Waynetta Johnson got into a verbal argument. Atmore stated when she went to leave the residence Waynetta Johnson pushed her, so in return she pushed her back and got on top of her. Atmore stated that she and Waynetta Johnson have been in an intimate relationship for the past year. Atmore stated the two have actively been dating and intimate for the last six months as well. Atmore stated the two do not live together, but they work together.

Atmore was taken into custody on the aforementioned charges, booked into the Polk County Jail, and is being held on a $500.00 bond.