Lakeland Police K-9 Best in the State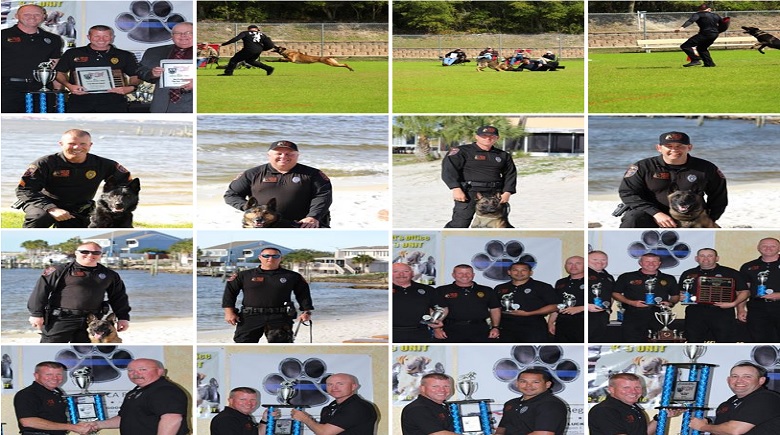 Lakeland, Fl. (March 9, 2017) –  The Lakeland Police Department competed in the
2017 USPCA Region 1 Field Trials between February 27
th
and March 3
rd
. The trials were held in Gulf Breeze, Florida at the Santa Rosa
County Sheriff's Office.
The Lakeland Police Officer Chad Whitaker and K9 Nox took home the TOP DOG award once again and just a few points behind in second place was Officer Cory Bowling and K9 Valor.
The Lakeland Police K-9 Team also took home both the first and second place four-man team awards.
#1 Ofc. Chad Whitaker/ Ron Bowling Top Dog Award

#2 Ofc. Cory Bowling
#6 Ofc. Jeremy Williams
#8 Ofc. Jeff Barrett
#9 Ofc. Travis Miller
#11 Ofc. Ryan Back
#18 Ofc. Virgil Cardin

Out of 9 departments competing for the 4 Man Team, the Lakeland Police Department placed 1
st
with Officers Jeff Barrett, Cory Bowling, Chad Whitaker and Ryan McLaughlin.  They also 2
nd
with Officers Virgil Cardin, Jeremy Williams, Travis Miller and Ryan Back.
Top Explosive –  Aaron Peterman and K9 Blizzard 1st Place
Obedience:

Officer Chad Whitaker and K9 Nox 1st Place

Officer Cory Bowling and K9 Valor 2nd Place
Agility:

Officer Jeremy Williams and K9 Hyde – 1st Place

Officer Chad Whitaker and K9 Nox – 2nd Place

Officer Jeff Barrett and K9 Echo & Officer Ryan McLaughlin and K9 Aztor tied for 3rd Place

Officer Cory Bowling and K9 Valor – 5th Place
Search Work:

Officer Cory Bowling and K9 Valor – 2nd Place
Officer Jeff Barrett and K9 Echo – 5th Place
Criminal Apprehension:

Officer Chad Whitaker and K9 Nox 1st Place

Officer Cory Bowling and K9 Valor  3rd Place
Fred Wheeler Award (top obedience and apprehension combined):

Officer Chad Whitaker and K9 Nox