Osceola woman charged with stolen valor and fraud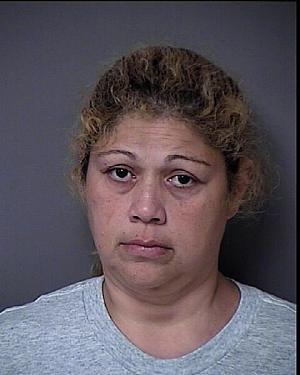 On February 22, 2017, 48-year-old Vanessa Tesky (DOB 10/03/1968) of Kissimmee, who had a Polk County Warrant for her arrest, was arrested in Osceola County and booked into the Osceola County Jail. Tesky was charged with fraud, soliciting funds/misrepresenting Military, grand theft, uttering forged instrument, and obtaining vehicle by false pretenses. She has an extensive criminal history including: sale of cocaine, DWLSR, grand theft, organized scheme to defraud, scheme to fraud (swindle), grand larceny, fraud, insufficient funds check (5 counts), credit card fraud (2 counts), credit card forgery, false statement financial condition, and obtain goods using a counterfeit credit card.  Tesky will be transferred to the Polk County Jail at a later date.
According to the affidavit, the investigation began in November 2016, when Tesky went to the Posner Park Chrysler Dodge Jeep dealership to purchase a 2016 Ram 1500 pick-up truck.  During the transaction, Tesky provided her personal information and stated she was employed by the United States Air Force as a pilot earing $7000.00 a month. Tesky identified herself with a U.S. Uniformed Services identification card and Mississippi Driver's License.
After completing a credit check, a Chrysler salesperson discovered that Tesky had poor credit, however, the salesperson believed she was in the U.S. Military and was doing everything to accommodate her based on her service. Due to her low credit, the staff stated the only approval she would be able to obtain was with her providing a large down payment for the vehicle. Tesky agreed to the large down payment and issued two false checks from a closed USAA bank account. The total sales price after taxes and dealer fees was $60,285.30 (this price included a $500 military rebate). Ms. Tesky left the dealership with the 2016 Ram 1500 pick-up truck.
Tesky returned to the dealership on November 25, 2016, to pick up the Florida tag for the vehicle.  Ms. Tesky issued three more false checks from her closed USAA account totaling approximately $1100 for truck accessories.
On December 2, 2016, Posner Park Chrysler Dodge received a response that the USAA account Tesky issued the false checks on was a closed account.   The Chrysler salesperson attempted to contact Tesky multiple times about her returning the vehicle or paying for the down payment with a wire transfer, however, Tesky stated she was involved in an accident with the vehicle and that the vehicle was in Maryland at a U.S. Naval base. Tesky then claimed the vehicle crash was due to faulty equipment and continued to refuse payment. The salesperson attempted to repossess the vehicle with negative results; the dealership then contacted PCSO.
During the investigation, PCSO detectives determined the Military identification card (that Tesky showed to the dealership) indicates she is a Military dependent. Additionally, the dealership indicated that Tesky did not provide the actual ID card to the dealership; Tesky stated they were stolen and that she only had photo copies. Detectives contacted Tesky to set up an interview regarding this incident; she stated she was a pilot with the U.S. Air Force and could provide documentation the day of the interview. However, Tesky did not show up for the interview. On a later date, she left detectives a voicemail advising she was in a hospital in Puerto Rico.
Detectives sent a subpoena to USAA Bank for account information and learned the bank account was closed February 5, 2016. Detectives contacted the Department of Defense (DOD) and confirmed Ms. Tesky was never in the military, is not a military dependent, and she should not be in possession of any military identification. Detectives obtained a warrant on Tesky for scheme to defraud and grand theft.
On February 22, 2017, Detectives responded to Osceola County to locate Tesky. When they made contact with her, she was in possession of a brand-new Toyota that she stated she just purchased.  Detectives made contact with the salesman in Osceola County and learned Ms. Tesky was attempting to commit the same fraud with Toyota of Central Florida in Orlando. The Osceola County Sheriff's Office will follow-up with an investigation in reference to this.
During a Post-Miranda interview, Tesky confirmed she was not in the U.S. Air Force but said she is a dependent of her ex-husband who is in the U.S. Air Force; she claimed she has over $60,000 in a bank account and the check she issued was from the wrong bank account.  Detectives found the check books from USAA Bank, a military dependent Identification, and a letter written to Mullimax Ford located in Kissimmee, FL, indicating she is a Lieutenant Colonel with the U.S. Air Force, in her possession.
Tesky was arrested in Osceola County, booked into the Osceola County Jail, and will be transferred to the Polk County Jail at a later date. Tesky's Osceola County Jail mugshot is attached.