UPDATE:  Amilia Leaphart has been located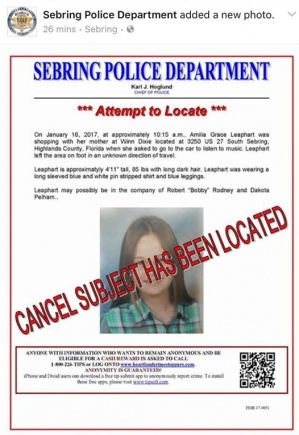 On January 16, 2017, at approximately 10:15 Am, Amilia Grace Leaphart was shopping with her mother at Winn Dixie located at 3250 US 27 South Sebring, Highlands County, Florida when she got into a disagreement with her mother.  Leaphart asked to go to the car to listen to music but left the area on foot in the direction of Desoto Rd.
Leaphart is approximately 4'11" tall, 85lbs with long dark hair.  Leaphart was wearing a long sleved blue and white pin striped shirt with blue leggings.
Leaphart may possibly be in the company of white mail Robert "Bobby Rodney" and White Male Dakota Pelham.
Anyone with information who wants to remain anonymous and be eligible for a CASH Reward is asked to call 1-800-226-TIPS or Log onto www.heartlandcrimestoppers.com.
Anonymity is Guaranteed!