Writers On the Ridge: "The Commodore and the Powder Monkey" by Mark Barie
The following is an excerpt from "The Commodore and the Powder Monkey", the award-winning historical fiction novel by Mark Barie. To read the full story, check out his novel on Barnes & Noble and Amazon in e-book and paperback. Follow the links below for more details.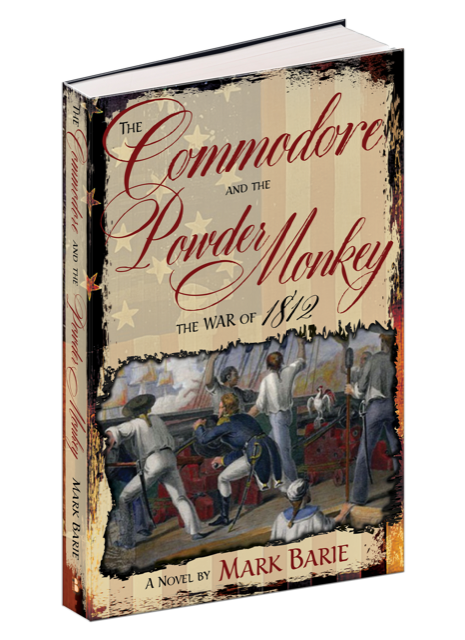 *****
"I thought I'd find you here."
Charlie dabbed at her eyes and twisted to see the man who interrupted her time alone.
"Dr. Coldwell," she said, unsmiling.
"Did you enjoy your dinner?" he asked.
"Yes, very much so," she answered, turning her back on the man.
Nathan shifted from one foot to the other. The awkward silence seemed to make him fidget all the more. Charlie spoke first, still talking to the open lake.
"You came all the way out here to ask me if I enjoyed my dinner?"
Nathan took a deep breath.
"No, Charlie. I wanted to speak with you."
"I have no interest in listening to another one of your condescending lectures," she said, pleased that her anger had such a positive effect on her language skills.
Nathan approached the crate and stood in front of her. He stood in silence until she looked up.
"For some time, now, I have refrained from the consumption of alcohol. And I am much the better for it. And while I can easily tolerate the absence of rum, I am not at all sure that I can tolerate your absence."
Charlie turned away to hide her startled face. Nathan continued.
"My words of the past have offended you. And rightfully so. I wish to formally apologize and beg your forgiveness," said Nathan, running fingers through his hair and biting his lip.
Charlie refused to look at him. She doubted Nathan's sincerity and remained angry with him, sincere apology or not. A snide comment about the stubbornness of men rose in her throat but she swallowed the words. She persisted in her silence. Nathan's head drooped. He turned to leave. She didn't want the conversation to end in that way.
"I'm still angry with you, Mr. Coldwell."
Nathan stood motionless.
"I know. I'm angry with myself," he said.
"I don't understand," she said.
Nathan looked for anyone within earshot.
"Charlie, you are unlike any woman that I have ever met in the past."
"Is that supposed to be a compliment?" asked Charlie, still suspicious of the doctor's sincerity.
"Yes. It is the highest compliment I can give you."
He went onto explain that for all of his adult life, women were treated as no more than the accessories of life, by their husbands, their adult sons, their friends and their acquaintances. Nathan's voice trembled with emotion.
"I learned by their example, Charlie. But I learned all of the wrong things."
Charlie's heart pounded in her chest.
"I make no excuses but I am entitled to an explanation. I was never taught to treat a woman as my equal. And then you came along. When you were a boy, I loathed you because I was attracted to you. When you revealed your true identity, I no longer loathed you. I was afraid of you," he said.
"Because I am your equal?" she asked.
"No, Charlie."
The girl frowned.
"Because you are better than my equal," said Nathan.
Charlie rose to her feet. She couldn't believe what she just heard. Nathan went on.
"You are so smart, Charlie, and I don't mean book smart. My brain is filled with the stuff of medical journals. But I know a fraction of what you know, about a man's heart and soul. You are kind and generous and loving. Even to underserving men like me," Nathan said, his voice soft, his eyes moist with tears. "And you are the bravest woman I know," he added, biting his lower lip as several tears escaped and ran down his cheeks.
Charlie trembled. Her voice choked with emotion. She used the sleeve of her fine, blue jacket and wiped at the tears that streaked both cheeks.
"You have accomplished the impossible, Nathan Coldwell. I am without words," she said.
"I'm not finished," he answered, his voice stronger and more determined.
She panicked, thinking that his next words might erase all of those perfect words.
"My heart is full, Nathan Coldwell. You need say nothing more."
"But I must," he said.
"What is it?"
"I love you, Charlotte Wheeler."
###
About the Author
Mark Barie is an Award-Winning author, originally from upstate New York. His debut novel, the first installment in a trilogy on love and war, garnered national attention when War calls, Love Cries, a Civil War love story, was designated as a Finalist in the Prestigious Eric Hoffer book Awards. It also won a gold medal for Historical Fiction from the Florida Authors and Publishers Association. (FAPA)
His second novel, Sister Marguerite and the Captain, about a nun who leaves the convent and ends up spying for George Washington, received rave reviews and a silver medal from FAPA for its beautiful cover.
Barie's third novel, The Commodore and the Powder Monkey is about a girl, disguised as a boy, on the Commodore's flag ship during the War of 1812. This mesmerizing love story triggered an international reaction. The Independent Publisher Group awarded the novel its bronze medal for Military Fiction. More than 5000 authors from all over the United States, Canada, and a dozen countries in English-speaking Europe, vied for these prestigious medals, in what is now the largest book awards competition in the world.
For more information about his work, visit his website at: https://www.markbarie.com