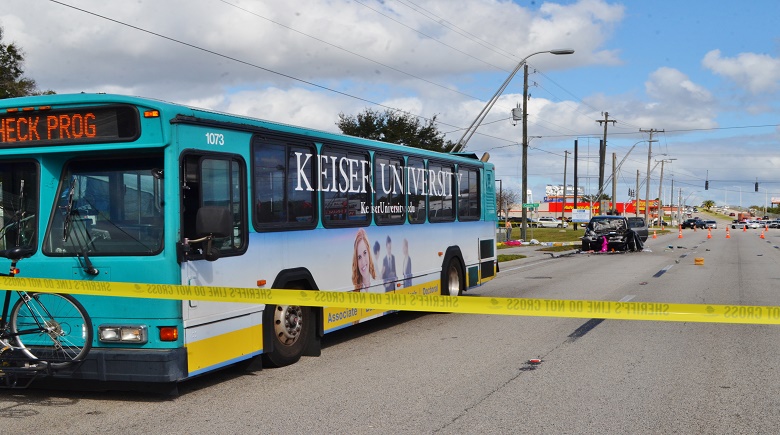 At approximately 9:00 am, today, Wednesday, January 11, 2017, the Polk County Sheriff's Office was notified of a serious crash that occurred on Highway 17 in the area of Eloise in Winter Haven.  The crash involved a 2005 grey, Toyota Tundra, and 2006 Citrus Connection Bus.
Seven victims were transported: Four from the bus and all three occupants of the pickup truck.
Those victims from the bus were transported to Winter Haven Hospital all with minor injuries and are expect to be released later today.  The bus driver was uninjured.
The three victims from the pickup truck were airlifted to Tampa General where all three are listed in critical condition.  The victims in the pickup truck are related and include an adult male, and two young children ages 4 and 7.
UPDATE VICTIMS IDENTIFIED:
Pickup truck: Driver 36-year-old Jaron Skipper, 7-year-old Emma Skipper, and 4-yar-old John Skipper, all of North 9th Street Eagle Lake.
Bus Driver – 56 Debra Pullins, Dean Still Road, Polk City – uninjured
Bus Passenger- 19-year-old Anabel Rodriguez, Dixie Highway, Auburndale, stable condition at WHH
Bus Passenger – 62-year-old Calvin Edwards, Central Avenue, WH, stable condition at WHH
Bus Passenger – 48-year-old Richard Watkins, Summerfield Circle, WH, stable condition at WHH
Bus Passenger 37-year-old Derrick Taylor, Tangerine Drive, Haines City, stable condition at WHH
Primary investigation suggests, the male driver of the pickup truck was traveling south on Highway 17 when he collided into the rear of the stopped bus which was collecting passengers near Casey Avenue on Highway 17.
The driver of the pickup was not wearing a seatbelt.  The 7-year-old victim was ejected through the front windshield of the pickup truck – this child was not seat-belted.  The 4-year-old was wearing a seatbelt but also suffered significant injuries.  All three victims are listed in critical condition at Tampa General
The southbound lanes of Highway 17 were closed for approximately 5 hours.
The investigation is ongoing.