PCSO Deputies Use State Agriculture Rescue Team Equipment to Save Horse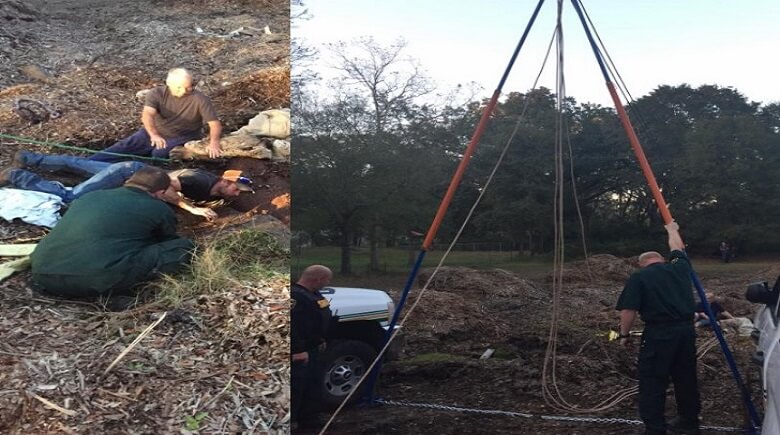 Shortly after 3:00 pm, on Saturday, December 3, 2016, the Polk County Sheriff's Office received a call about a horse trapped in a pond near Sleepy Hill Road in Lakeland.
When deputies arrived they found the 20-year-old mare Quarter horse stuck in approximately six feet of water.  The surrounding area of the pond had decomposing wood mulch and muck making it difficult for the horse to find solid ground.  Members of the Agriculture Unit were requested and arrived with the Florida Department of Agriculture's SART (State Agriculture Rescue Team) Equipment Trailer and began an emergency rescue. (Information about the SART team and trailer are below–the Polk County Sheriff's Office Agriculture Unit is the designated SART team coordinator for this area.)
Only the head and small a portion of the horse's back were visible; the rest of the horse's body was submerged.  The A-Frame rescue system was assembled and deployed.  Polk County Fire Rescue Squad 591 and Fire Engine 111 responded to the scene assisting with the rope and pulley system used to extract the horse from the pond.
Volunteer members of the PCSO Mounted Search and Rescue Team, or MSART, and two veterinarians also responded to assist.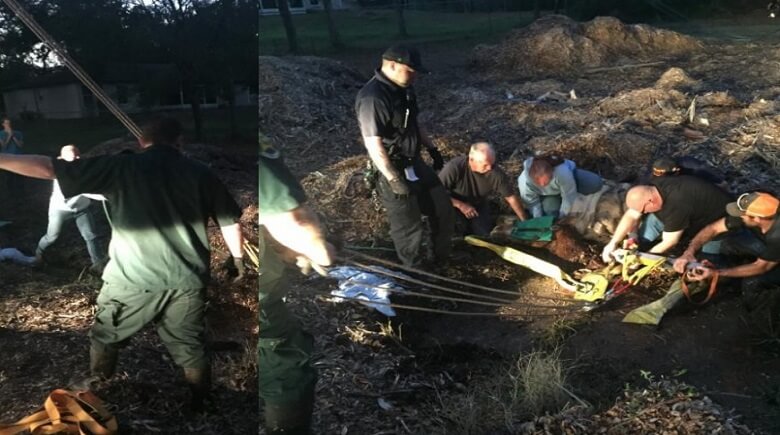 The horse was lifted out of the water using the A-Frame rescue system and placed on the dry ground beside the hole.  The horse was dried with towels and with assistance, was able to stand after being in the water for almost 2.5 hours.  The horse was then covered with a horse blanket and placed in a covered barn with hay for the evening.  The horse was evaluated by a veterinarian and was in stable condition after the rescue effort.
*The PCSO's Agriculture Crimes deputies have received large animal rescue training provided by the State Agriculture Response Team, or SART, through Florida's Department of Agriculture and Consumer Services in conjunction with the University of Florida Institute of Food and Agriculture Sciences, UF College of Veterinary Medicine, and the United State Department of Agriculture.  In addition to training, the PCSO Support Services Section is home to the Florida State Agricultural Response Team (SART) Region 4 Large Animal Technical Rescue trailer. This trailer covers Region 4, specifically Polk, Sumter, Citrus, Hernando, Pasco, Hillsborough, Pinellas Counties, and is deployment ready 24/7.
The SART Rescue trailer contains an array of rescue equipment to include the rope and A-Frame lifting systems, as well as personnel safety equipment, assorted ropes, webbing, carabineers, and pulleys for improvised rope systems.  Deputies have access to rescue glides for livestock, rescue slings/harnesses for livestock and small animals, and both a Nikopoulos loop and mud lances for mud rescues.