University of South Florida Scientists, Top Forensic Artists Aim to Help Solve 20 Cold Cases; PCSO Case Featured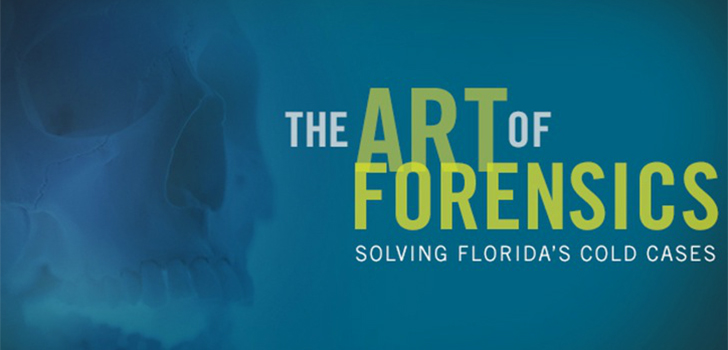 TAMPA, Fla. (Oct. 13, 2016) –
University of South Florida forensic anthropologists will team up with artists from across the country to help solve 20 missing and unidentified persons cases during a special workshop the week of Oct. 17, 2016.
As part of the second annual event, some of the best forensic artists in the U.S. will spend a week inside a lab on the USF campus creating clay reconstructions of the victim's faces, aiming to raise awareness and generate new leads in each case.
The 20 cases include 12 from Florida, four from Pennsylvania, two from Kentucky, one from Missouri and one from Tennessee. New information in every case will also be presented. Last year's inaugural event, which looked at nine cases, has already led to one person being identified – in July 2016, human remains that had been found in Polk County were positively identified as Jessica Rousseau.
This year, the Polk County Sheriff's Office has another case that will be featured, and hopefully solved:
On January 18, 1993, an unidentified male was found was found deceased by apparent suicide (hanging) behind a business located on East H Street in Frostproof. It was estimated he had been deceased for 7-10 days when he was found. The victim is believed to be of mixed ancestry, with Caucasian and Hispanic heritage, and approximately 16-24 years of age. He stood approximately 5'3" tall and weighed 135-140 pounds. The victim had shoulder-length straight dark brown hair and was unshaven with a goatee. Sometime prior to his death he experienced trauma to his face, sustaining a broken nose, fractured teeth, and possibly a broken right cheekbone. One of his upper central teeth was missing, leaving a gap that would have been visibly noticeable. He was found clothed, wearing a long-sleeved light gray buttoned-up shirt, with both buttons and snaps on the front, gray Levi jeans (Size 30X30) and brown sneakers with yellow stripes (Size 7 1/2-8).
PCSO Detectives and PIOs will be available for interviews about this investigation and the clay reconstruction at the event on Friday, October 21, 2016.
Using the latest technology available, the work is led by the USF Institute for Forensic Anthropology & Applied Science (IFAAS), in conjunction with the National Center for Missing and Exploited Children (NCMEC), Sheriff's Offices throughout the state of Florida and several other partners. IFAAS funding comes from the National Institute of Justice and private donations.
The forensic artists will create facial reconstructions from Oct. 17-21 in the lab of Dr. Erin Kimmerle, USF anthropologist and Director of IFAAS. Media is invited to document their progress from 2-3 p.m., Monday through Wednesday on the USF campus in the Sociology building (SOC), room number 21.
The final busts will be revealed on Friday, Oct. 21, at the "Art of Forensics: Solving Florida's Cold Cases" event beginning at 10 a.m. at the Tampa Bay History Center, 801 Old Water Street, Tampa, FL 33602.
The completed busts, law enforcement representatives from some of the regions contributing the cold cases, artists and key speakers will all be present and available to the media at Friday's event.
The idea for the event was conceived by forensic artist Joe Mullins, who has worked for NCMEC for the past 15 years. He has created countless age progression photos of missing children, as well as hundreds of skull reconstructions.  Mullins will lead the workshop in Kimmerle's lab, and he will also speak on Friday.  NCMEC has exclusively partnered with Kimmerle at USF to teach forensic imaging to law enforcement since 2007, resulting in the training of more than 200 artists from a dozen counties.
In addition to creating the facial reconstructions, throughout the week Kimmerle and her team will perform skeletal analysis and chemical isotope testing in an effort to help identify the victims.  Several forensic scientists will also be there to share their expertise and conduct lab work for each case.
Anyone seeing news coverage of the event that can identify the busts or provide information about any of the cases, is encouraged to contact Crime Stoppers at 1-800-873-TIPS. Tips given directly to Crime Stoppers that lead to an arrest are eligible for a cash reward.
For more details about the program and each of the cases, please visit the event's website, usf.edu/forensicsevent.
The University of South Florida is a high-impact, global research university dedicated to student success. USF is a Top 25 research university among public institutions nationwide in total research expenditures, according to the National Science Foundation. Serving over 48,000 students, the USF System has an annual budget of $1.6 billion and an annual economic impact of $4.4 billion. USF is a member of the American Athletic Conference.