Diversification Key to Success for Local Business Man
Starting your own business is, by its very nature, a challenging endeavor, and rising to entrepreneurial success under any circumstances is a great achievement.
In today's economy, start- up money can be hard to obtain and adding in the time it takes to do all the tasks of creating and building the business, you practically have to quit your day job to have time to do it all.
But none of that mattered to local entrepreneur Michael Brewner, who decided to do it the old fashion way and work his way up in the business world.
Born and raised in Polk County, Michael started his climb in the air conditioning industry out of college and worked throughout Florida including Sarasota, Tampa Bay, and the Orlando markets where he perfected his talents in residential air conditioning sales and service.
Michael rose in the ranks to management and faithfully led the sales and service teams of several multi-million dollar AC companies throughout his tenure in those markets. The demand of the job would leave little time for a personal life. But it just so happens love will always finds a way.
Though climbing the ladder of success kept Michael busy; love eventually caught up to him and he was blessed with meeting and marrying the love of his life, Brandy.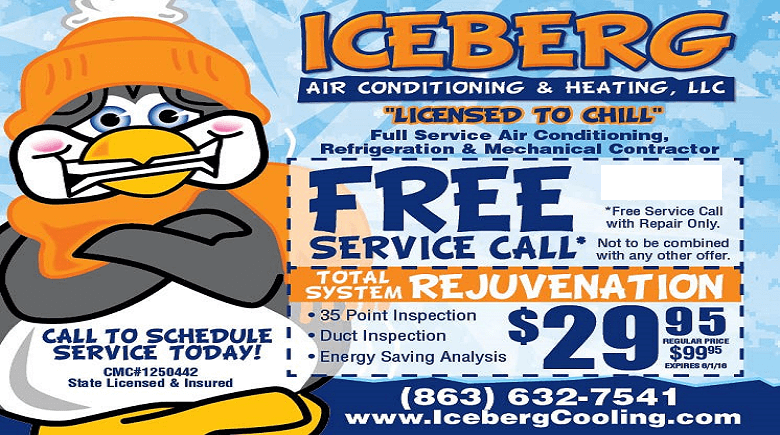 Michael joined the team at Iceberg Air Conditioning and quickly worked his way up in the business. His dedication and his skills were a valued addition to the business and its growth. Michael rose in the ranks at Iceberg Air Conditioning and today is a 50/50 owner with his business partner Jason Robbins.
"We work very well together and complement each others weaknesses with our own strengths" says Michael.
Working together as a team, the owners at Iceberg Air Conditioning now offer all types of AC work from the smallest residential AC systems to the largest commercial and industrial types of refrigeration equipment. They also design and maintain ammonia refrigeration equipment which is used widely in most commercial and citrus facilities.
"What makes Iceberg the best is the well trained staff. Our technicians are highly trained and our office staff has exceptional customer service. Just look at our reviews!!"
With Iceberg Air Conditioning a winning investment; Michael wanted to diversify a bit and started looking at creating a second business. The joint venture/strategic partnership that worked so well with Iceberg had been a model of success and he wanted diversify and apply those strategies to another business.
Diversification is an economic art form all its own. It requires strategic planning and business savvy that doesn't come easily to most. Most diversify to recession proof their business.
An Investopedia article from July 2016 states it best:
"It (Diversification) aims to maximize return by investing in different areas that would each react differently to the same event. Most investment professionals agree that, although it does not guarantee against loss, diversification is the most important component of reaching long-range financial goals while minimizing risk."(1)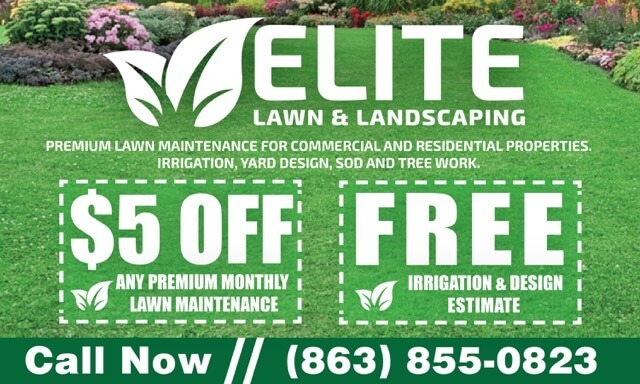 Michael found his second venture in the form of Elite Lawn and Landscape. With his dad as a part-owner and best and longtime friend Steven Weir who had almost 20 years of landscaping and lawn care experience managing day-to day operations, Elite has grown to service over 200 accounts of residential and commercial properties since their start in early 2016.
"We have the hardest working crews and again that is the reason Elite is the best, because of the hard working team we have there. My parents help with all the day to day work with the billing and paperwork and without them it would not have been possible."
Having a great looking lawn is something that most homeowners aspire to. Being the envy of the block thanks to your perfectly groomed turf is reason to be proud.
All lawns need mowing; it is one of the most frequent and important tasks in maintaining a healthy lawn. Getting the cutting height and mowing frequency right can make a huge difference to the ongoing health of the lawn
Maintaining a nice lawn can be a challenge, though. It involves an ongoing commitment that your busy schedule may not afford you. This is where Elite Lawn & Landscaping can give you the cutting edge and save you time.
Both Iceberg and Elite have become successful local businesses that have come to provide a valuable service to residents and business owners in the community. Both have proven their commitment to excellent trade craft and customer service. Michael Brewner has crafted his artful masterpiece of diversification in the local business world.
"I have learned so much about the business world and strive to work harder every day. I love just being able to give back to my hometown community that I love and serve the people of this great community."
"I continue to put God first in my life and he continues to bless my family and I."
When local small business succeeds, everybody wins.
References:
(1)    http://www.investopedia.com/articles/02/111502.asp By Investopedia Staff | Updated July 1, 2016