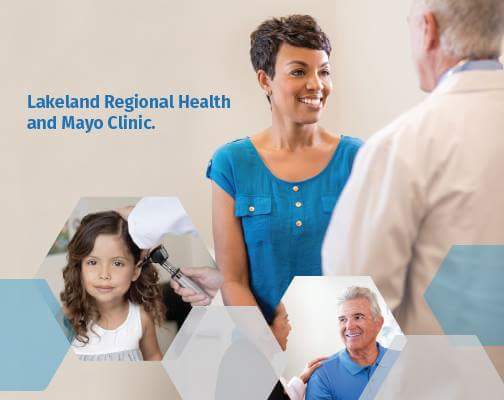 Lakeland, Florida – Today, Lakeland Regional Health and Mayo Clinic announced the start of a new collaborative relationship with the addition of Lakeland Regional Health to the Mayo Clinic Care Network.
This formal agreement facilitates the transfer of shared knowledge between the two organizations to enhance the delivery of Health Care to the patients of Lakeland Regional Health. As a result, patients receive care from their own trusted local providers while benefiting from Mayo Clinic expertise at no additional cost.
We continue to deliver on our promise to strengthen the health of this community through strategic clinical relationships," says Lakeland Regional Health President and CEO Elaine C. Thompson, Ph.D., FACHE. "We are honored to work with Mayo Clinic for the benefit of those we serve."
As a member of the Mayo Clinic Care Network,Lakeland Regional Health will work with Mayo Clinic to share clinical resources. Physicians will have access to information and services, including:
eConsults that allow physicians to connect electronically with Mayo Clinic specialists and subspecialists when they believe additional input will benefit their patients
AskMayoExpert, a database that offers the latest Mayo Clinic-vetted information at the point of care, including the management and treatment of a wide variety of medical conditions
Health Care Consulting that helps members to realize desired levels of operational, financial and patient care through shared best practices
eTumor Board conferences that invite physicians to present and discuss complex cancer cases with a multidisciplinary panel of Mayo Clinic specialists and other network members.
The new collaboration also offers Lakeland Regional Health providers access to Mayo Clinic's library of patient education materials and archived Mayo Clinic Grand Rounds presentations that feature Mayo Clinic physicians and scientists.
"We were pleased to extend this invitation to Lakeland Regional Health, an organization that offers high quality, patient-centered care," saysRyan Uitti, M.D., medical director, Southeast region, Mayo Clinic Care Network. "We share its focus, and we welcome the opportunity to work more closely with its medical professionals. We'll collaborate so that patients and the Central Florida community benefit."
The benefits this new collaboration brings to our patients and families, physicians and clinicians are tremendous," says Lakeland Regional Health Medical Center President and Lakeland Regional Health Chief Medical Officer Timothy J. Regan, M.D. "Joining the Mayo Clinic Care Network provides the 624 accomplished and dedicated physicians of our Medical Staff with unique tools and services with which to continue the clinical excellence and innovative care our patients expect and deserve."
The Mayo Clinic Care Network has more than 40 member organizations in the U.S., Mexico, Singapore and the United Arab Emirates. Lakeland Regional Health underwent a rigorous review process based on quality, service and operation criteria. Members of the Network remain independent and collaborate with Mayo Clinic to improve the quality and delivery of healthcare.
About Lakeland Regional Health
As a catalyst for community health, not-for-profit Lakeland Regional Health is reaching beyond its hospital walls to promote wellness, education and discovery in new places and new ways, providing a wide range of inpatient and outpatient health care services at its Medical Center, Hollis Cancer Center and ambulatory care locations. LRH has earned workplace awards fromForbes, Gallup and Becker's Hospital Review. Its 849-bed comprehensive tertiary referral hospital, Lakeland Regional Health Medical Center, operates a Level II trauma center, a Level II neonatal intensive care unit, the Bannasch Institute for Advanced Rehabilitation Medicine and the state's busiest single site emergency department. For more information about Lakeland Regional Health, visit http://myLRH.org.
About Mayo Clinic
Mayo Clinic is a nonprofit organization committed to clinical practice, education and research, providing expert, whole-person care to everyone who needs healing. For more information, visithttp://www.mayoclinic.org/about-mayo-clinic orhttp://newsnetwork.mayoclinic.org/.We will update this article shortly with additional information.