Two Haines City Teens Arrested in Armed Robbery Investigation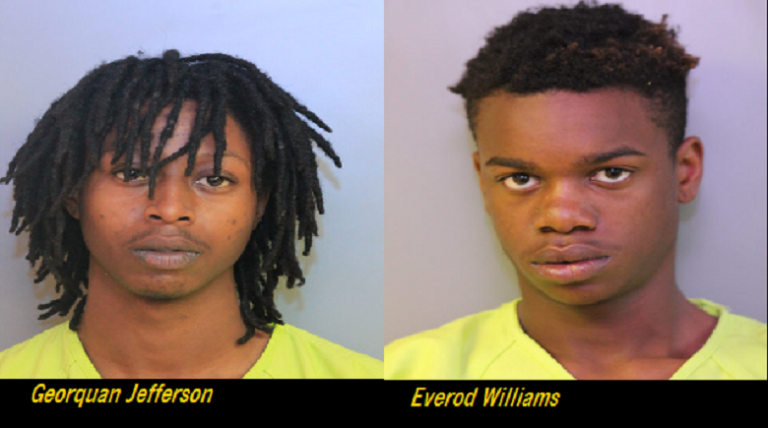 On Wednesday, February 24, 2016, PCSO Robbery detectives arrested 17-year-old Georquan Jefferson and 16-year-old Everod Williams, Jr., both of Haines City, and charged both with one count each Armed Robbery, for an armed robbery that occurred in Lake Alfred on February 20, 2016. Williams was additionally charged with Possession of a Weapon by a Convicted Felon.
According to their affidavits, around 7:45 p.m. that evening, the victim was offered a ride to Lakeland by a female friend of his, who then picked up two unknown black males on the way. During the car ride, the suspect who was sitting in the front seat, pulled out a gun and pointed it at the victim, who was in the backseat counting money. The other suspect, who was in the backseat with the victim, jumped on the victim. The victim was able to jump out of the moving car, in fear of being shot. He suffered road rash and was taken to the hospital to be treated for his injuries. He confirmed money was missing from his jacket.
The witness/driver of the car, who only knew the two suspects by their nicknames, "Beno" and "Tae," cooperated with detectives and they were able to positively identify the two suspects as Jefferson and Williams, respectively. Both were taken into custody without incident and charged accordingly.
Jefferson's criminal history includes arrests for armed burglary, grand theft, larceny, dealing in stolen property, and VOP.
Williams was just recently charged as an adult, and convicted, for robbery, and had just started probation. His criminal history also includes arrests for assault, vehicle theft, and burglary.