by James Coulter
Once upon a time, there were certain things you did not need to tell people they shouldn't do because it was common sense they shouldn't do them. Sadly, common sense is dead these days. So now we must tell people not to do these things because they don't know they shouldn't do them.
So here are three things you should not do at Disney World—which, apparently, we need to tell you not to do because some people weren't smart enough to know not to do them: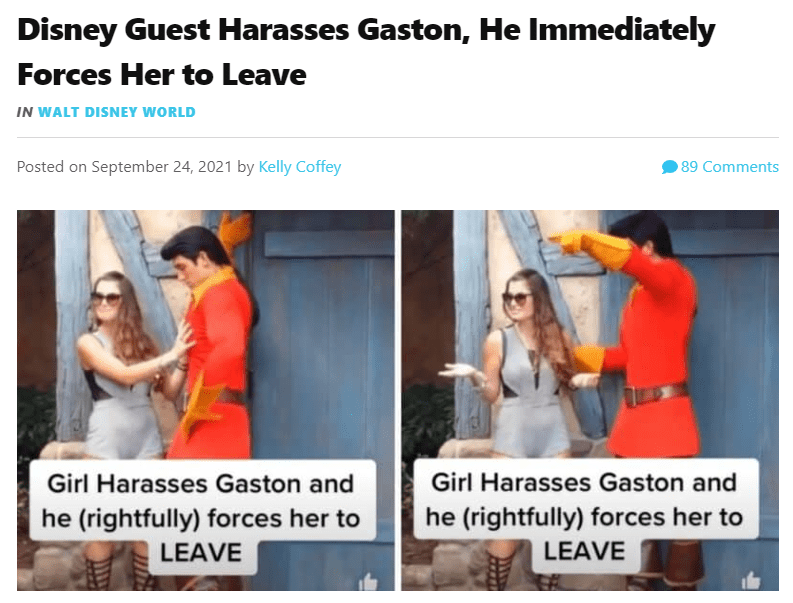 #1: Harass the Disney Characters
The meet-and-greet Disney characters are more than willing to do anything for guests: take pictures, sign autographs, and even record video messages. However, even Disney characters have personal boundaries (because everyone does), and yet some guests don't know better enough not to cross them.
Case in point, in September 2021, a female guest thought it was a good idea to feel up the Gaston character at Magic Kingdom. Now, Gaston may be a flirt in the animated movie, but in real life, he's played by a real-life human being with personal boundaries. So, when this girl decided to cross them, he demanded that she leave. No photo. No autograph. Just go and bring forward the next guest.
As Disney Fanatic reported: "The female Guest didn't seem to understand what she had done wrong, or that the character performer was serious, but Gaston did not let up and refused to take a picture with her!"
Sadly, many Disney characters get mistreated by guests who don't seem to know about personal space and bad touch. Many Disney princesses have reported being groped and touched inappropriately by guests, as have many scantily-clad characters like Tarzan. Even Jack Sparrow has been offered many hotel keys—but not to find buried treasure. And do we even have to spell out the type of harassment that black characters like Tiana have faced?
So, when you participate in Disney character meet and greets, remember the lessons about "bad touch" you should have learned in school. If you wouldn't want to be touched somewhere, chances are, the Disney characters don't either.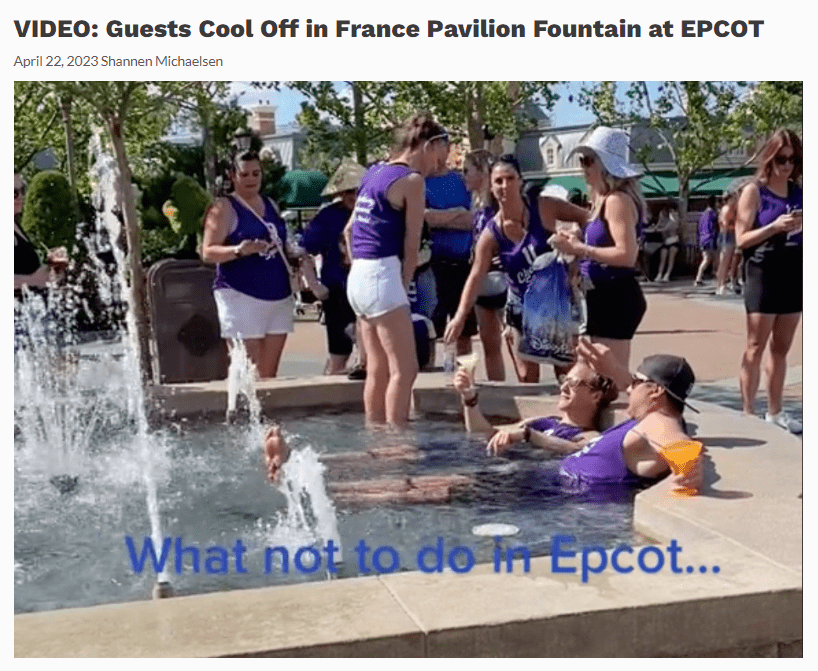 #2: Bathe in the Fountains
Disney World offers many opportunities for guests to cool off on a hot day. Many parks have water rides like Kali River Rapids and Splash Mountain (which, sadly, is closed for renovations). Every hotel has a swimming pool, and some even have water slides and splash pads. And, of course, if you can afford them, there are two water parks: Typhoon Lagoon and Blizzard Beach.
Unfortunately, it seems some guests simply can't wait to return to their hotels to go swimming. Recently, several guests visiting Epcot thought it was a bright idea to cool off by taking a dip in one of the fountains. These guests were caught on video, which was then uploaded to TikTok with the caption, "What not to do in Epcot."
Now, most people are smart enough to know that fountain water is not appropriate to swim in. It's also not safe to drink, and yet too many guests insist on refilling their water bottles in water filled with chemicals, debris, and other dirty stuff that will certainly make them feel worse than slightly thirsty.
If you're sweating up a storm and need to cool off, just hop a bus back to your hotel, put on your swim trunks, and take a plunge in the pool. Some hotels even have hot tubs. You certainly don't need to turn a public fountain into one.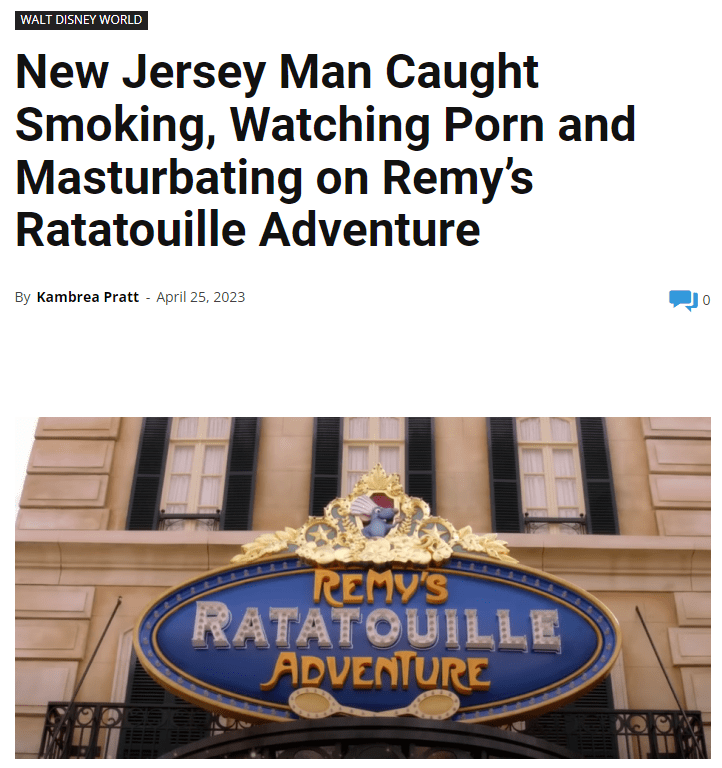 #3: Watch Dirty Videos and Do Dirty Things on Rides
Look. We get it. Waiting in two-to-three-hour long lines can be boring. And some of the rides the kids want to ride may not be entertaining for your liking. So, you're tempted to take out your smartphone and watch something more interesting. Nobody is stopping you from watching the new season of The Mandalorian on Disney Plus while waiting in line for a ride—or even while you're on the ride! (You spent money on admission. You do you!)
But…sigh. Do we need to tell you that you shouldn't whip out your phone to watch dirty videos? And do we need to tell you that you shouldn't whip something else out and play with it while you watch said dirty videos?
Apparently, we do. Because one man thought it was a bright idea to do so on Remy's Ratatouille Adventure. This guy was caught watching something that wasn't family-friendly while doing something that most certainly wasn't family-friendly. And to top it all off, he was smoking. Smoking in the parks is already prohibited, but what he chose to smoke was worse than a cigarette, if you know what I mean.
Look, if you need to ease some tension from a long day at the park, do everyone else a favor and wait until you get back to the hotel room. The bathroom in your guest room is going to offer much better privacy than an attraction, and it certainly isn't going to jostle you around as much. (And please, keep the pot at home. It isn't legal in Florida!)
What do you think? Do you think these guests lacked common sense? Did you think what they did went to far? Leave your comments on Facebook.