Auburndale Youth Baseball 9 And Under All Star Team Invited To Play At Cal Ripken Babe Ruth World Series
By Allison Williams
Photos provided by Eric Russell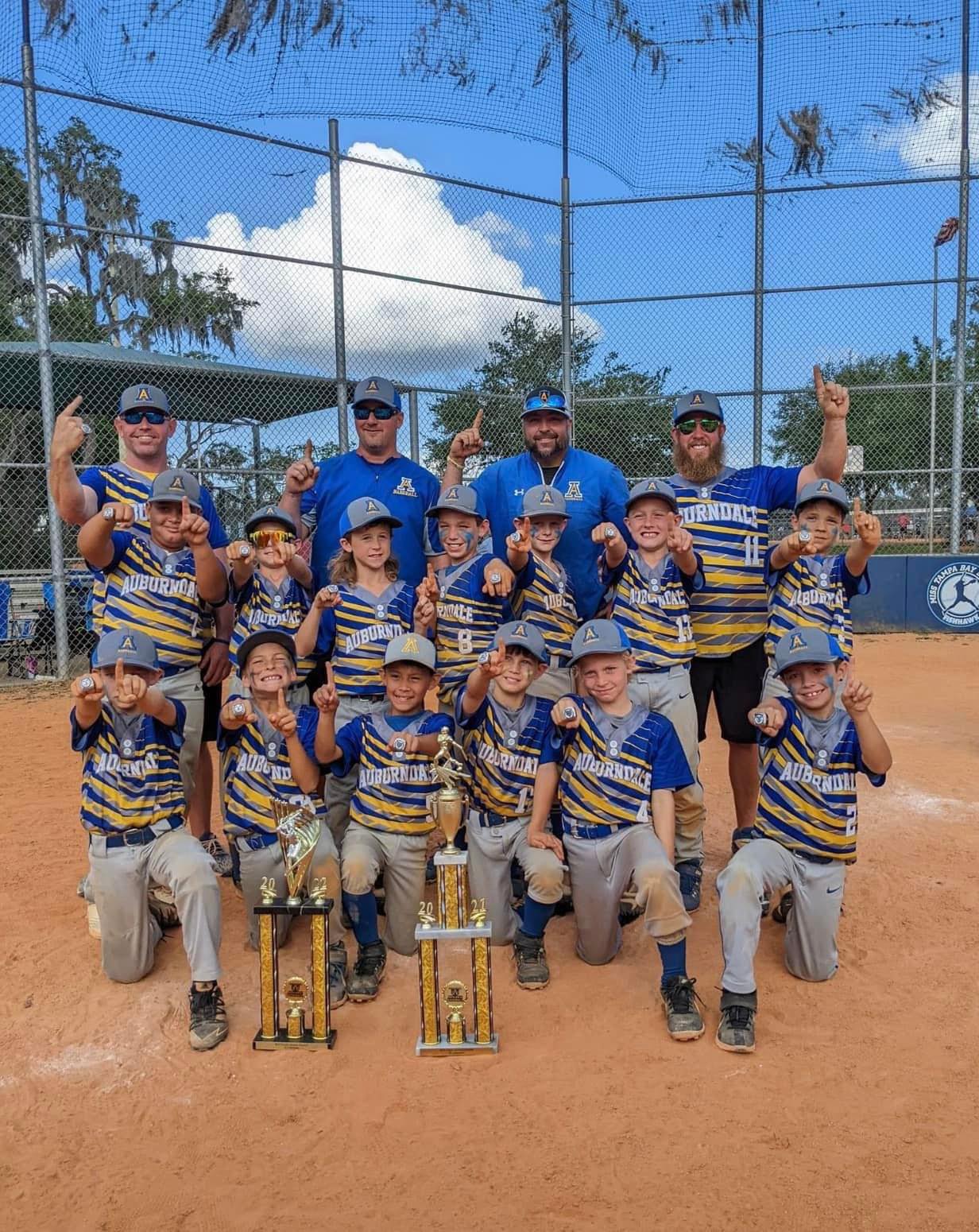 The Auburndale Youth Baseball 9 and under All-Star Team has had a tremendous season thus far, and they will have the opportunity to continue their season by playing in the Cal Ripken Babe Ruth World Series later this summer.
Eric Russell is the manager of the team. They represent the City of Auburndale at Lake Myrtle Sports Complex. Russell says the regular season went very well. "These boys worked extremely hard on and off the field all season," Russell said. "They have done really well in the regular season and also took first place in the Cal Ripken West Florida Spring Advanced Baseball League."
The reason for such a successful season is due to the dedicated players along with the solidarity and teamwork of the team. Great teammates, great coaches, great parents. "We have a strong league with great support from our administration, City of Auburndale and our parents," Russell said. "None of this could happen without everyone working together. We always say #AuburndaleBaseball and #ItsBiggerThanBaseball."
Jensen Beach is hosting the Cal Ripken World Series from July 29- August 7. The team is thrilled for the opportunity that is ahead. Teams from all over the country will be playing in this tournament.
"It's an incredible situation that the kids will never forget," Russell said. "We are all working hard to represent Auburndale, our league and Polk County."
With All-Star Tournament travel comes cost. The team is working on ways to raise funds for the upcoming tournament. Local businesses have reached out with sponsorships to help support the team.
Coming up on June 18, the team will be hosting a golf tournament.
Also on June 25, the team will be serving food at Blackburn's BBQ in Eagle Lake. Tickets for this BBQ lunch are $13 for a plate. A portion of the proceeds for this event will go toward the baseball team and their travels.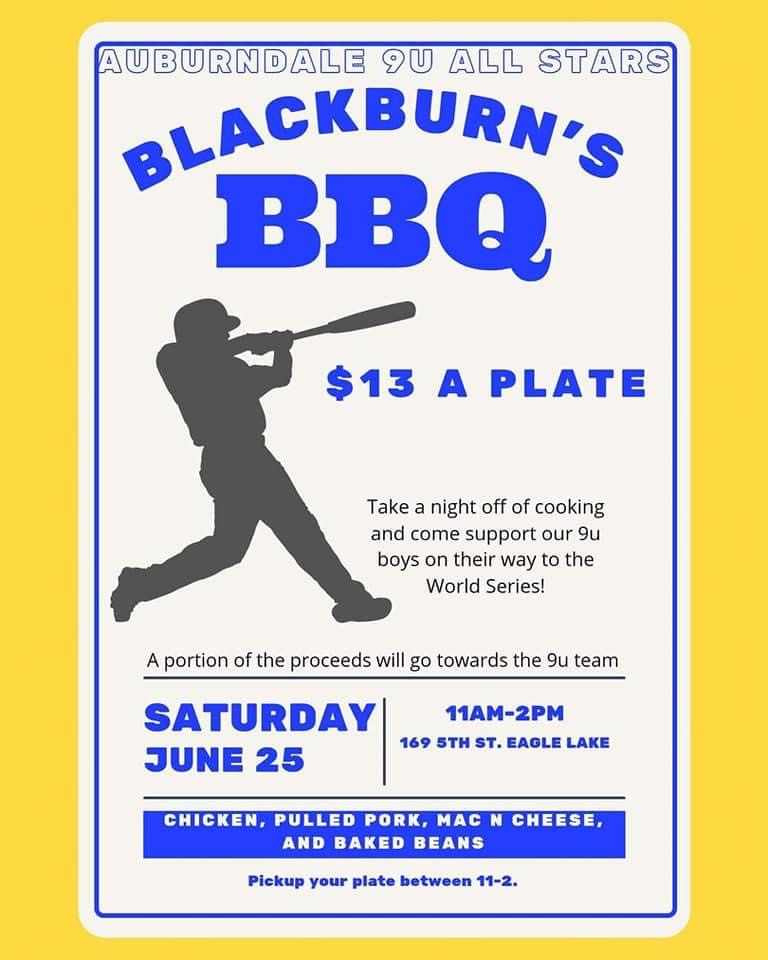 Other ways the team is raising money include occasional hat drops at local Publix locations and collecting funds through Auburndale Venmo/PayPal.
Venmo: @AUBURNDALEYOUTHBASEBALL
PayPal: [email protected]
*Please put "9u Allstars" in notes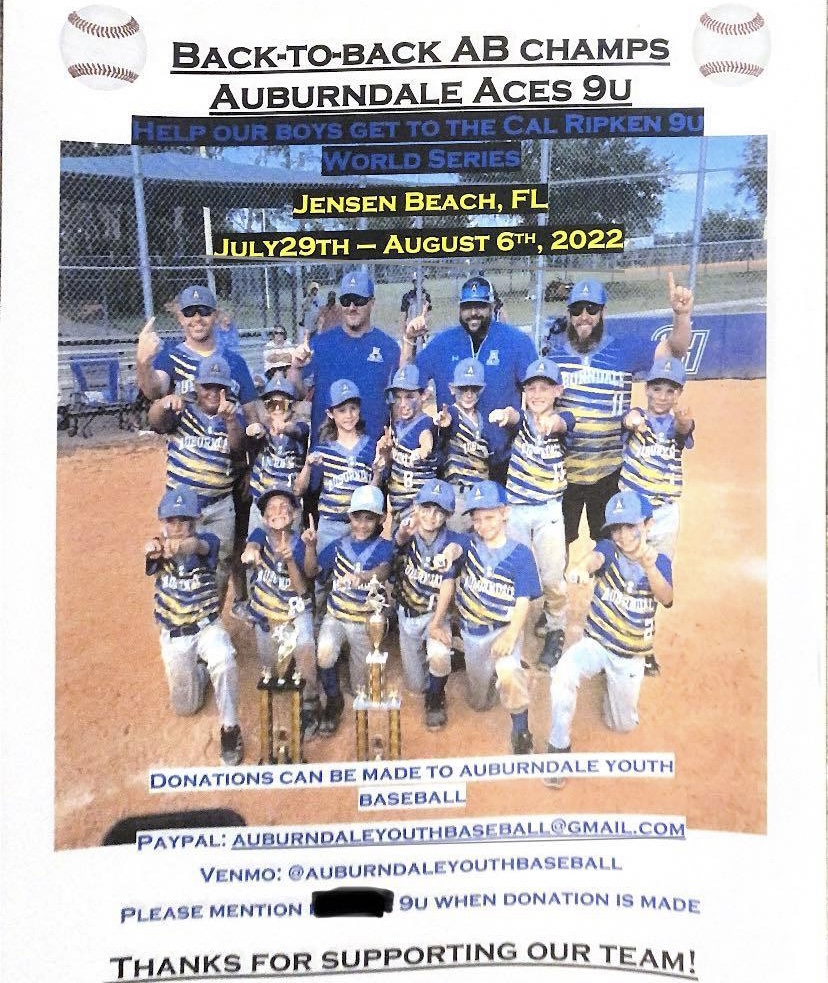 The team is very grateful for all the community support. "Everyone has been helpful in doing what they can to make this trip possible for the kids," Russel said," We are very thankful and blessed to have so many people in the community who care about kids and youth sports."
Team Roster:
Luke Saylor
Asher Russell
Micah Forquer
Jackson Carlino
Omar Gonzalez
Gage Patterson
Conley Willis
Knox Wilson
Rayden Raulerson
Mannix Nelson
Luke Chelf
Logan White
Brence Kruschke
Coaches:
Eric Russell
Ryan Wilson
Brian Patterson
Darrick Willis