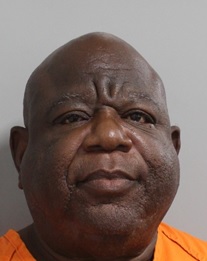 PCSO deputies arrested 69-year-old David Roberts, Lake Wales, a Polk County Sheriff's Office volunteer (Volunteer Sheriff's Service Officer), for drug trafficking charges (selling Oxycodone pills) and weapons charges yesterday, April 29, 2022. Roberts was charged with: Possession of a vehicle used to traffic drugs, possess of narcotic paraphernalia, possession of ammunition by a convicted felon, unlawful use of a 2-way communication device, possession of cannabis over 20 grams, trafficking in Oxycodone 25 grams or more, and possession of a firearm by a convicted felon.
Deputies received a tip earlier this month that Roberts receives a monthly prescription for 90 Oxycodone pills (10 mg) that he sells to others and that Roberts was seen carrying large amounts of cash. Undercover detectives contacted Roberts and asked to purchase Oxycodone. Roberts agreed and a meeting was set up yesterday at a convenience store in the Lake Wales area to conduct the transaction. U/C detectives agreed to purchase 90 Oxycodone pills from Roberts.
After the drug transaction, Roberts drove to the Polk County Sheriff's Office Southeast Command Center where he was taken into custody. The money for the drug transaction was located in his from pocket. Deputies then went to Roberts' residence and located a .22 rifle, a handgun, ammunition, a prescription pill bottle for 90 Oxycodone pills, and a large mason jar full of a green leafy substance that tested positive for cannabis (25.02 grams). Roberts told deputies he does not have a medical marijuana card. Roberts has a 1971 conviction for burglary (a felony). Roberts became a PCSO volunteer in October of 2009. He has served as a volunteer Sheriff's Service Officer out of the Southeast district office. VSSOs are civilian volunteer members and do not have law enforcement authority, assist with directing traffic, conducting neighborhood canvassing, documenting minor crashes, etc.