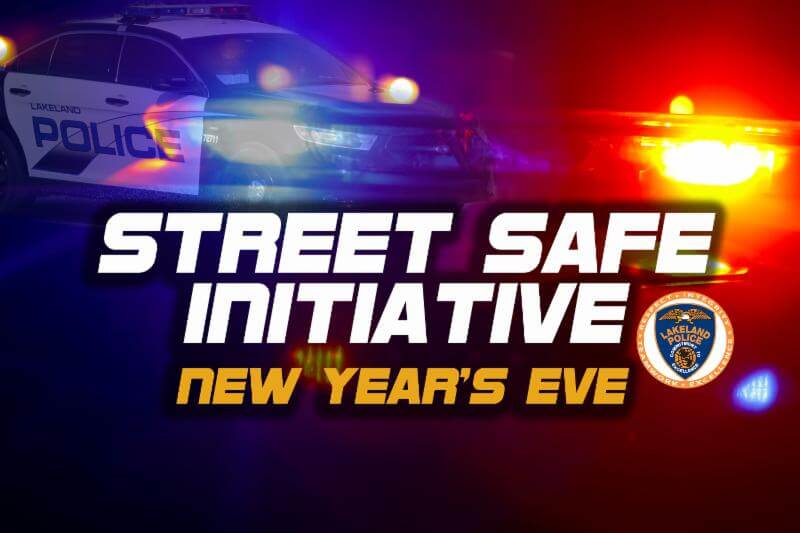 LAKELAND, FL – The Lakeland Police Department conducted a "Street Safe" initiative involving members of the Street Crimes Unit, the Neighborhood Liaison Officers and Uniform Patrol Division. This initiative was conducted between the nights of December 28th, Saturday, December 29th and December 31, 2018 from 9:00 p.m. to 4:00 a.m.
A total of twenty (20) officers concentrated on the downtown establishments along with bars, restaurants and gas stations along Memorial Boulevard and any other areas that became problematic. The purpose of the "Street Safe" initiative was to add supplemental coverage to patrol officers for the New Year's Eve holiday weekend and to ensure the safety of the citizens in Lakeland.
As a result of the initiative, 33 arrest were made, 13 firearms were seized, to include two AR-15 style rifles. A variety of charges were made which included possession of illegal narcotics to possession of a stolen firearm and possession of a firearm by a convicted felon which were among the most serious of charges made.
"I'm proud of the work these officers did over the weekend. Many of them left their families and rearranged their holiday plans to participate in this safety initiative. My top priority is the safety and security of our citizens and all those who visit our great City." – Chief Larry Giddens
Highlights from the initiative:
Seized Spikes Tactical AR15 type rifle, loaded with two magazines taped together. Driver said it was stolen and he was holding it for a friend. The rifle was not listed as stolen as of yet.
Traffic Stop resulted in two wanted subjects.
Traffic stop resulted in a possession of cocaine and possession of drug paraphernalia.
Traffic stop resulted in a possession of marijuana, possession of MDMA, possession of drug paraphernalia and a warrant.
Traffic stop resulted in a possession of a firearm by a convicted felon and a passenger charged with possession of MDMA.
A rental vehicle was left abandoned at Rumors nightclub and officers could see in plain view a handgun with an extended magazine sticking out from the driver's seat floorboard. The recovered 9mm handgun had a round in the chamber and had a loaded extended 30 round magazine.
After responding to shots fired in the air on News Year Eve, officers located a subject with a loaded Glock 9mm in his pocket, a AR15 type rifle and 45 caliber revolver on the front passenger seat. The suspect was charged with carrying a concealed firearm sell after it was discovered he had no CCW permit and possession of marijuana with intent to sell. Officers conducted a search of the house and recovered a stolen Glock 40 caliber semi-auto pistol and a MK4 .223 caliber carbine rifle with a 1×4 optic on it. The owner of the house stated they had no knowledge of the weapons being there. In an open lot to the east of the house, officers located 194 casings on the ground.
Illegal tint on a vehicle resulted in the driver being observed with a firearm and he was a convicted felon. He was arrested for possession of a firearm by a convicted felon. The firearm, a Glock 9mm was reported stolen out of Volusia County. Serval bags of marijuana packaged to sell were also located around the suspect and he was also charged with possession of marijuana with intent to sell. Several loose rounds of 9mm ammunition were located on the floorboard were a passenger who is a convicted felon was seating. As such, this passenger was charged with possession of ammunition by a convicted felon.
After a traffic stop, the driver admitted to having a concealed weapon, 9mm handgun, wedged between the drivers seat and center console. This subject did not have a carrying concealed weapons permit and was arrested for carrying a concealed weapon.