Come to Animal Services on Saturday to help us celebrate Merry PAWSmas!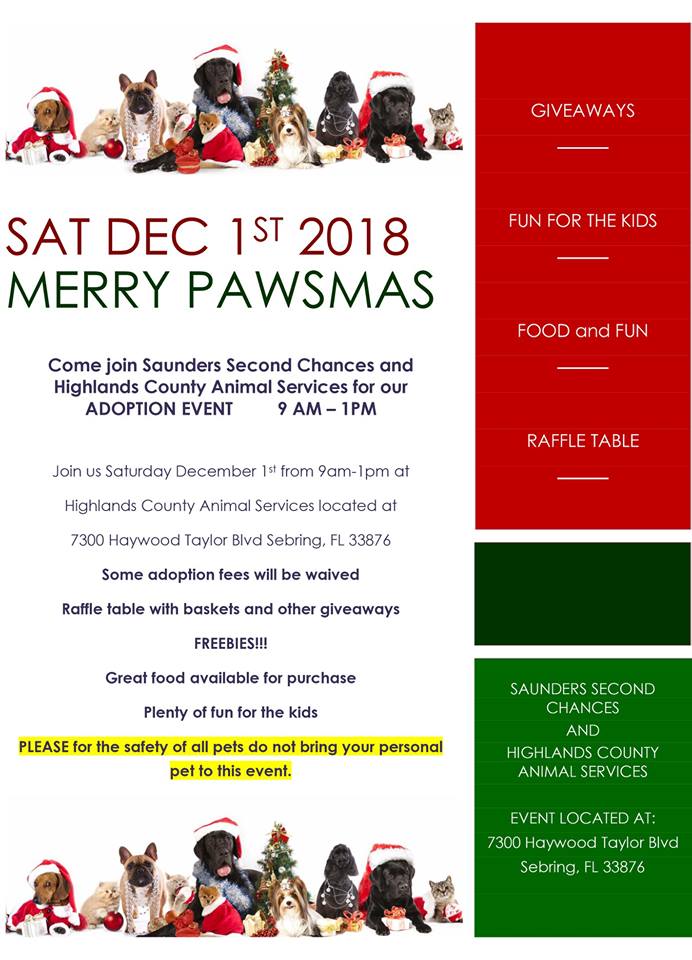 The Christmas holidays are a time of giving…giving and sharing of love and friendship. This holiday season, consider giving the gift of a furever home. Two local pet loving organizations, Saunders Second Chances and Highlands County Sheriff's Office Animal Services, are teaming up again this year to present Merry PAWSmas on Saturday, December 1, 2018, from 9 a.m. through 1 p.m. located on 7300 Haywood Taylor Blvd., Sebring. These organizations will be kicking off the holiday season with an adoption day for furry friends of all shapes, sizes, colors and ages.
Saunders Second Chances partnered with HCSO Animal Services, with a mission to enrich the lives of our furry little friends within our community and to assist Highlands County Animal Services fulfill its goal for pet adoptions to a Forever Loving Home by fostering four legged kids. This program is focused on raising funds while simultaneously raising awareness about adoptions and volunteering at Highlands County Animal Services. Through fostering and healing homeless animals, providing the highest quality of care while reducing costs on spays and neuters for those truly in need, Saunders Second Chances has become a vital link in the animal service community.
This Saturday, December 1, some of the adoption fees will be waived as a celebration with the new family as they give the gift of a furever home.
"We are excited about the event. We are very grateful for Saunders Second Chances and Saunders Veterinary Services for their help in the planning for this event and vetting of the animals. We are in hopes of a good turn out with lots of pets finding their forever homes," said Highlands County Animal Services Manager Aubre McAnally.
And to make the day even more fun and exciting, there will be kid's activities, raffle prizes and giveaways to kick off this Merry Season! So bring a friend, a neighbor or two and let's work together to give the gift of a furever home.
If you are not able to attend, you can still help: 1) Adopt a Furry Friend, 2) Share and spread the word about Merry PAWSmas and/or 3) Tax free donations made to Saunders Second Chances to help us continue to provide health care and surgeries. Donations can be made at this event or online at www.vetcarefoundation.org and be sure to designate Saunders Second Chances to receive the donations.
Merry PAWSmas will be held at Highlands County Animal Services, 7300 Haywood Taylor Blvd, Sebring, FL 33876 on Saturday, December 2, from 9 a.m.-1 p.m. Please note that no outside pets are allowed per the safety rules of the HCSO Animal Services facility.
By Anastasia Saunders
November 27, 2018