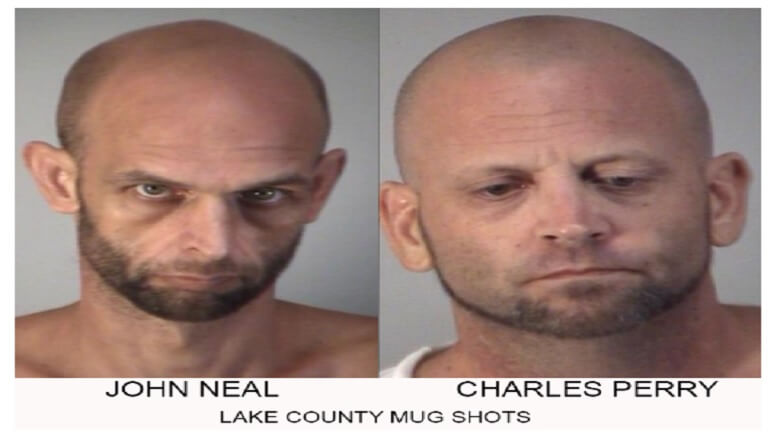 The Polk County Sheriff's Office has identified two Clermont men as those responsible for a burglary and kidnapping in Polk City earlier this week. On Wednesday, October 10, 2018, 32-year-old John Neal was arrested in Lake County, but his accomplice 42-year-old Charles Perry remains at-large.
It all began on Monday, October 8, 2018, at about 1:15 p.m. 55-year-old Dwayne Dier returned to his property at 9880 Voyles Loop in Polk City and discovered two men stealing his things. He confronted the two men as they got into their car, and when Dier attempted to grab his property from their back seat, the car drove away with Dwayne still in it.
Dier said the men started beating him and trying to take his cell phone, and they discussed throwing him out of the car while driving down the highway. Dier said he convinced them to stop, and he was able to get out as they drove away.
The men and the confrontation were caught on Dier's security camera on his property. That video was turned over to the Polk County Sheriff's Office, and in turn, was posted on the PCSO Facebook page with a plea for help in identifying the culprits.
From those tips, detectives were able to establish two possible suspects, and Dier was able to identify the two men (Neal and Perry) from photographic line-ups.
While travelling to Lake County, one of the detectives passed John Neal who was walking with a gas can on State Road 33. She stopped to talk him and confirm it was him. Neal was shirtless, and he had "JOHN" tattooed on his left triceps and "NEAL" tattooed on his right triceps. Neal said his vehicle had run out of gas down the road. It was learned a short time later that Neal had just burgled a nearby garage and stole the gas can he was carrying.
Neal was arrested and booked-in to the Lake County jail, and await*filtered*tradition to Polk County. The hunt for Perry continues.
"This is a great example of how important community involvement can be in solving crimes, in addition to some great detective work. These two guys chose to come into Polk County to commit crime, well now we're extending them an invitation to come back and be our guests in the Polk County Jail." – Grady Judd, Sheriff.
Both men, once they are brought to Polk County, will face charges of: Kidnapping (F1), Tampering with a Victim (F1), Robbery (F2), Attempted Burglary Dwelling (F3), and Burglary-Structure (F3). The burglary charges are also completed with the enhancement of crossing the county line to commit a burglary. Their charges have NO BOND.
John Neal's prior criminal history includes 23 felony and 5 misdemeanor charges (Grand Larceny, Burglary, Burglary with Assault/Battery, Grand Theft(2), Battery, Uttering Forged Instrument (2), Forgery, Organized Fraud, Fraudulent Use of Credit Card (11), Failure to Appear, Probation Violation (6), Resisting, Loitering, Possession of Amphetamines with Intent to Sell, Possession of Paraphernalia, Falsification to Pawn, Dealing in Stolen Property(3), Alter Public Record, Passed Altered Instrument (6), Unlawful Possession of Credit Card, and DWLSR. He has been to prison once.
Charles Perry's prior criminal history includes 1 felony and 2 misdemeanors in Florida (Paraphernalia Possession (2), and Marijuana Possession). He also had charges in Alabama (Larceny of Property (2), Possession of Marijuana, and Possession of Paraphernalia.
If anyone knows the whereabouts of Charles Perry, please call the Polk County Sheriff's Office at 863-298-6200 or or if you'd like to remain anonymous, you can call Heartland Crime Stoppers at 1-800-226-TIPS (8477). Anonymity is guaranteed!