Fire It Up! Frostproof Fires Up Barbecue For Very First Year
by James Coulter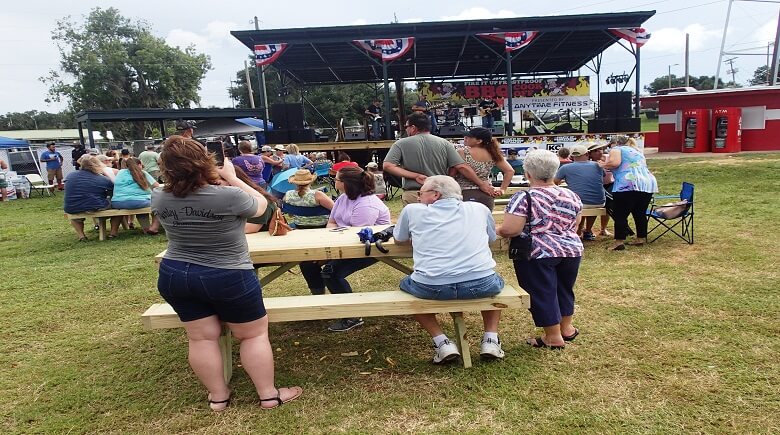 Participating in more than 30 to 40 barbecue competitions per year, Matt Barber, Pitmaster for the Hot Wachulas, has mastered the perfect barbecue down to a science.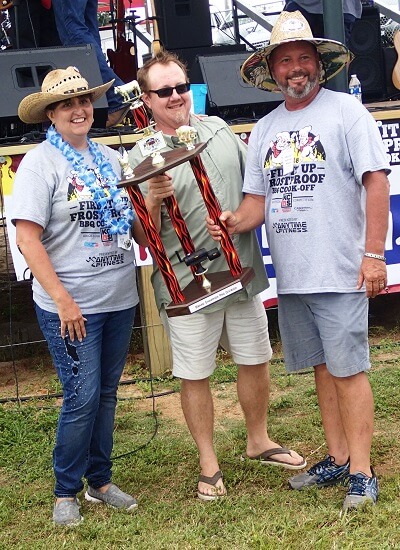 Professional Grand Champion: Hot Wachulas
So it only made sense that his team would walk away as the Overall Grand Champion for the proffesional division of the inaugural Fire It Up! Frostproof last Sunday.
"When you leave with a big trophy, it's always a good day," he said.
Having participated within proffesional barbecue for the past seven years, this award was his most recent. He had previously won 25 grand champions in total.
Thanks to his latest victory, he and his team have become eligible to enter the world championship in Kansas City, known to be the "Super Bowl of Barbecue."
Being able to participate in as many competitions as he had within the past year is an honor; but for him, it's always an honor to compete in Polk County, which he considers to be "the barbecue capital of the world."
"I owe it all to hard work," he said. "You have to cook a bunch, you have to be consistent, cooking against these great competitors makes you a better cook."
Barber and his team won the overall proffesional grand champion title of Fire It Up! Frostproof, the inaugural barbecue competition in Frostproof.
The event was the first ever Kansas City Sanctioned barbecue event within the small town, and was hosted as part of its three-day centennial celebration during Labor Day weekend.
Following up in second place with the reserve grand champion for the overall proffesional division was Backyard Bros.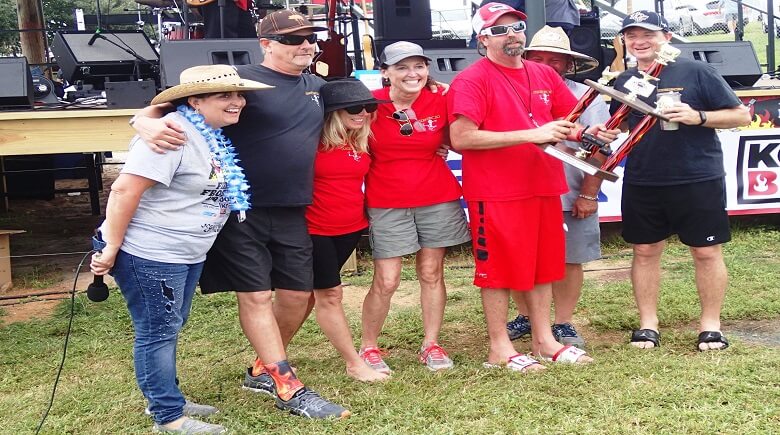 The remaining winners for that division were Awesome Que (third place), Back End Barbecue (fourth), Uncle Bud's Barbecue (fifth), Hogs Gone Wild (sixth), Big Papa's Country Kitchen (seventh), Hogwash Barbecue (eighth), Big Daddy Que (ninth), and Team Smoke Showing (tenth).
The competition that afternoon conferred awards within two divisions (proffesional and backyard) and for various categories (overall, chicken, ribs, pork, and brisket).
Winning the overall backyard grand champion title were the Parrothead Porkers, with their head pitmaster Tom Snow.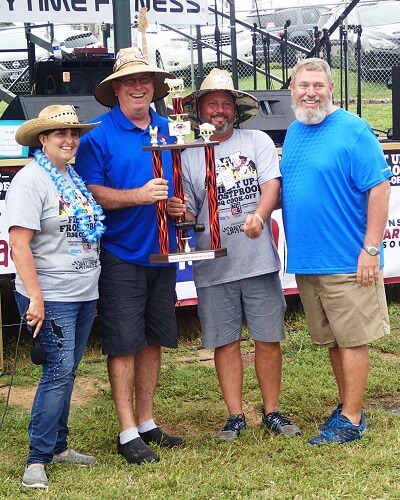 His team also walked away with trophies for first place in chicken and pork and third place in brisket.
Some would consider winning so many awards to be an honor, but for Snow, it was mostly tiring having to walk back and forth to the front stage.
"It's embarrassing, actually," he said. "You walk up so many times, but we do this for the fun and trophies. We are not competing for any money. I love it."
His team learned about the inaugural Frostproof event through the organizer and advertisement. They decided to give the new event a try, thinking it would be fun–and it was!
"It was great," he said. "We had a lot of fun, and getting big trophies is always fun."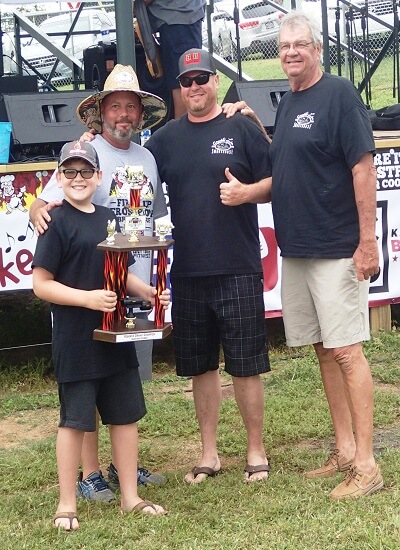 Backyard Reserve Champion pictured above: Crooked Lake Smokehouse
The inaugural barbecue event was hosted on Sunday at Henderson Field at Lake Reedy Park in Frostproof.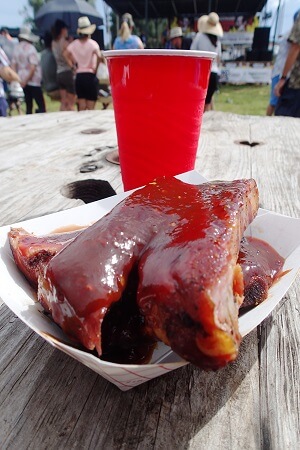 Mayor Martin Sullivan, himself an amateur barbecue enthusiast, decided to organize and host the event to help celebrate the city's centennial celebration, as well as to bring the city's love of barbecue within its city limits.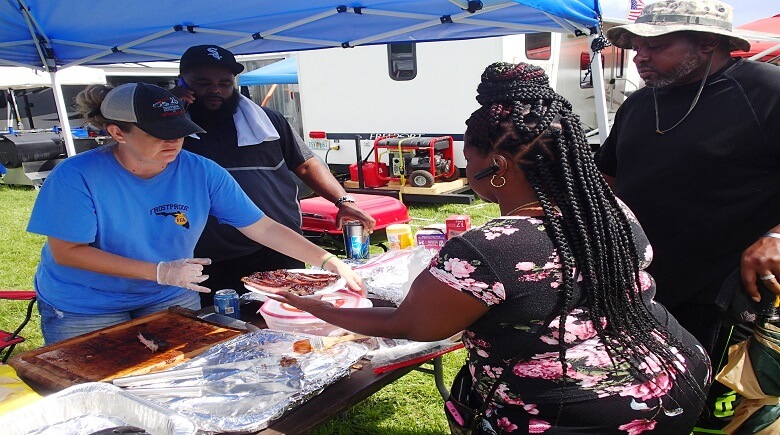 "The city staff and all of the volunteers cannot be thanked enough," he said. "They worked tirelessly throughout the whole event, before, during, and after…and it made for a tremendous show."
The turnout for the event more than met his initial expectations, and he hopes that it will continue to do so in the near future.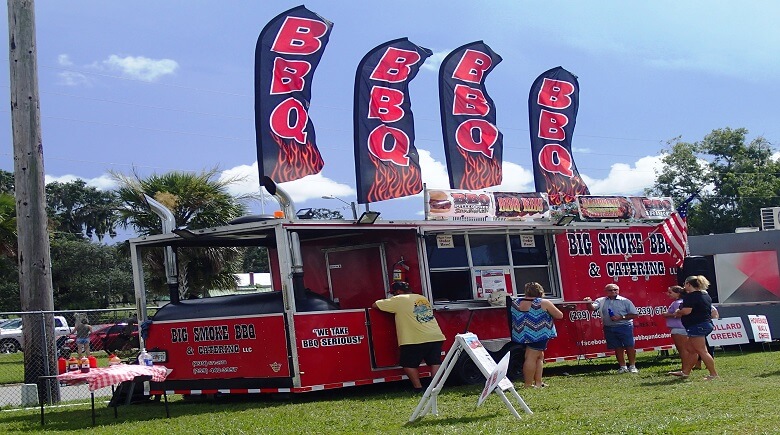 "This event will grow," he said. "It will become a yearly event that will bring more and more people in to see our city each year."