Air Captain Discusses Family At Allen Temple AME
by James Coulter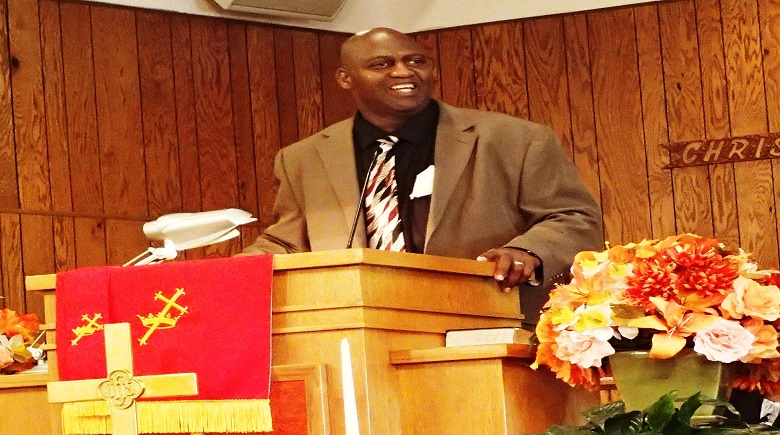 A family is a cohesive group of people who are related to each other through blood, marriage, or adoption. At least that's the dictionary definition.
The vital component of any family is love. Without love, family is nothing more than a definition.
This was the lesson offered by Cap. Harold Fairweather in his guest sermon on Family And Friends Day at Allen Temple AME in Lake Wales on Sunday.
Having been born and raised within a loving family in Lake Wales, Cap. Fairweather knows from personal experience the importance of love within a family, as he shares such love with his own wife and kids.
However, he knows all too well that while love is automatic for many families, for others, love is something that they have to learn to do.
The key to showing such love, be it to friends or family, is to understand the commonality of one another. As the Bible teaches, we are all descended from the same one man and woman, and we were all created from the same soil.
As such, we should not be bothered by the little things in life. In the end, we were all created from dust, and to dust we will all return, Cap. Fairweather said.
"Everything on top of the earth comes from under the earth, including us," he said. "We were made out of the ground….So [when] we get tripped up over the small things in life over nothing, only to meet our make and answer to him why, this stuff needs to stop."
In order to show such love to others, we must first focus our love onto God. Such respect for God and others can only come about through a good life rooted within the church, Cap. Fairweather said.
"We were deeply rooted in our church," he said. "We took care of each other. Everything we did, there was a sense of love and caring, just like God loves us."
Cap. Fairweather had his humble beginnings within Lake Wales, being born and raised down the road from the church at his old home at 327 Pearl Street.
Growing up, he had an aunt who traveled, often by airplane. He was fascinated by such aircraft, and desired to one day fly within them himself and visit the places his aunt visited, his wife, Cheryl, explained.
"He would look up in the sky when a plane went across and would wonder what it would be like to fly those planes," she said. "When God puts a dream in your heart, nothing can stop you from achieving it."
His family had the chance to fly on such a plane when his dad finally raised enough money to take them on a trip to Jamaica to visit his grandmother.
That visit proved sentimental for him. Prior to that, he had only heard from his grandmother through letters and Christmas cards. Even to this day he never forgets first seeing her sitting upon her veranda on the hill waiting for them.
When he grew up, he graduated from college and earned his wings. He initially received his first job as an airplane mechanic, and later received his credentials to become a pilot. He currently serves as a captain at Miami International.
He met his wife in 1996 and later married her. The two would raise six children and live to have many grandchildren. The love he received from his family growing up he now shares with his own.
His own wife reciprocates his love, as she is a loving, god-fearing woman. He recalled recently when they came across a man buying groceries, for whom she felt compelled to pay for.
Even though she never knew that man, she was more than willing to pay for his groceries without expecting him to ever pay her back in turn.
"She said God put it in her that this is somebody she needs to bless," he said. "When God touches things, we know what can happen."